12 Best Bamboo Toothbrushes Reviewed (Updated for 2022)
As an Amazon Associate, Ecotero earns from qualifying purchases.
Bamboo toothbrushes allow anyone, even little kids, to help reduce plastic waste.
Unlike a typical plastic toothbrush that is 100% non-biodegradable, a bamboo toothbrush is mostly biodegradable, except for the nylon bristles.
But you're probably wondering:
"Where can I buy the best bamboo toothbrush?"
We know you don't want to waste money, so we reviewed popular bamboo toothbrushes and picked 12 that are:
the most eco-friendly;
guaranteed safe; and, 
has a high approval rate from conscious consumers.
By spending your next three minutes here, you'll be able to find a couple of bamboo toothbrushes that suit your eco-friendly dental care routine.
But first…
What are the other benefits of using a bamboo toothbrush?
Besides reducing plastic waste, bamboo toothbrushes are also more sustainable.
They are made of, well, bamboo, a highly sustainable and eco-friendly crop.
Typical plastic toothbrushes are mostly made using unsustainable materials such as plastic and nylon that are derived from petroleum.
Bamboo toothbrushes on this list are also non-toxic and free from harmful chemicals like BPA.
Moreover, bamboo has a natural antibacterial property called "bamboo Kun."
So without more delays, here are 12 of the best bamboo toothbrush for adults and kids.
---
1. Biodegradable Bamboo Toothbrush by Gaia Guy (Editor's Choice)
This eco-friendly toothbrush by Gaia Guy is one of the few 100% biodegradable toothbrushes.
When we say 100% biodegradable, we mean handle, bristles, and packaging included.
Gaia Guy's toothbrush features a sturdy yet biodegradable handle made of bamboo.
The bristles are made using natural boar hair: no nylon, plastic, and other petroleum materials. 
Fun fact: 
Boar bristles were commonly used on toothbrushes up until 1938 when Dupont de Nemours introduced nylon bristles.
Gaia Guy comes in recyclable paper tube packaging, making it the perfect toothbrush for people living a zero waste and sustainable lifestyle.
But while it is fully biodegradable, this eco-friendly toothbrush not vegan as it has natural boar hair for bristles.
Nonetheless, the boar bristles have medium firmness that deeply cleans your teeth and gums without damaging them.
---
2. Natural Bamboo Toothbrush by BAMWOO
What makes BAMWOO toothbrushes appealing among conscious consumers is that the company plants 1 tree for every toothbrush they sell.
So using this eco-friendly toothbrush brand doesn't only reduce plastic waste but also supports reforestation.
BAMWOO toothbrushes feature a sturdy yet biodegradable bamboo handle and equipped with BPA-free nylon-6 bristles.
BPA, aka bisphenol A, is an industrial chemical known to cause various health issues in humans, especially to little kids.
BAMWOO claims that their nylon-6 bristles are the industry's standard in cleaning and oral health.
Unfortunately, nylon-6 is not biodegradable.
On the bright side, BAMWOO comes in plastic free packaging and are available in two kinds of bristles.
You can choose between traditional medium bristles for gentle cleaning or go for firm bristles for vigorous brushers.
---
3. Bamboo Charcoal Toothbrush by Colgate
Yep, Colgate, the giant oral hygiene brand, also have their own line of eco-friendly toothbrushes.
Colgate's bamboo toothbrushes have handles made with 100% natural, sustainably-grown bamboo.
It has charcoal-infused floss-tip soft bristles that reach deep between teeth.
It can remove bacteria and effectively clean even the areas that are hard to reach using other toothbrushes.
Activated charcoal in bristles binds to acidic components from coffee, tea, and wine and removes the stains they can leave behind.
This toothbrush is BPA-free, comes in recyclable cardboard packaging, and went through (and passed) multiple quality assurance tests.
---
4. Bamboo Charcoal Toothbrush by Isshah
With a 4.5 average rating from over 9,500 customer reviews on Amazon, Isshah is no doubt one of the best bamboo toothbrushes out there.
It features a sturdy and splinter-free bamboo handle with an outstanding carbon-treated, BPA-free nylon-6 bristles.
Isshah comes in a recycled, biodegradable kraft paper box that will naturally decompose after you throw it away.
And if you're on the fence, Isshah offers a full-refund for if any reason, you aren't satisfied with this environmentally friendly bamboo toothbrush.
---
5. Bamboo Travel Toothbrush by Greenzla
This zero waste toothbrush comes from the same company that also makes excellent zero waste makeup removers.
Greenzla's bamboo toothbrushes are made using organic and responsibly sourced bamboo. 
The BPA-free, soft nylon bristles are infused with charcoal for deeper cleaning power without damaging your gums.
It also comes with a stylish tube holder made using a natural bamboo for safe and hygienic storage, especially during travel.
This eco-friendly toothbrush is also manufactured in an FDA-registered facility.
You can be sure that they're not only eco-friendly but guaranteed safe for you and your family too.
---
6. Organic Bamboo Toothbrush by Wowe
This plastic free toothbrush is regarded as one of the best bamboo toothbrushes on Amazon.
It features an ergonomic solid handle and comes from the same company that sells one of the most eco-friendly dental flosses in 2021.
Wowe toothbrush features a durable, waterproof handle that will not splinter despite repeated use and exposure to water.
This means it does not need more care than a typical plastic toothbrush you've ever had.
The soft and gentle bristles are made with BPA-free nylon that cleanses gums, teeth, and tongue without causing any damages.
Moreover, it comes in a zero waste, plastic free box made from recycled paper.
Nay plastic wastes, yay Earth!
---
7. Eco-Friendly Vegan Toothbrush by WooBamboo
Many people loved Woobamboo's eco-friendly toothbrush due to its hand-carved flat handle made from FSC certified bamboo forests.
The FSC, or Forest Stewardship Council, ensures that timber used on products comes from responsibly-managed and sustainable forests.
WooBamboo's toothbrushes are mounted with soft, BPA-free nylon bristles.
It provides a deep clean without harming your gums.
This toothbrush is also vegan, cruelty-free, and gluten-free.
Moreover, WooBamboo's bamboo toothbrushes are not only dentist-approved, but the company is also a Certified Plastic Negative brand.
This is because, on top of its 100% plastic free packaging, WooBamboo helps remove plastic waste in the environment for every single toothbrush they sell.
---
8. Organic Toothbrush by Brush with Bamboo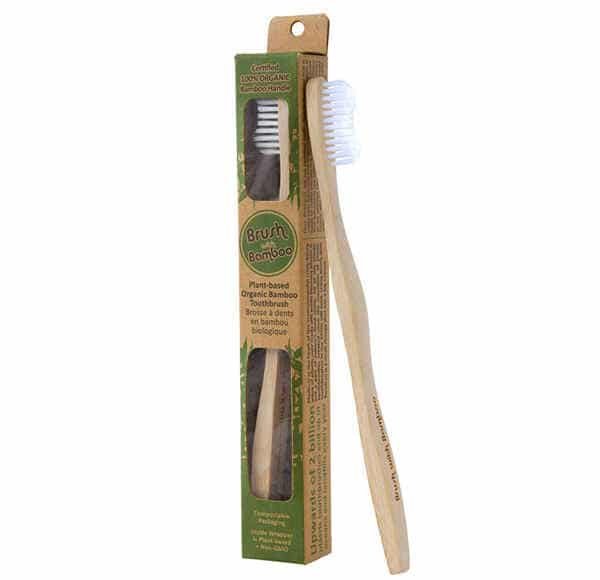 This bamboo toothbrush is one of our favorites, and here's why.
It is referred to as the world's first plant-based toothbrush and makes it in almost all articles that talks about the best bamboo toothbrushes in 2021.
It has been featured across different media outlets as well!
Brush with Bamboo's toothbrush features an ergonomic handle made from organic bamboo timber.
The soft plant-based bristles are made in the USA using vegetable oil as a base, making them completely biodegradable.
For vegans looking for a 100% compostable bamboo toothbrush, this is the one for you.
And to check all the boxes, this bamboo toothbrush comes in compostable plant-based packaging.
---
9. Natural Bamboo Toothbrush by GoWoo
You might be thinking to yourself:
With all these bamboo toothbrushes and other bamboo products surfacing, won't pandas run out of food?
GoWoo's eco-friendly toothbrush handle is made with organic giant Moso bamboo, a bamboo species that panda's don't eat.
In fact, most bamboo toothbrushes are made using Moso bamboo.
So rest assured that the cute pandas won't run out of food even if more people use bamboo toothbrush.
GoWoo also features soft, plant-based nylon-4 bristles made with castor oil and nylon.
Nylon-4 bristles are biodegradable, making this bamboo toothbrush 100% compostable.
GoWoo's compostable bamboo toothbrush is available in different bristle colors (using food coloring) and is packed in a biodegradable plastic free box.
---
10. Vegan Plastic Free Toothbrush by Waterfresh
This plastic free toothbrush features ultra-firm bristles made of carbon-infused nylon.
It effectively wipes off the stains on your teeth without harming your gums.
The handle is made with natural bamboo, while the packaging is made purely from recycled organic paper.
Waterfresh claims that this vegan bamboo toothbrush is designed to help remove the plaque and stains caused by heavy smoking.
It can also help re-whiten the teeth of avid coffee and tea drinkers.
This toothbrush is effective, durable, biodegradable, compostable, and vegan.
---
11. Eco-Friendly Toothbrush for Kids by EcoFrenzy
Who says your little kids can help reduce plastic wastes?
EcoFrenzy's bamboo toothbrush for kids are made with 100% natural, sustainably-grown bamboo.
It is durable, water-resistant, yet completely biodegradable.
This toothbrush also features soft and colorful BPA-free nylon bristles dyed with safe organic coloring.
Now, we all know not all kids are fond of brushing their teeth.
But the brightly colored bristles of this toothbrush will help entice your kids to brush their teeth without you forcing them.
Finally, this eco-friendly kiddy bamboo toothbrush comes in zero waste packaging made with plastic free recycled paper.
---
12. Organic Bamboo Toothbrush for Kids by Hello Boo
Hello Boo's bamboo toothbrush for kids is made from 100% natural, sustainable and organic Moso bamboo. 
It features soft nylon bristles, which are gentle on your kid's gums and enamel but very effective in cleaning their teeth. 
Furthermore, it comes in the right kiddie size, so kids can use it to brush their teeny teeth with ease.
Honestly, it is one of the best bamboo toothbrushes you can get for kids and is an excellent alternative to a typical plastic-based toothbrush.
This toothbrush also comes in a recyclable paper box. 
And for any reason you are not completely satisfied with its quality, Hello Boo offers a full refund for your purchase.
---
FAQ
Do dentists recommend bamboo toothbrushes?
According to the Parkcrest Dental Group, bamboo toothbrushes are just as effective as plastic or electric toothbrushes.
Bamboo toothbrushes often have the same high-quality bristles that plastic toothbrushes have.
So, in general, there is no reason why switching to bamboo toothbrushes can be bad for your teeth.
Are bamboo toothbrushes hygienic?
In most cases, the only difference between a bamboo toothbrush to a plastic toothbrush is that the former has a biodegradable handle.
Hence, a bamboo toothbrush is as hygienic as any other plastic toothbrush, only more eco-friendly.
Do bamboo toothbrushes get moldy?
Organic materials like bamboo encourage the growth of mold faster than plastic when left in a warm or damp location.
Hence, bamboo toothbrushes can get moldy if they are not properly cleaned and taken care of. 
However, there is a simple way to avoid getting mold on your bamboo toothbrush.
Just clean your bamboo toothbrush and let it dry properly after every use.
We're sure you can do that.
How long do bamboo toothbrushes last?
A single bamboo toothbrush can last many months or even years if properly taken care of.
But according to the American Dental Association, you should replace your toothbrush every 3 to 4 months.
The same applies when using a bamboo toothbrush.
How do I dispose of my bamboo toothbrush?
You have a few good options on what to do with your old bamboo toothbrush.
Here are some of the most popular ones:
Reuse and upcycle: Use your old bamboo toothbrush to clean your bathroom, sink, shoes, and appliances.
Compost: The handle of a bamboo toothbrush is completely biodegradable so that you can compost it. You can also compost the bristles if they are biodegradable materials, e.g., boar hair.
Bury it in the backyard: If you don't want to compost, you can bury your old bamboo toothbrush in the soil as it will completely decompose as quickly as a few months.
Remove the bristles: If your old bamboo toothbrush has nylon bristles, you must remove the nylon bristles before you compost it or bury it. You can throw the nylon bristles together with your non-biodegradable trash.
Use as firewood: You can collect the old bamboo toothbrush handles in your home and use them to light a fire during camping or barbecues.
How long does it take a bamboo toothbrush to biodegrade?
It depends on several factors such as the size of the bamboo toothbrush, microbes and bacteria in the soil, and the climate where you live.
For instance, if you throw an old bamboo toothbrush in your backyard, it might take 4 months to a couple of years for it to decompose.
Meanwhile, if you break the handle into small pieces before you throw it in the backyard, it will decompose much faster.
In a typical compost bin, a bamboo toothbrush will decompose within 4 to 6 months.
Are bamboo toothbrushes really better for the environment?
Yes, definitely.
First of all, bamboo is a highly sustainable material compared to plastic.
It is very abundant and is very easy to grow and cultivate.
Second, bamboo is biodegradable. Plastic is not.
According to the study by Foreo, 1 billion plastic toothbrushes are thrown away every year. That's in the United States alone!
Meanwhile, National Geographic says that every toothbrush ever created still exists somewhere on the planet – mostly as trash.
Third, there are many good ways you can dispose of your old bamboo toothbrush without harming the environment.
And finally, the bamboo industry helps provide a livelihood for less developed regions in the world. 
It encourages people to plant bamboo instead of dynamite fishing, illegal logging, and hunting endangered animal species to make ends meet.
How to choose a bamboo toothbrush?
When choosing a bamboo toothbrush, three of the most important things to consider are the size/shape of the head, the bristles, and the handle's shape.
Head Size and Shape
Choosing the right size and shape of a bamboo toothbrush matters as some designs might not allow you to reach some corners of your mouth when brushing.
So before you buy a bamboo toothbrush, make sure you pick the optimal head size and shape.
Basically, you'll want a bamboo toothbrush with a brush head that fits comfortably in your mouth.
Bristle Type
Some bamboo toothbrushes have nylon bristles, while others have biodegradable bristles made from boar hair and plant-based materials.
And we're not just talking about the materials used in the bristles but also the consistency.
Do you prefer hard, medium, or soft bristles?
If you have sensitive gums, then a bamboo toothbrush with a soft bristle might be best for you.
Furthermore, bamboo toothbrushes also have different bristle patterns and textures such as waves, blocks, or criss-cross.
Handle Shape
Other people prefer flat handles while others like rounder ones. 
Which toothbrush handle are you comfortable with?
It would be best if you chose a bamboo toothbrush with a handle you're comfortable holding.
What is the best bamboo toothbrush?
Every person has different preferences and needs when it comes to taking care of our oral health.
Some people might feel more comfortable using bamboo toothbrushes with boar hair bristles, while others might favor nylon bristles infused with charcoal.
Others might prefer a bamboo toothbrush with firm and stiff bristles, while others might choose soft bristles.
Nonetheless, the best bamboo toothbrush is the one that comes in plastic free packaging, durable, and effectively cleans your teeth.
And more importantly, the best bamboo toothbrush is the one that you'll love using every day.
Final Thoughts on the Best Bamboo Toothbrushes for 2021
It's a no-brainer why we should start using a bamboo toothbrush as soon as possible.
It is such a great way to keep our teeth clean while helping reduce plastic waste and preserve our planet for the next generations.
But before you get your first bamboo toothbrush, we advise that you consult your dentists first.
Your dentist knows your oral health best.
They can help you and your family pick the most suitable bamboo toothbrush out of the 12 best bamboo toothbrushes we mentioned above.
Anyways, which of the bamboo toothbrush above you like best?
Did you know other excellent bamboo toothbrush that we missed?
You might also be interested in: