Top 10 Zero Waste Dish Soaps For Eco-Friendly Kitchen
As an Amazon Associate, Ecotero earns from qualifying purchases.
Many cleaning brands tout about their zero waste dish soaps every chance they get.
However, not every "zero waste" dish soaps are created equal, nor all are actually true to their words.
Some businesses are merely greenwashing and riding the eco-friendly train to make their products more appealing to conscious consumers like us.
Moreover, there are other things to consider when shopping for zero waste dish soaps besides plastic free and environmentally-friendly packaging.
For instance, many dish soaps contains ingredients that can harm the environment and a person's health.
So first, let's find out what ingredients to avoid in dish soaps.
Hazardous Ingredients Commonly Found in Dish Soaps
Chlorine: A caustic chemical toxic to human beings and marine organisms.
Formaldehyde: A known carcinogen that might appear on your dish soap label as methanol, methyl aldehyde, and methylene oxide.
Ammonia: Toxic to living organisms and one of the primary sources of nitrogen pollution and soil acidification.
SLS: Sodium lauryl sulfate (SLS) is a foaming agent known as an irritant and is toxic to marine organisms.
Parabens: Parabens can seep into the skin, disrupt hormone function, and are linked to developing breast cancer. It can also kill corals and marine organics.
Phthalates: Phthalates can cause reproductive toxicity in humans, animals and can cause infertility and reproductive problems in males.
Triclosan: A synthetic chemical added to dish detergent due to its antibacterial properties but is highly toxic to different types of algae and other marine organisms.
Phosphates: A water-softening mineral hazardous to human beings and marine life. 
Palm oil: Many rainforests are being cleared down, natural habitats destroyed, just to make room for palm plantations to support the global demand for palm oil.
Fragrance: Made with hundreds of undisclosed chemicals that can harm a person and pollute the environment.
Colorants/Dyes: Can pollute water bodies, increase biochemical and chemical oxygen demand (BOD and COD), impair photosynthesis, and may inhibit plant growth.
So with these things in mind, below are the top 10 zero waste dish soaps (in no particular order) that are free from harsh chemicals and have the least negative impact on the planet.
We made this selection based on the dish soap's packaging (obviously), ingredients, manufacturing process, shipping, and overall customer ratings.
Let's check them out.
Best Zero Waste Dish Soaps Overview Table
---
1. Vegan Zero Waste Dish Soap by No Tox Life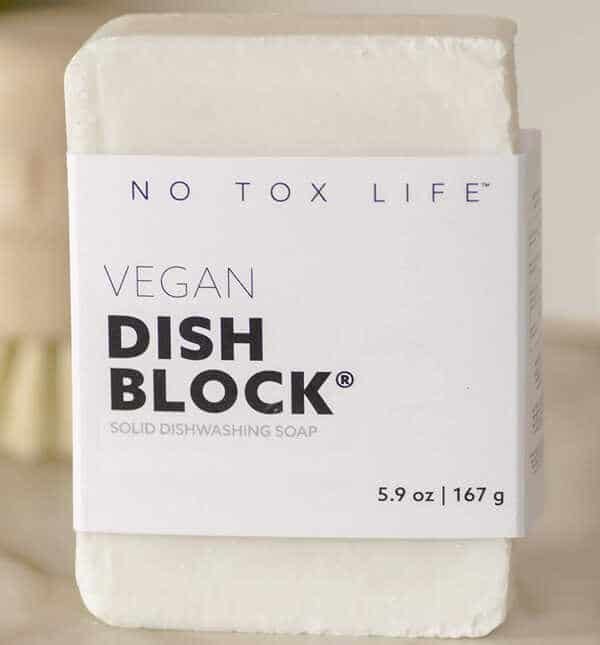 This 5.9oz solid dishwashing soap is ethically handmade in the USA.
It comes in plastic free packaging, organic, and free from unsustainable and toxic ingredients commonly found in dish soaps.
It doesn't contain sulfates, fragrances, dyes, phosphates, palm oil, and parabens and is entirely eco-friendly.
The No Tox Life dishwashing block soap is also vegan and not tested on animals.
It suds very well and cleanses grease and oil easily but gentle on your dishes, glass, and china wares.
---
2. Zero Waste Dish Soap Papers by KindLather
Have you ever heard of soap papers?
KindLather makes zero waste dish soap papers as an eco-friendly alternative to bulky liquid and bar dish soaps during travels, camping, hiking, and backpacking.
How does it work? Dissolve one of the soap paper in a bowl or any container with water, dip a sponge in the solution and proceed to wash your dishes.
KindLather's dish soap papers are handmade from FSC (Forestry Stewardship Council) certified MIX paper with organic and certified Fair Trade ingredients.
This unique dish soap is then packaged in a 100% post-consumer recycled paper envelope printed with soy-based ink.
And to complete your zero waste checklist, this zero waste dish soap is also vegan, biodegradable, and free from sulfates, fragrance, dyes, and gluten.
The company also claims to plant two trees for each KindLather product sold.
---
3. Eco-Friendly Liquid Dish Soap by Cleancult
Are you particularly looking for liquid zero waste dishwashing soap?
This eco-friendly liquid dish soap by Cleancult is awarded as the Best Dish Soap of 2020 in Parents Magazine "Green Picks" for sustainable cleaning products.
It comes in refillable paper-based milk cartons with a plant-based cap to reduce plastic waste.
The company also claims that each product is shipped sustainably.
Meanwhile, this eco-friendly dish soap features an all-new formula that cuts through grease and grime with the power of all-natural ingredients leaving your hands healthy and moisturized after every wash.
It is organic and doesn't contain harsh chemicals, made in the USA, paraben-free, phthalate-free, and non-toxic dish soap.
---
4. Zero Waste Dish Soap Duo by Blueland
Blueland's Dish Duo is a plastic free dishwasher soap set that includes:
Reusable silicone shaker
16oz of zero waste powder dish soap
40 eco-friendly dishwasher tablets in a reusable tin can
This eco-friendly dishwashing product is made without triclosan, ammonia, VOCs, parabens, phosphates, phthalates, petroleum, artificial dyes, or fragrances. 
It is also a certified Leaping Bunny cruelty-free zero waste dish soap and certified USDA BioPreferred.
The BioPreferred Program is an environmental initiative that helps develop biobased products to reduce our reliance on petroleum and support renewable agricultural materials.
---
5. Zero Waste Dish Soap Pods by Etee
This unique zero waste liquid dish soap comes in small pods made with compostable materials such as unprocessed waxes, oils, tree resins, and soy-based inks. 
The liquid itself is a biodegradable dish soap concentrate formulated with 100% plant-based ingredients.
Each product is handmade in Toronto, where the materials are ethically sourced from local workers.
Etee's zero waste dish soaps are free from synthetic fragrances, SLS, dyes, preservatives, phthalates, sulfates, and parabens.
It can handle grease, meat oils, cheese, and grimes with ease and suds beautifully with just a small amount of water.
---
6. Biodegradable Dish Soap by Meliora
This zero waste solid dish soap comes in a paperboard box for 100% plastic free dishwashing.
Meliora's zero waste dish soap is proven to be tough on oil, grime, and grease but is free from harmful ingredients like dyes, preservatives (like formaldehyde), and fragrance.
It is also a 100% biodegradable dish soap, vegan, and safe to use around kids and pets.
Meliora is also a certified cruelty-Free company by Leaping Bunny, so none of the ingredients in their products are tested on animals.
The company also received an A rating from the Environmental Working Group (EWG).
EWG is an American non-profit organization specializing in research and advocacy in agricultural subsidies, toxic chemicals, drinking water pollutants, and corporate accountability. 
---
7. Handmade Castile Solid Dish Soap by Bestowed Essentials
This 12oz concentrated handmade Castile solid dish soap by Bestowed Essentials comes in plastic free and compostable packaging.
It is vegan, certified cruelty-free by PETA, and a natural formula that eliminates the toughest grimes and dirt and deeply cleanses your dishes.
But what makes this zero waste dish soap special is that the company claims that it is manufactured using energy from renewable solar power.
And for every order of Bestowed Essentials solid dish soap, the company collects and recycles 1lb of beach trash through their partnership with Ocean Blue Project.
So you're not only cleaning your dishes but even the planet's seashores!
---
8. Vegan Dish Soap Bar by Cassia Organics
Each of the 4.5oz hand-cut zero waste dish soap from Cassia Organics is attractively wrapped with recycled paper.
It is a very effective vegan dish soap bar that doesn't contain petroleum, palm oil, chlorine bleach, fragrance, ammonia, phosphate, dye SLS, and other harsh chemicals.
Cassia Organics' dish soap is also cruelty-free and does not contain any GMO ingredients.
And there's more!
With its superb antibacterial and stain-removing properties, these eco-friendly dish soaps are not only great for dishes but even for laundry.
---
9. Zero Waste Dish Soap Bar by Sea Witch Botanicals
Sea Witch Botanicals' Canary Clean zero waste dish soap bar is a plant-based, plastic free, and chemical-free dishwasher product.
It is a handmade, all-natural dish soap made with natural essential oils.
This natural dish soap is entirely biodegradable, certified vegan, and doesn't contain toxic ingredients found in typical dish soaps.
Canary Clean is free of any synthetic fragrances, SLS, petroleum, and other chemical nasties.
And on top of being an excellent zero waste dish soap, it can also be used to effectively clean countertops, carpets, and fabrics.
---
10. Biodegradable Zero Waste Dish Soap by Public Goods
This plant-based dish soap comes in a minimalist refillable bottle.
It can break up grease, grime, and stubborn baked foods with ease without leaving traces of potentially harmful chemicals on your dishes.
This biodegradable dish soap is gentle on your hands.
It doesn't contain fragrance, dye, foaming agents, water softening agents, phthalates, parabens, formaldehyde, and other harsh ingredients.
It is also greywater friendly, vegan, cruelty-free, and biodegradable.
Finally, Public Goods' zero waste dish soap concentrated formula is powered naturally by coconut extracts, sea salt, and citrus.
---
Frequently Asked Questions
Why is dish soap bad for the environment?
For starters, many dishwashing soaps comes in plastic containers which are not biodegradable and ends up piling in landfills.
Secondly, typical dish soaps you buy in stores contains substances that can pollute the environment.
So the best eco-friendly option is to wash your dishes using zero waste dish soaps in non-plastic containers that are free from toxic chemicals.
What is the most environmentally friendly dish soap?
In general, the most environmentally-friendly dish soaps are biodegradable, have plastic free packaging, and are made with natural or organic ingredients.
They must also be manufactured and shipped sustainably and shouldn't doesn't contain any toxic ingredients like the ones we mentioned at the start of this article.
What dish soaps are biodegradable?
What is the least toxic dish soap?
Dish soaps that don't contain ammonia, chlorine, parabens, formaldehyde and are made with natural ingredients are less likely to be toxic.
How to use less dish soap?
Get a small container or a bowl. 
Add a small amount of dishwashing liquid or powder and mix it with water to create a dishwashing liquid mixture.
If you're using solid dish soap, you can soak the bar soap in a bowl of water. Move it around to create suds and lather.
Set aside your dish soap bar and use the mixture you just created to wash the dishes.
How do you wash dishes with zero waste?
Soak your dishes with soap and water.
Don't let the water run while washing.
Use eco-friendly and zero waste dish soaps.
Switch to compostable dishwashing sponges.
Water the plants using the water you used to rinse the dishes.
Final Thoughts on Zero Waste Dish Soaps
Washing your dishes doesn't have to be a wasteful home cleaning activity anymore.
With this list of the top 10 zero waste dish soaps, you can now keep your dishes sparkly clean without harming the environment.
So, which of the zero waste dish soaps above interests you the most?
Do you know other excellent zero waste dish soaps that didn't make it in this list?
You might also be interested in: