14 Best Biodegradable Diapers Safe For Babies
As an Amazon Associate, Ecotero earns from qualifying purchases.
Biodegradable diapers provide a solution to your little angel's stinky wastes and the alarming environmental pollution.
But as parents, we understand that your baby's safety comes first.
Your kid getting a diaper rash from an unfamiliar diaper brand is something we'd never want.
So after comparing dozens of eco-friendly diapers, we finally have a list of the best biodegradable diapers that won't harm the environment and your baby.
And should you wish to gain more knowledge about this matter, there is a FAQ section at the end of this article where we answer questions like:
How long do biodegradable diapers take to decompose?
What to look for when buying biodegradable baby diapers online?
What is the most environmentally friendly diaper?
Why bamboo diapers are better for the environment?
But in the meantime, let's check out the 14 best biodegradable diapers.
They're all free from allergens and harsh chemicals so they're guaranteed safe for your baby's delicate skin.
Our Top Picks
DYPER Bamboo Baby Diaper
Made with viscose fibers from responsibly sourced bamboo
Standard 100 Certified by OEKO TEX
Allergen and chemical free
Soft yet durable and super absorbent
---
Andy Pandy Biodegradable Diaper
100% biodegradable, including its packaging
Made with 100% soft bamboo fiber
Soft, hypoallergenic, antibacterial, and prevents skin irritation
Full money back refund guarantee
---
Aleva Naturals Bamboo Baby Diaper
Certified vegan, cruelty-free, hypoallergenic, and latex-free
Made with unbleached natural bamboo fibers
3-line wetness indicator feature
Breathable, soft, and has a cloth-like feel
---
---
1. DYPER Responsibly Sourced Bamboo Baby Diaper
DYPER's biodegradable diapers is one of the best bamboo diapers today.
They are made with viscose fibers from responsibly sourced bamboo. and contains no chlorine, latex, phthalates, lotions, perfumes, and harsh chemicals.
And while DYPER is a newer eco-friendly diaper brand, it is Standard 100 Certified by OEKO TEX, a Swiss safety certification agency that tests consumer products for various harmful substances.
DYPER's bamboo baby diaper is very soft to the touch and gentle to the skin. But it is also extremely durable, absorbent, and moisture-wicking. 
Your baby will indeed sleep sound, rash-free, and leak-free wearing this diaper.
Diapers from DYPER are packed in clear bags made with oxo-degradable (breaks down naturally in the presence of oxygen) materials so you won't have to worry about unnecessary wastes upon your purchase.
The company also purchases carbon offsets that help various reforestation programs.
---
2. Andy Pandy Biodegradable Bamboo Diaper
You can immediately guess what this biodegradable diaper is made of by simply looking at the cute panda on its logo.
The top and back sheets are made with 100% soft bamboo fiber, so they are silky smooth. It also comes with elastic waistbands and flexible side panels for a comfortable, snug fit.
Andy Pandy's bamboo diaper is soft, hypoallergenic, antibacterial, and prevents skin irritation, rashes, and chaffing on your baby's bottom.
It is eco-friendly, super absorbent, durable, and super safe given that it is 100% chlorine-free, phthalate-free, and contains no preservatives, lotion, perfumes, latex, PVC, and TBT.
This diaper is 100% biodegradable, including its packaging!
You would also love to know that Andy Pandy offers a lifetime "No Leak Guarantee" with full money back refund in case you're unsatisfied with this diaper's performance.
Doesn't it have everything you can ask for in a safe and environmentally-friendly diaper for babies, right?
---
3. Aleva Naturals Bamboo Baby Diaper
Aleva Naturals has one the best biodegradable diapers today that is breathable, soft, and has a cloth-like feel.
This eco-friendly diaper is made with natural bamboo fibers and is certified vegan, cruelty-free, hypoallergenic, dye-free, and latex-free.
Aleva Naturals uses unbleached bamboo fibers that contain a natural anti-bacterial agent called Bamboo Kun.
Most conventional diapers are bleached using harsh chemicals like chlorine and hydrogen peroxide to prevent bacterial growth.
Unfortunately, the same harsh chemicals can also irritate your baby's sensitive skin.
All of Aleva Naturals bamboo baby diapers feature a 3-line wetness indicator that changes color from yellow to green, alerting parents when it is time for a change.
---
4. Little Toes Naturally Biodegradable Bamboo Fiber Diaper
This hypoallergenic and biodegradable diaper from Little Toes is made with natural bamboo fibers.
It's 100% bamboo top sheet is super soft and gentle against the skin, and it has a breathable 100% bamboo back sheet that allows natural air circulation.
This natural diaper is also guaranteed safe for babies since it is chlorine-free, latex-free, PABA-free, and contains no fragrance, additives, phthalates, and parabens.
It comes with a triple-stretchable side fastener that allows your baby to move freely while providing a comfortable and snug fit.
This biodegradable diaper also has a new wetness indicator and reinforced extra strong tabs that prevent leaks and keep your angel dry overnight.
---
5. Eco Pea Co's Bamboo Diaper
This natural diaper is made using sustainable and biodegradable bamboo sheets.
Eco Pea Co's bamboo diaper is luxuriously soft and extremely absorbent. 
It is hypoallergenic, dermatologist-tested, fragrance-free, totally chlorine-free, and explicitly designed for a baby's sensitive skin.
It also has a wetness indicator, size label, blowout guard, and snug-fitting technology to prevent leakage.
This diaper is gluten-free, vegan, cruelty-free, and is antibacterial without the nasty chemicals.
Eco Pea ships their bamboo diapers in biodegradable packaging.
---
6. ECO BOOM Baby Bamboo Biodegradable Diaper
This eco-friendly diaper by ECO BOOM uses quality bamboo fibers on its back and top sheets and a TCF (total chlorine free) pulp.
It is naturally hypoallergenic, soft, and silky to the touch, making it ideal for a baby's sensitive skin.
Furthermore, natural aloe oil is also added to the diaper's surface to protect and nourish the baby's skin. 
But despite its luxurious and silky smoothness, the ECO BOOM bamboo biodegradable diaper for babies is strong, absorbent, and provides up to 12-hour protection.
It features a big-ear type elastic side tape for flexibility combined with a Velcro tape material to ensure that it isn't too tight on your baby's waist.
ECO BOOM's bamboo diapers are free from chlorine, alcohol, phthalates, latex, PVC, perfumes, and lotions.
---
7. Dewor Baby Bamboo Disposable Diaper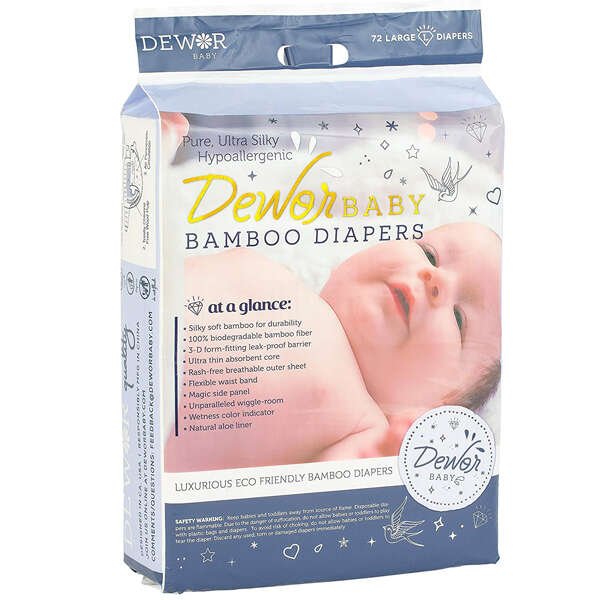 Looking for a biodegradable diaper that is silky soft, ultra-absorbent, strong, and durable?
Well, that's all of the diapers on this list, and this premium disposable diaper by Dewor Baby is certainly worth checking out.
Dewor Baby diapers are made from natural bamboo fibers. It is naturally hypoallergenic, odor-resistant, and designed for lasting dryness both day and night. 
Safety-wise, this biodegradable diaper is absolutely free from latex, chlorine, paraben, phthalate, lotions, and fragrance. 
It is also PETA (People for the Ethical Treatment of Animals) cruelty-free certified.
Dewor Baby's bamboo diaper also has a wetness indicator to remind you that it's time to change.
---
8. Nest Plant-Based Biodegradable Baby Diaper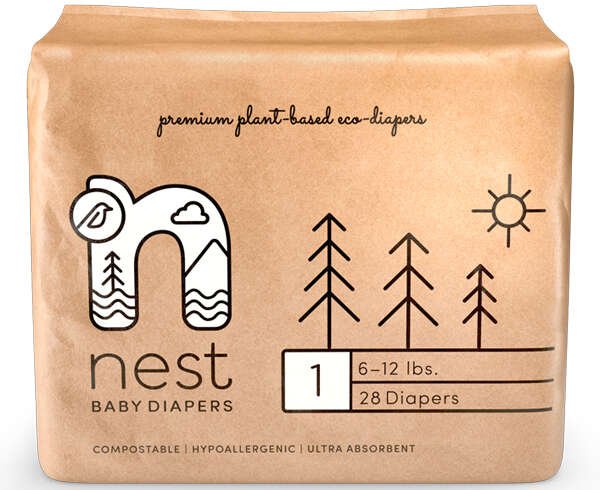 Nest sells soft and super absorbent biodegradable diapers.
According to the their website, the diapers are made using hand-selected sustainable plant-based materials – including wood, bamboo, and cane.
This plant-based diaper is compostable per ISO 14855-1-2012, a perfect eco-friendly baby product for eco-minded parents.
It is hypoallergenic, and Oeko-Tex 100 and SGS certified free of harmful chemicals and known allergens. 
Next compostable diapers do not contain chlorine, fragrance, lotion, odor blockers, formaldehyde, triclosan, PVC, parabens, phthalates, heavy metals, and other toxins.
This diaper also comes in compostable packaging.
---
9. JOONE Biodegradable Baby Diaper
JOONE is a French company that makes biodegradable diapers using TCF wood cellulose whitened with chlorine-free oxygen.
The company claims that the wood cellulose in their diapers comes from well-managed FSC-certified forests and other controlled sources.
FSC (Forest Stewardship Council) is an international non-governmental organization dedicated to promoting responsible forest management worldwide.
JOONE's biodegradable diaper is very soft, breathable, and super absorbent. 
It is dermatologically tested vegan, cruelty-free, and doesn't contain chlorine, lotion, perfume, latex, and known endocrine disruptors.
The prints are done using solvent-free inks.
---
10. Bambo Nature Eco-Friendly Baby Diaper
Specifically designed for a baby's sensitive skin, this diaper is soft, super-absorbent, and features a fully breathable back sheet to keep your baby's skin dry and reduce the likelihood of diaper rash. 
It is made with wood pulp from FSC-certified sources, and the company doesn't use chlorine bleaching in the diaper manufacturing process.
This diaper is also dermatologically tested and free of all known allergens, perfumes, and harmful chemicals.
Bambo Nature eco nappies or diapers are manufactured in a production facility where 95% of the production waste is recycled. All Bambo Nature packaging is also fully recyclable.
No wonder the company proudly advertises this biodegradable diaper is safe for your baby's tush and the environment.
---
11. Eco by Naty Plant-based Baby Diapers
This biodegradable diaper is made from 100% FSC certified natural wood pulp. 
Its plant-based fibers are soft, breathable, and super absorbent, reducing the risk of allergies and diaper rash in your baby.
This diaper is hypoallergenic and dermatologically tested. It is also vegan, cruelty-free, and contains no chlorine, fragrances, lotions, and other allergens.
The Eco by Naty diaper is advertised to contain 0% oil-based plastic and 0% nasty chemicals.
It also comes in renewable plant-based packaging.
---
12. Mum & You NappyChat Eco Nappies
This eco-friendly diaper has a biodegradable core made using chlorine-free wood pulp from certified sustainable forestry.
It is free from dyes, lotions, latex, perfumes, and other allergens, making it suitable for newborns and babies with the most sensitive skin.
The Mum & You diapers have a super absorbent core that quickly locks moisture away and provides superb leakage protection for up to 12 hours.
And like most biodegradable diapers in this list, it also has a wetness indicator and comes with a soft and flexible belt for a comfortable fit.
This diaper's packaging is also made with biodegradable and renewable sugarcane material.
---
13. Seventh Generation Disposable Baby Diaper
This eco-friendly baby diaper is made using only FSC Certified, sustainably harvested plant-based pulps.
It is super absorbent and has a high capacity core that provides outstanding leak protection to keep your baby's tush protected and dry.
This disposable diaper by Seventh Generation's absorbent core is not bleached or processed with chemicals containing chlorine that can pollute the water systems.
It is also hypoallergenic, free from lotions and fragrances, and provides wetness protection for up to 12 hours.
---
14. Earth + Eden Biodegradable Baby Diapers
This environmentally-friendly diaper provides up to 12 hours of superior leakage protection.
It is clinically proven to be gentle on your baby's skin and free from lotions, latex, fragrance, and chlorine bleaching.
The Earth + Eden baby diaper SFI (Sustainable Forest Initiative) Certified sustainably sourced fluff.
The diapers are printed using non-toxic water-based inks and produced in a "Zero Waste to Landfill" facility.
Its fit-grip technology offers a comfy and snug fit while the stretchable waists don't prohibit your baby's activity and movements.
This diaper is made in the USA, hypoallergenic, and cruelty-free.
---
FAQ
What to look for when shopping for Biodegradable Diapers for Babies?
Besides the eco-friendliness and sustainability of biodegradable diapers, you should also make sure the diaper doesn't contain toxic chemicals that can harm your baby's health.
These harmful chemicals are:
Besides looking for these toxic chemicals, you also need to note the diaper's size, whether it has stretchable belts, durable side panels, and provides a comfortable fit to your baby.
Are Disposable Diapers Recyclable?
The typical disposable diapers are not designed for recycling as they contain different materials and are contaminated with human waste. 
How long does it take for Conventional Diapers to Decompose?
Most disposable diapers (that are not biodegradable) take approximately 250-500 years to decompose in landfills. 
And as we've mentioned earlier, there's a good chance that every diaper ever used and thrown away still exists in landfills today.
Why Are Biodegradable Diapers Important?
Experts say that it takes 250 – 500 years for conventional disposable diapers to fully decompose, which means every diaper ever used still exist in landfills.
And according to the EPA, the average baby will consume about 8,000 diapers during infanthood.
If we don't do something now, how long do you think until poop-smeared diapers overrun our planet?
Switching to biodegradable diapers will surely help reduce the number of diapers that might occupy the landfills for up to half a millennia.
How Long Do Biodegradable Diapers Take to Decompose?
Biodegradable diapers can take up to 50 years to decompose in a landfill since landfills are anaerobic environments.
And with the absence of air and oxygen, even the most biodegradable diapers are going to break down very slowly.
Nevertheless, 50 years is still much better than the 250 – 500 years it takes to decompose the typical diapers.
What are Biodegradable Diapers Made Of?
Most biodegradable diapers are made using natural and sustainable materials that include bamboo fiber, wood pulp, cotton, corn starch, and other plant-based materials.
Are Bamboo Diapers Better for the Environment?
While bamboo is not perfect, you may have noticed that the top-ranking biodegradable diapers in this list are made with bamboo fiber.
This is because bamboo is a more sustainable and eco-friendly material compared to cotton or wood.
The sustainability of bamboo makes it an excellent source of raw materials for eco-friendly clothing, sheets, toilet papers, and other products.
What is the Most Environmentally-Friendly Diaper?
In our opinion, the most environmentally-friendly diapers are those that are biodegradable, compostable, and made using highly sustainable materials using an eco-friendly manufacturing process.
Diapers that come in eco-friendly packaging are also better than the ones that come in single-use plastic packaging.
Conclusion
There's no doubt that biodegradable diapers can minimize the environmental impact of your child's waste products.
And with this list of the 14 best biodegradable diapers, you can now take care of your little angel's stinky tush without harming our mother Earth.
Anyways, what do you think about the best biodegradable diapers we have on this list? Have you tried any of them?
Do you know other biodegradable diapers that you want to be added in here?