12 Best Cloth Diapers For Babies In 2021
Because they are reusable, cloth diapers generally have a less negative impact on the planet than disposable diapers.
Cloth diapers are also generally made with natural fibers and doesn't contain harsh chemicals so they are very safe for a baby's sensitive tush.
But as parents, we understand that you only want the best for your little angel.
So among the hundreds of environmentally-friendly cloth diapers today, which are the best?
After comparing tons of popular cloth diaper brands, we finally found the top 12 cloth diapers in terms of comfort, fit, cost, absorbency, and overall ease of use.
But before making your first purchase, are you already familiar with the different types of cloth diapers?
We thought we'd go through that quickly so you'll know exactly whether you want a fitted, AIO, or pocket cloth diaper for your kid.
Let's get started!
Different Types of Cloth Diapers
Flat and Prefold Cloth Diapers
These are square or rectangular layers of fabric that you can fold around your baby's bum. 
You might also need a clip (or pins) and other diaper fasteners like Snappi to keep them in place and a waterproof diaper cover (or shell) to prevent leakage.
Fitted Cloth Diapers
These are ready-to-wear flat or prefold cloth diapers. They come with built-in waist tab closures and elastic leg openings.
You will still need a waterproof cover to go over fitted cloth diapers, or you'll risk getting leakage on your baby's bed.
All-In-One (AIO) Cloth Diapers
AIOs are exactly like the typical disposable diapers you can buy in the store.
These cloth diapers are ready-to-wear, have secure waist tab closures and a built-in waterproof cover.
However, the inner linings or the absorbent pads of AIOs are made with a cloth; hence, you can repeatedly wash, dry, and reuse them.
When an AIO cloth diaper gets soiled, you remove the whole thing and replace it with a new one.
All-In-Two (AI2) or Hybrid Cloth Diapers
AI2 cloth diapers are identical to AIOs in construction and style.
However, the inner linings in hybrid diapers are not sewn in the waterproof cover.  So when it's time to change, you might not need to change the entire diaper.
As long as there is no leakage in the waterproof cover, you can simply remove the dirty inner diaper liners and put a fresh one in.
The caveat is that you'll have to purchase diaper liners separately.
On the bright side, AI2 gives you the option of using a biodegradable disposable diaper liner (to minimize laundry sessions) or a washable cloth liner (to reduce waste).
Pocket Cloth Diapers
These are similar to AI2 but come with a "pocket" to insert a diaper liner.
In AI2s, the diaper liners are often simply laid into the waterproof cover rather than being "stuffed" inside a pocket.
The primary advantage of using pocket cloth diapers is the freedom of adjusting and positioning diaper liners in the most optimal areas where your baby needs them the most.
So, does this clearly explain the common jargon about different cloth diaper types? 
By now, you probably have a better idea of which type/s of cloth diaper fits your preference best.
We also prepared a FAQ section at the end of this article that answers common questions people have about cloth diapering, such as:
How do you clean poop out of cloth diapers?
Is it safe to wash cloth diapers in the washing machine?
Can cloth diapers be washed with other laundry?
How many cloth diapers do you need to stash?
And now, here are the 12 best cloth diapers (in no particular order) for babies in 2021.
Best Cloth Diapers Quick Overview Table
1. GroVia All-In-One Organic Cloth Diaper
Featuring a waterproof outer layer and ultra-absorbent certified organic cotton inner lining, this is definitely one of the best cloth diapers for babies this year.
GroVia's all-in-one cloth diaper requires no folding, stuffing, or worrying about waterproof covers.
Simply put it on your baby, snap in the waist buttons, and your baby's good to go!
And since it features certified organic cotton linings, you can rest assured your baby is wearing one of the softest and safest cloth diapers there is.
It is also designed to grow with your baby, so it comes in a "one size" that fits babies from 10 to 35+ lbs, with superior durability and flexibility.
2. Charlie Banana Organic Hybrid Cloth Diaper
If you're looking for cloth diapers that are guaranteed soft and gentle on your baby's delicate skin, you should check this out.
This cloth diaper set from Charlie Banana comes with 3 hybrid cloth diapers with organic cotton lining.
It also comes with 6 reusable inserts made with hemp, cotton, and terry – expertly designed to protect against leaks and blowouts.
The hybrid diaper that comes in this set is a "one-size-fits-all" with patented adjustable sizing straps and snug fit snaps. 
Charlie Banana also claims that their cloth diapers are crafted with carefully selected materials and tested by leading independent laboratories.
All Charlie Banana products are Climate Neutral Certified, which means the company follows protocols to minimize greenhouse emissions. 
Charlie Banana also donates 1% of their sales to support environmental causes through 1% For The Planet.
3. OsoCozy Prefolds Unbleached Cloth Diaper
This top-rated cloth diaper is made with 100% unbleached pure Indian cotton in a lint-free thick gauze weave, making it super soft yet durable.
The company proudly claims that this is the softest, most absorbent, and durable natural diaper for infants.
Each set of OsoCozy's prefold cloth diaper contains 6 prefold cotton cloth diapers measuring 12 x 16″ before washing and will shrink down approximately 5-10%.
These are three paneled rectangular diapers with 4 layers on the sides and 8 layers in the middle, offering plenty of absorbency and durability.
But like we discussed earlier, prefold cloth diapers must be used with waterproof diaper covers to prevent leakage. 
With optional pins and other diaper fasteners.
4. Bambino Mio Miosolo All-In-One Cloth Diaper
This all-in-one cloth diaper is not only eco-friendly but is also a great money-saver. 
It is durable and has a one-size adjustable feature, meaning it can fit babies from 8-35 lbs, making it a perfect partner for your little one from baby to toddler.
Simply readjust the diaper's size using the built-in fasteners to suit the shape of your baby's bum.
It has leak-proof legs and the waist tab features elastic fabric that provides comfort for your baby's movements.
Moreover, this cloth diaper also features a stay-soft fabric that remains soft even after repeated washing.
The Bambino Mio's Miosolo all-in-one cloth diaper also has a pull-out tab system so you can remove its core from inside the diaper to speed up drying time after washing.
5. EcoAble Hemp Fitted Cloth Diaper
EcoAble's hemp fitted diapers are made with 55% hemp and 45% cotton blend. 
Hemp is naturally antibacterial, while cotton is very soft and together, so this fabric blend helps protect babies from developing diaper rashes.
This fitted cloth diaper can fit babies of 10 up to 30 pounds, thanks to its convenient snap buttons and gentle elastics that provide a snug fit every time while your baby grows.
It also comes with removable snap-in hemp insert soakers to optimize absorbency, making it a great cloth diaper for heavy wetter babies.
And did you know that hemp fabric gets softer and smoother with every wash?
Hemp is a very sustainable material, and when we found a cloth diaper made of hemp and cotton blend, it's a no brainer for it to be included as one of the best cloth diapers for babies.
Important: Fitted cloth diapers are not waterproof, so you'll need a waterproof cover that perfectly matches its size to prevent leakage. 
6. Smart Bottoms All-In-One Cloth Diaper
If you like hemp and cotton together, but you find fitted cloth diapers too much of a hassle, then you're in luck.
This all-in-one cloth diaper for infants features hemp and organic cotton blend interior for maximum comfort and protection. 
The natural fiber interior helps reduce the risk of diaper rash for babies with sensitive skin.
Its innovative adjustable design features an extra row of tab snaps to ensure a better fit around your little angel's tiny legs and suitable for infants between 6 to 16 pounds.
The outer layer made with 100% Polyurethane Laminate provides durability and water resistance for leak-free protection all day and all night.
7. Mama Koala Pocket Cloth Diaper
With an overall star rating of 4.5 from more than 4,500 reviews on Amazon, this eco-friendly diaper from Mama Koala is undoubtedly one of the best cloth diapers today.
It has a waterproof and breathable cover with super soft and moisture-wicking suede cloth inner lining to protect your baby from moisture and wetness.
This one-size pocket cloth diaper fits most babies between 8 up to 35lbs, thanks to its durable fully-adjustable snap closures for a secure and snug fit.
Each pocket diaper comes with an ultra-soft and super absorbent 3-layer microfiber insert to provide maximum wetness absorption day and night.
8. GroVia Hybrid Baby Cloth Diaper
This hybrid cloth diaper from GroVia allows you to reuse the same diaper cover (shell), granted it's still clean.
Just remove the soiled absorbent pad and put a fresh one in.
Besides saving you from laundry time, you can further help the environment by using biodegradable diaper liners or washable cloth liners.
GroVia's hybrid cloth diaper is also fully adjustable and fits babies from 8 to 30 lbs.
Meanwhile, it's reliable snap-on waist tab will ensure comfortable fits even on the wriggliest baby.
9. Langsprit Pocket Cloth Diaper
Time to say goodbye to diaper rashes, unnecessary waste, and pollution with this pocket cloth diaper by Langsprit.
Langsprit's pocket cloth diapers feature a leak-free yet breathable cover that helps keep your baby's skin comfortable and rash-free.
Each diaper can fit most babies between 8-33 pounds thanks to its three rows of durable and adjustable snaps.
But what makes this cloth diaper appealing to many eco-conscious parents is that the inserts are made of bamboo. 
As you may already know, bamboo is a highly sustainable and eco-friendly material, it is even a greener option than cotton!
This cloth diaper features pockets spacious enough for up to 2 absorbent pads, allowing extra absorption capacity during nighttime or traveling.
It is affordable, completely machine washable, has a wet storage bag, and very easy for daily use.
Just stuff your desired insert into the diaper, put it on your baby, and adjust the snaps for a snug fit. That's it.
10. Simple Being Hybrid Cloth Diaper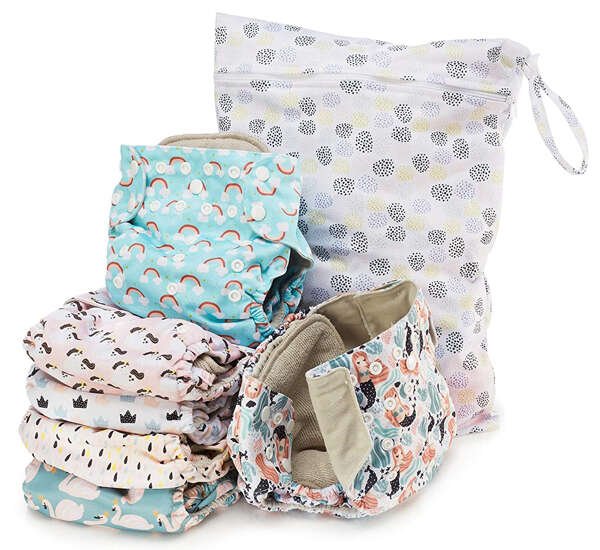 This cloth diaper is one of the favorites among eco-conscious parents on Amazon.
It features double inner leg gussets that provide maximum leak protection for your baby and has a light grey interior to help hide staining.
The adjustable hip snaps help ensure a perfect snug fit for babies of different sizes.
Meanwhile, the snug leg openings and waterproof cover ensure breathability and leak prevention every time you use it.
Simple Being's hybrid cloth diaper also comes with a matching wash bag, and a 100% Money Back Guarantee!
11. ALVABABY Pocket Cloth Diaper
Another Amazon favorite, this pocket cloth diaper has a waterproof and breathable polyester cover.
The inner suede cloth is moisture-wicking, and it has generous pocket openings for easy insertion and removal of liners.
This pocket cloth diaper is also a one-size-fits-all: you can simply adjust the diaper, so it fist comfortably on your baby by snapping onto different rows of buttons.
But it is most suitable for babies between 6 up to 33 pounds.
ALVABABY's pocket cloth diaper also has pleated elastic sides to keep your baby's mess in place while the elastic legging area effectively prevents leaking.
12. Nora's Nursery Pocket Cloth Diaper
With a fully waterproof cover, snug leg openings, and a breathable suede cloth…
Nora's Nursery suede pocket cloth diaper will provide your baby with superior protection from leaks and rashes.
It also comes with soft and super absorbent bamboo viscose and microfiber inserts for the maximum comfort and dryness of your baby's bum.
But that's not all!
This cloth diaper is also compatible with almost all of the other diaper insert brands.
It is also super easy to use and comes with a fully adjustable snap layout that fits babies and toddlers from 10 to 35 pounds.
Moreover, both this eco-friendly pocket cloth diaper and the inserts are machine washable. 
And as if that's not enough, the company also offers a no questions asked, money-back guarantee.
FAQ 
How do you Clean Poop out of Cloth Diapers?
Most cloth diapers come with recommended cleaning and washing guidelines on the product packaging or on its website.
But in general, here's how you clean poop and stink out of cloth diapers:
Remove the solid waste on a cloth diaper before storing it for laundry later.
Store the soiled cloth diaper in a clean and dry pail, or storage bag until you're ready to wash it.
When washing cloth diapers, use eco-friendly laundry detergents for babies and don't use detergents with harsh chemicals and bleaching ingredients as they can damage the diaper's integrity and leave residues that can irritate your baby's skin.
Don't use fabric conditioners as these chemicals can coat the cloth diaper's fabric and reduce the cloth diaper's optimal liquid absorption ability.
Is it Safe to Wash Cloth Diapers in the Washing Machine?
Yes, most cloth diapers are machine washable. 
However, since we don't know the exact cloth diaper you are using, we highly recommend checking your product's cleaning and washing instructions to be extra sure.
Can Cloth Diapers Go on Dryers?
Cloth diapers with Velcro and elastic materials should not be put in the dryer as the heat can cause elastics and Velcro to stretch and wrinkle.
Heat can also delaminate the waterproof material of diaper covers (eg, PUL), resulting in leakage.
But other than these exemptions, many machine washable cloth diapers can go in the dryer.
Just keep an eye on the heat setting as instructed on the cloth diapers packaging or on the cloth diaper brand's website to avoid ruining the fabric.
Also, keep in mind that machine drying cloth diapers cause more wear and tear quickly as time goes on. 
So to preserve your cloth diaper, only machine dry them when you really have to.
Line drying and air drying are the best and safest method for drying cloth diapers. Not to mention, the sun's heat is free, so you'll be saving electricity as well.
Can Cloth Diapers Be Washed With Other Laundry?
Yes, you can wash cloth diapers together with your other laundry.
However, be careful not to mix them with items that have sharp edges, like zippers, that can snag on the cloth diaper's fabric.
It is also not recommended that you wash cloth diapers together with dirty clothes of someone who works in a health risk- or chemical-intensive environment.
The chemicals and contaminants might seep into the cloth diapers that you will use on your baby's intimate areas.
For more cloth diaper washing tips, here's a short video by Cloth Diapers for Beginners:
How Often Should You Wash Cloth Diapers?
You should wash dirty cloth diapers immediately after 2-3 days to keep bacteria, molds, mildew, and germs from growing.
How Long Do Cloth Diapers Last?
According to Ashley Wilson, cloth diapering expert and video blogger for MyGreenNest.com, you can use cloth diapers for 2-3 years, on average.
And if you have a decent stash of cloth diapers for rotation, it will probably last longer, especially if you take good care of them by following the cloth diaper washing tips we've shared above.
However, the usability of your cloth diapers also depends on your baby's poop and pee routine.
The more frequently your baby soils a cloth diaper, the more often you will have to wash your cloth diaper, which in turn will degrade its overall quality faster.
How many Cloth Diapers do you need?
If you're full cloth diapering, most experts suggests you stash 24-36 cloth diapers.
This way, you can have a proper rotation of each cloth diapers and avoid washing them more frequently which will degrade the integrity and shorten the cloth diaper's usability.
Which Brand of Cloth Diaper is the Best?
Every brand of diapers we include in this list has its own solid supporters and followers.
Hundreds and even thousands of people will swear that they have the best cloth diapers out there.
However, there isn't really one that will be the "best cloth diaper" brand for every family.
The best cloth diaper is one that is durable so you can use it for a long time and provides the necessary comfort and protection to your little angel's bathroom needs.
Final Thoughts
According to the UN, about 385,000 babies are born every day; each can consume approximately 3,000 disposable diapers in the first year alone!
Assuming only 10% of babies use disposable diapers, that's still tons of diapers going to landfills each year.
To make matters worse, disposable diapers will take 250-500 years to decompose completely.
But with the 16 best cloth diapers above, you can take good care of your baby's poop and pee without feeling guilty for the environment.
Start using any of the cloth diapers on this list for a few days and see how it goes.
Then feel free to come back and share your experience with any of them.
Your input will be valuable information for other eco-conscious parents like you. 
Cloth diapers not for you?
Like everything else, cloth diapering isn't for everyone. 
If you've given cloth diapers a fair shot and realize that it isn't for you and your baby, don't switch to typical disposable ones.
We highly recommend using biodegradable diapers instead.
Much like cloth diapers, biodegradable diapers are also eco-friendly and safe for your baby's tush.
You might also be interested in:
80+ Eco-Friendly Baby Products: Ultimate Guide To Green Parenting