Top 20 Sustainable & Eco-Friendly Bathroom Products
As an Amazon Associate, Ecotero earns from qualifying purchases.
This is a one-stop guide to the best eco-friendly bathroom products.
But why should you make the switch?
Using eco-friendly bathroom products provides a lot of benefits to eco-conscious consumers.
Besides reducing plastic waste at home, eco-friendly bathroom products are also free from toxic ingredients present in many personal care products!
However, with so many bathroom products touted to be sustainable and eco-friendly, which are the ones you should prioritize getting first?
Below are the top 20 eco-friendly bathroom products that significantly reduce plastic waste and pollution without endangering your and your family's health.
And guess what?
Some of the eco-friendly bathroom products you'll discover through this list can even help you save money!
Let's take a look at your options…
1. Zero Waste Shampoos & Conditioners
Taking good care of our hair comes naturally to us.
Sadly, conventional shampoos and conditioners create tons of plastic trash because of their disposable sachets and bottles.
Some of them even contain ingredients that pollute water systems and harm marine organisms.
Fortunately, there is a more eco-friendly alternative.
Unlike traditional hair care products, zero waste shampoos and conditioners come in either plastic-free or eco-friendly packaging.
Hence, switching to these bathroom products will reduce single-use plastic that ends in landfills and incinerators.
Zero waste shampoos and conditioners are also free from SLS, parabens, palm oil, formaldehyde, and other ingredients that harm the environment and your health.
And there's more!
Zero waste shampoos and conditioners are made with sustainably sourced natural ingredients that are organic and cruelty-free.
Are you excited to make the switch?
Discover the best zero waste, zero waste shampoos, and conditioners here.
2. Eco-Friendly Baby Shampoos
Eco-friendly baby shampoos make it easier for parents to green their little angel's bath time.
As you can guess, these eco-friendly baby products are made using ingredients that are safe for your kid and gentle on the planet.
For starters, eco-friendly baby shampoos are free from SLS, triclosan, 1,4 dioxane, and other toxic ingredients.
They also have eco-friendly containers so you can reduce plastic waste at home.
And another thing we love about eco-friendly baby shampoos?
Most of them double up as baby wash, so you don't have to buy one for your kid.
Our recommended eco-friendly baby shampoos are:
Made with natural and organic ingredients
Free from any ingredient that can harm your baby and pollute the environment
Made using sustainable and ethical ingredients
It comes in biodegradable, compostable, or recyclable containers
Manufactured in facilities powered by renewable energy sources
And on the topic of taking care of your kids, discover the best green parenting tips from experts.
3. Eco-Friendly Shaving Razors
Most disposable plastic razors are impossible to recycle, especially the cartridges. 
Once you throw them away, they have nowhere else to go but in the landfills.
For a more plant-friendly shaving routine, switch to reusable razors made with metal and durable materials.
Another alternative would be eco-friendly razors made from recycled ocean plastic trash.
Feel free to choose which one suits your lifestyle and preference best.
4. Bamboo Toothbrushes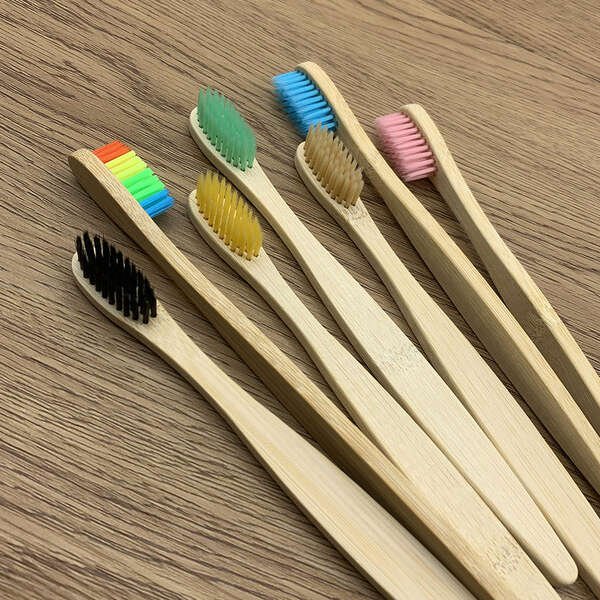 A bamboo toothbrush gives anyone, even little kids, the ability to help reduce plastic waste.
They are also made using a very sustainable raw material, bamboo.
And unlike a typical plastic toothbrush that will remain in landfills for hundreds of years, a bamboo toothbrush is biodegradable.
Some bamboo toothbrushes even have non-nylon bristles!
You can find some of the best bamboo toothbrushes for you and your family here.
5. Natural & Organic Body Washes
Natural and organic body washes are a must-have eco-friendly bathroom product for any individual.
Why?
They are made with sustainably sourced ingredients and are free of SLS, PEGS, parabens, fragrance, and other harsh chemicals.
And as you can guess, these non-toxic body washes also have eco-friendly packaging that is either plastic-free, refillable, or 100% recyclable.
When shopping for a natural and organic body wash, look for those that are:
Made using Fair Trade, certified organic, and natural ingredients
Produced using an eco-friendly manufacturing process
It comes in eco-friendly packaging
Check out our list of the best organic and natural body wash to find great options.
We also have a collection of non-toxic zero waste face wash for you.
6. Eco-Friendly Bath Towels
Eco-friendly bath towels are made with eco-friendly fabrics like organic cotton, hemp, and bamboo.
Why is this better?
Compared to conventional cotton or polyester, eco-friendly fabrics are produced using environmentally friendly processes that have a lower impact on the planet.
Moreover, eco-friendly bath towels are made with natural and organic fabrics produced without using harmful chemicals.
So they are not only better for the planet but are also safe to use, even those with sensitive skin.
For a more eco-friendly bathroom routine, we highly recommend using an eco-friendly bath towel.
7. Eco-Friendly Bath Robes
Like eco-friendly bath towels, eco-friendly bath robes are also a sustainable bathroom product since they are made with eco-friendly fabrics.
One of our favorite eco-friendly bath robes is made using bamboo lyocell by ettitude.
Robes made with bamboo lyocell are more eco-friendly since bamboo lyocell is produced using a non-toxic and organic solution.
The production of bamboo lyocell also uses a "closed-loop system" where most of the waste is reused and recycled.
8. Zero Waste Makeup Removers
How do you remove your makeup? With single-use cotton rounds?
Most typical makeup removers are disposable and are responsible for tons of waste.
And what's worse?
Most of them also come in single-use plastic packaging!
Meanwhile, zero waste makeup removers are specially designed to reduce the environmental impacts of using makeup.
These sustainable bathroom products provide effective, safe, and planet-friendly makeup removal sessions wherever you are.
You also have plenty of options to choose from, including reusable bamboo rounds to multi-purpose makeup remover and organic facial makeup cleansing bars!
Feel free to check out our selection of the best zero waste makeup removers that effectively rid your makeup with the least negative impact on the environment.
9. Zero Waste Deodorants
Most conventional deodorants have single-use plastic containers.
And you may not know this, but most deodorants even contain harmful chemicals that endanger your health!
By switching to a zero waste deodorant, you can beat foul body odors without harming your health or the planet.
And don't worry.
Our selection of the best zero waste deodorants for men and women is proven to work.
Hence, you can rest assured that you won't suffer from BO and stinky armpits while adopting a more eco-conscious lifestyle.
10. Natural Loofah Shower Sponge
A loofah shower sponge is a non-toxic and eco-friendly exfoliating body sponge for baths.
Unlike other bath sponges, it loofah is derived from a sustainable vegetable that can easily be replenished.
Moreover, it has excellent exfoliating properties that cleanse dead skin cells and helps enhance absorption of your skincare products.
Our recommended natural loofah shower sponge contains no dyes or petroleum-based plastic ingredients. 
It is entirely biodegradable and compostable, so using it helps reduce bathroom waste that eventually ends in landfills.
11. Eco-Friendly Candles
If you love lighting scented candles during your bath, this is for you.
Did you know that many of the conventional scented candles release toxins when burned?
They are also huge sources of indoor air pollution!
Here's a solution: eco-friendly candles.
Eco-friendly candles are made with sustainably sourced natural soy wax, scented with natural essential oils, and burns without creating soot or smoke.
These candles are also free from paraffin, dyes, phthalates, parabens, and formaldehyde toxic to humans, pets, and the planet.
Make the switch to eco-friendly candles for your home and enjoy guilt-free baths.
12. Zero Waste Mouthwash
Gargle each morning without feeling guilty about plastic waste!
Zero waste mouthwashes come in plastic-free or eco-friendly packaging.
These eco-friendly dental care products are also made with sustainable, organic, or natural ingredients that are gentle on you but tough on odors and germs.
Take your pick of the best zero waste mouthwash here.
13. Zero Waste Toothpaste
Does the toothpaste you use at home have a single-use plastic tube or a disposable container?
A zero waste toothpaste comes in either refillable, glass, aluminum, paper, and other eco-friendly packaging options.
And even better!
Zero waste toothpastes are made using the safest, natural, and organic ingredients grown without pesticides, herbicides, and other chemicals that pollute the environment.
Our selection of the best zero waste toothpaste includes natural organic, gluten-free, vegan, and cruelty-free toothpastes.
You can also choose between tooth tablets, powders, and cream – all up to you!
By switching to zero waste toothpaste, you can enjoy the same dental care and oral freshness without the usual nasty chemicals and plastic trash.
14. Eco-Friendly Dental Floss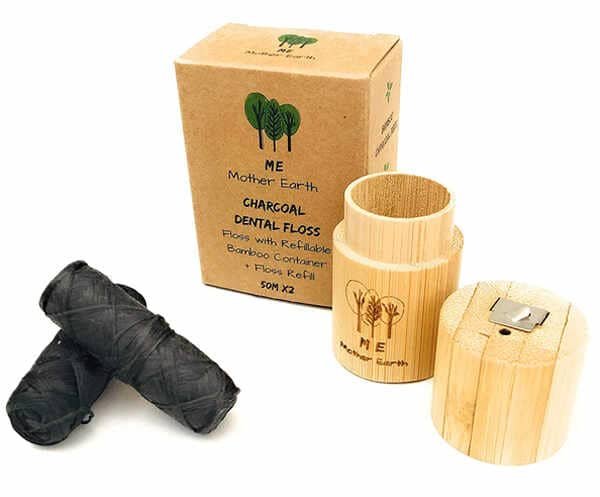 Since conventional flosses are made with non-biodegradable materials and come in plastic containers, flossing becomes a wasteful oral care activity.
But you can change that.
Eco-friendly dental flosses are made with natural, sustainable, and biodegradable materials like bamboo, silk, and other plants.
They also have refillable or non-plastic containers so you can keep your teeth and gums healthy while reducing plastic wastes that end in our landfills.
15. Bamboo Toilet Papers
Toilet papers are essential products for our bathroom.
But did you know that the production of most commercial toilet papers involves bleaching and uses large amounts of water?
And as you may already know, conventional toilet papers are made from trees, so using them is literally flushing trees down the toilet.
Meanwhile, bamboo toilet papers are a must-have eco-friendly bathroom product since they help save trees and prevent deforestation.
Bamboo is also easy to cultivate, fast-growing, and more sustainable than trees.
And after reviewing dozens of bamboo toilet papers in the market, we found the top 10 bamboo toilet papers that are soft, hypoallergenic, durable, and eco-friendly.
16. Attachable Bidets
Here's an interesting eco-friendly bathroom idea: stop using toilet paper.
Instead of wiping your bottom with tps, get an attachable bidet.
An attachable bidet sprayer for toilets is a convenient and hygienic way to wash your private parts without the usual waste from toilet paper.
Check out one of the best attachable bidets on Amazon.
17. Non-Toxic, Eco-Friendly Shower Curtains
Most consumers are not aware that many shower curtains in the market are made from PVC.
PVC (Polyvinyl Chloride) is a highly carcinogenic compound that emits toxic gas into the air and is softened using hormone-disrupting phthalates.
Moreover, some shower curtains are bleached with chlorine which creates dioxin, a carcinogenic chemical, exposing your family and the environment to toxins.
Luckily, you can find many eco-friendly shower curtains today that are safe for your family, pets, and the planet.
18. Zero Waste Period Products
Ladies, some products can significantly reduce waste on your red days.
A menstrual cup can be used like a tampon to collect and store blood flow without the usual waste from disposable pads.
Menstrual cups are made with medical-grade silicone and are reusable.
If you prefer using pads during your time of the month, how about reusable sanitary pads?
Reusable sanitary pads are made with cloth and can be washed and used repeatedly.
19. Plant-Based Cleaning Brush & Scrubs
Say goodbye to toilet brushes and scrubs made with plastic.
Once you throw them away, they'll mostly not get recycled and will end up in three places – landfills, incinerators, and the ocean.
Plant-based brushes and scrubs are plastic-free and made using sustainable raw materials like coconut husks, sisal, bamboo, and wood.
They are biodegradable, so you can clean your bathroom without the guilt of adding more plastic waste to the world.
And to find more plastic-free and eco-friendly cleaning products for the home, click here.
20. Environment-Friendly Drain Cleaners
We all hate clogged toilets, bathroom drains and sinks.
But what is your go-to drain cleaner?
Most commercial drain cleaners contain harsh chemicals like sodium hydroxide (aka caustic soda or lye) that can harm aquatic organisms, irritate your skin, and cause allergies!
And it gets worse.
Due to its corrosive properties, sodium hydroxide can melt the adhesives between PVC drainage pipes resulting in severe damages.
Fortunately, environmentally-friendly drain cleaners solve this problem.
These eco-friendly bathroom products provide excellent drain cleaning and unclogging capabilities using plant enzymes and natural ingredients.
This makes them gentle on your skin, on your plumbing systems, and the planet.
Feel free to check out 10 of the best environment-friendly drain cleaners today!
Final Thoughts
Switching to eco-friendly bathroom products will help reduce plastic waste at home, keep you safe from toxic chemicals, and even save you some money!
And we hope this list of the top 20 sustainable and eco-friendly bathroom products can help you and your family adopt a more green lifestyle easier.
Anyways, which of the eco-friendly bathroom products above are you already using?
Which do you like best and would love to try first?