18 Innovative Eco-Friendly Office Products
As an Amazon Associate, Ecotero earns from qualifying purchases.
This is a list of innovative eco-friendly office products that will help green your workplace.
As you may already know, our workplaces contribute to various environmental issues such as pollution and plastic wastes.
But with this list, you can continue doing your job with ease while helping create a better future for the planet.
Without further ado, let's take a look at 18 of the most popular sustainable and zero waste office products today.
1. Reusable Thermal Flask
There's no need to run to Starbucks for a hot cup of joe early in the morning.
An insulated thermal flask can keep your favorite beverages ice-cold or hot for hours while at work.
Besides helping reduce single-use plastic usage, having a reusable thermal flask can also reduce your expenses from buying coffee, water, and other beverages.
2. Bamboo Wood Desk Organizer
The second entry on this list of eco-friendly office products is something that can help keep your cool (and sanity) during hectic working hours.
No one wants a messy workspace. Do you?
With this bamboo wood desk organizer, you will have a clean and organized desk that you'll love to work overtime!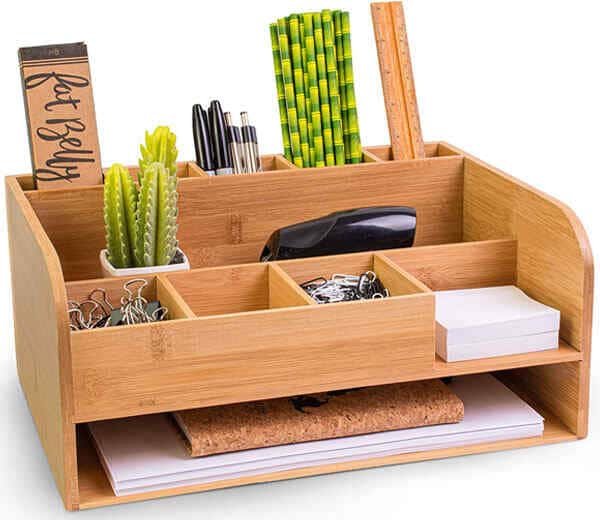 It is made with 100% environmentally friendly sustainable bamboo wood.
A perfect eco-friendly desk accessory for the office, home, and classroom, right?
3. Zero Waste Pencil
Have you heard of pencils you can plant once you're done using them?
This particular eco-friendly pencil is truly zero waste, lead-free, non-toxic, biodegradable, and made from sustainably sourced materials.
But here's the most exciting part:
The tip of this sustainable pencil comes with a small seed capsule; each pencil indicates what plant will grow once you plant it.
Whenever your pencil becomes too short to use, you can plant it in a pot or on the ground and watch it blossom in the next few days!
4. Reusable Fountain Pen
Say goodbye to ever wasteful disposable pens and make the switch an eco-friendly alternative.
One of the best zero waste office items you should invest in is a long-lasting, reusable fountain pen.
Take some time to look for fountain pens made with high-quality, eco-friendly, and sustainable materials.
Alternatively, you can check out our recommended fountain pen.
It is handcrafted using solid brass nib, bamboo wood (bamboo is very sustainable) and comes with distinctive, elegant details.
More importantly, Ecotero's recommended fountain pen is built to last for years to come.
5. Eco-Friendly Pen and Pencil Case
We all can relate to that dreaded moment when a pen marks our favorite bag and accessories permanently.
With an eco-friendly pen and pencil case, you can protect your accessories from being ruined with ink while being friendly with the planet.
Our recommended pen and pencil case is made using soft, flexible, and durable cork fabric.
Cork is one of the most eco-friendly fabrics today since it is sustainable and biodegradable.
This pencil case can also be used as a cosmetic bag for your zero waste makeup, cell phone bag, coin bag, and more!
6. Bamboo Earbuds
Almost all of us probably loves listening to our favorite music while working.
But it would be better for the planet if you enjoy the premium bass from a pair of eco-friendly earbuds, wouldn't you agree?
The Earth Bass Sustainable Headphones are handcrafted using sustainable natural bamboo and bioplastics.
With these earbuds, you can enjoy your favorite beats while at work; eco-friendly style!
7. Eco-Friendly Washable Mouse Pad
This washable mouse pad is made of natural cork fabric and high-quality PU leather. 
It is also non-toxic and environmentally friendly.
Moreover, it is designed to be durable and doesn't fray or fall apart like other mouse pads.
When it gets dirty, you can wash it or use a wet cloth to wipe it.
Let it dry, and it's ready to use again!
8. High-Quality Computer Mouse
Cheap and low-quality products and accessories break easily, which is a waste of money and contributes to the amount of trash ending in landfills.
If you are working from home, make sure to invest in a durable and high-quality computer mouse that will last for years.
This way, you can save money and avoid unnecessary waste.
But what if you are working in the office owned by a company?
You can respectfully inform your boss about the monetary and environmental advantages of investing in a high-quality computer mouse for work.
9. Eco-Friendly Planner
A planner is an essential item for work.
And though most phones today already comes with a built-in planner, some of us still prefer the conventional planner.
But which planner to get?
When shopping for a work planner, make an environmentally conscious choice and buy a planner made from post-consumer waste and recycled materials.
Our recommended work planner features 100% recycled paper and a 50% recycled cover.
10. Eco-Friendly Pencil Sharpener
Say no to pencil sharpeners made with plastic and other non-biodegradable materials that will eventually end in landfills.
Instead, get an eco-friendly pencil sharpener made with wood, bamboo, or other biodegradable materials.
Exhibit A:
11. Plastic-Free Eraser
This eco-friendly eraser is made with natural rubber latex and silica grit.
It will take care of both pencil and permanent ink marks without damaging the paper.
And there's more!
It also comes in a recycled and compostable pulp sleeve.
Correcting some errors shouldn't come at the expense of the planet.
12. Recycled Paper Post-it Notes
Natural forests are cleared and habitats are destroyed to meet the increasing demands of paper products.
By using post-it notes made from recycled paper, you are helping reduce the demand for virgin paper.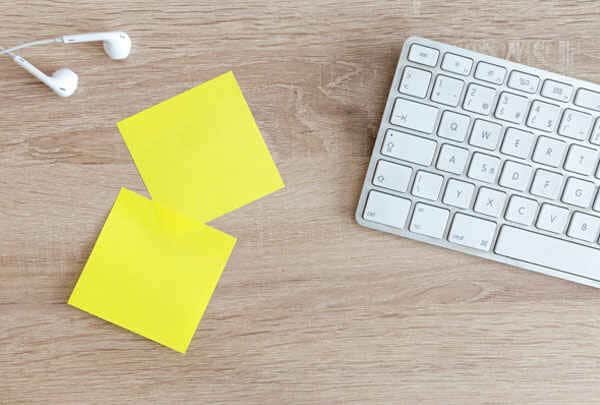 Moreover, you are also helping reduce the waste that ends in landfills!
13. Kraft Paper Tape
What do you use for sealing cardboard for moving and shipping products, or just for long-term storage of office documents?
What if we told you that you can greatly reduce unnecessary plastic waste from conventional scotch tapes and packaging tapes?
Using paper tapes made with eco-friendly, biodegradable, and sustainable materials is the key!
Switching to plastic-free tape is an eco-friendly option for both office and home work stations.
14. Reusable (non-plastic) Lunch Box
Avoid eating overpriced takeout foods in plastic/styrofoam containers by preparing your lunch and packing them in reusable lunch boxes.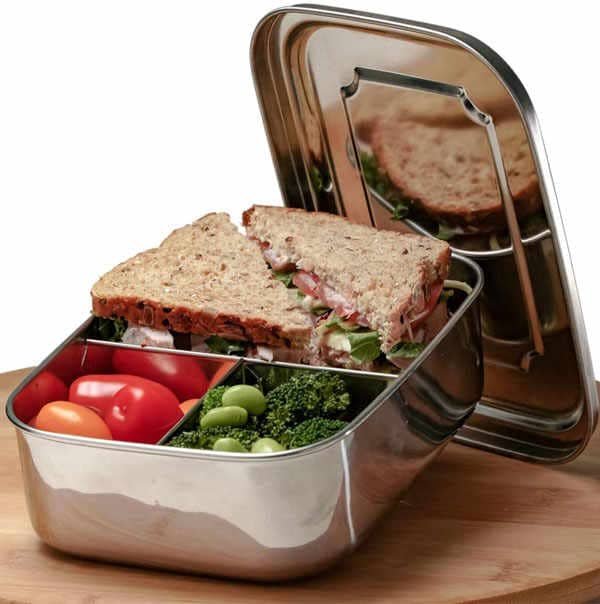 And even if you don't have time to prepare for lunch every day due to hectic working schedules, having a reusable lunch box will still help reduce plastic waste from food containers.
How?
Take your reusable lunch box with you to work and use it to store the food you order.
We know this zero waste office idea may sound tedious, but hey, we're talking about saving the planet for you and your future generations.
15. Reusable Wooden Cutlery
Spoons, forks, and other cutlery made of plastic are among the most common plastic trash polluting our planet.
But we still need cutlery to eat food while at work.
The solution?
Eco-friendly cutlery made with sustainable wood materials.
There is plenty of wooden cutlery today that is elegantly designed and will become the envy of your officemates.
16. Biodegradable Trash Bags
Whether we like it or not, there will be trash in our office.
But where do you store it before throwing it out?
Our featured trash bag is made from PSM (plant starch material), and it completely biodegrades in nature.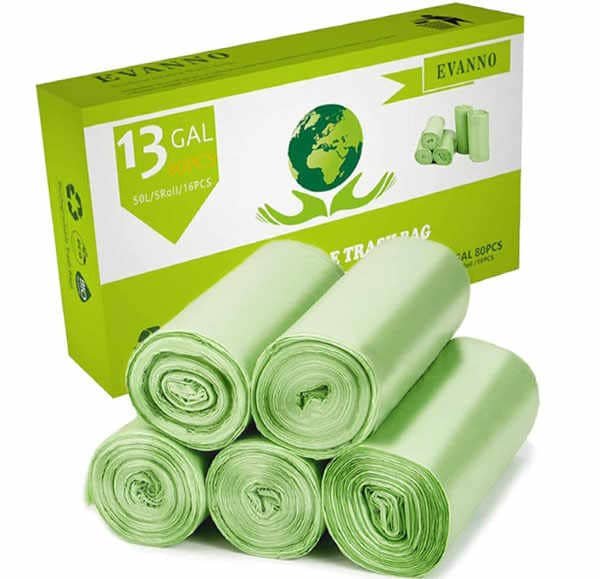 It can decompose into organic fertilizer and can be treated together as wet waste.
It is also compostable and made according to American (ASTM D 6400) and European (EN13432) standards.
17. Eco-Friendly Trash Bin
An eco-friendly trash bin is a perfect partner for biodegradable trash bags in the office.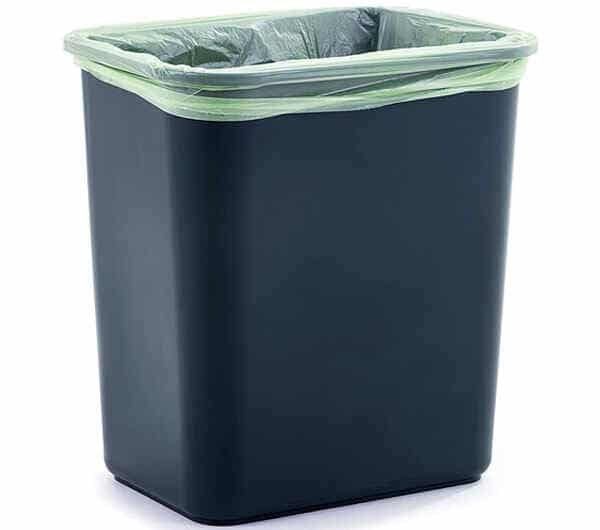 Our featured eco-friendly trash bin is made using 100% recycled material.
It is also recyclable, making it fully sustainable and environmentally friendly. 
It also features a tapered design ideal for narrow spaces and fits perfectly under a standard height desk.
18. Manual Paper Shredder
Yes, you read that right.
Instead of using electricity every time you shred paper, you can do so with clean energy and get a little bit of exercise along the way!
How?
With a manual paper shredder.
Most places today still use electricity produced by burning fossil fuels.
Hence, reducing electric consumption whenever you can is good for the environment.
You can also reduce your electric bills!
There are many high-quality manual shredders today that cut and shred paper documents with ease – without needing to plug it in!
This is an excellent eco-friendly office gadget whether you are working in your company's office or at home.
The Bottom Line
So, which of the innovative and eco-friendly office products above do you find most interesting?
Which one do you already have?
Do you know other eco-friendly office products that deserve to be on this list?
You might also be interested in: