10 Sustainable Fair Trade Chocolate Brands
As an Amazon Associate, Ecotero earns from qualifying purchases.
Chocolates, despite their sweetness, have a surprising "dark" side to them. And no, we're not talking about dark chocolates.
Many of the chocolaty treats we enjoy today come with a hidden ingredient – terrible working conditions, slavery, and child labor.
During the 4th World Cocoa Conference in 2018, the new Berlin Declaration claims that too many cocoa farmers are still in poverty due to improper wage rates.
Furthermore, child labor, gender inequality, and human rights violations are still rampant in the regions where cocoa is cultivated.
And since cacao plant is a high demand crop, its not uncommon for local farmers to clear natural forests to make room for cacao plantations – resulting to deforestation and destruction of natural habitats.
But it's not all bad news for chocolate lovers. 
There are guaranteed ways to know if the chocolate you buy is ethically and sustainably produced.
What are Fair Trade chocolates?
The Fair Trade seal is given to chocolate brands and companies proven to have the conscience not to exploit their workers during their products' production.
Fair Trade chocolate brands support programs that help improve the farmers' livelihood and living standards.
The chocolate Fair Trade label also means that the cocoa used to create these delicacies aren't sprayed with environmentally harmful chemicals.
When you buy Fair Trade chocolates, you are making sure that cocoa farmers/workers are appropriately paid for their labor, and the cocoa plants are cultivated in an eco-friendly way.
So without more delays, below are some of the trustworthy Fair Trade chocolate brands.
Let's see if you've already purchased from any of them before.
---
1. Belvas Chocolate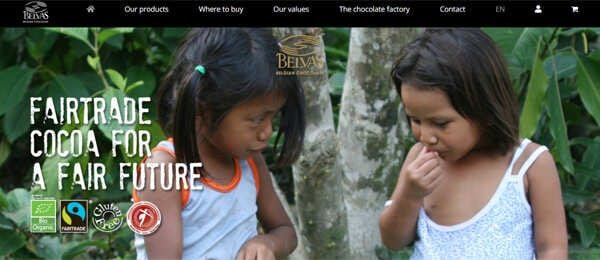 Belvas Chocolate claims to be the first organic chocolate factory in Europe. 
The company was also nominated to be the "greenest micro-enterprise in Europe" by the European Commission (EMAS Award) in 2011.
The company manufactures delicious chocolatey delights made of 72% cocoa, organic almonds, organic hazelnuts, and other organic ingredients.
Organic ingredients are grown and cultivated without pesticides that might contain chemicals that can harm a person or the environment.
All Belvas products are certified under the Fairtrade label and contain no hydrogenated fat, no palm oil, no coloring, no preservatives, and no artificial flavors.
---
2. Alter Eco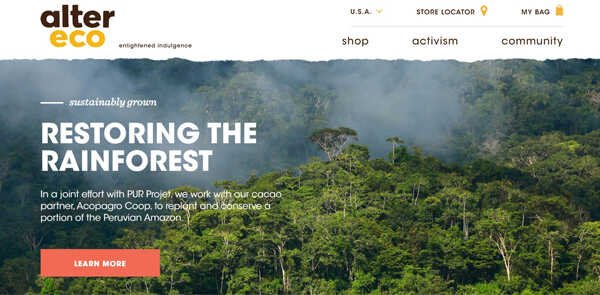 Another Fair Trade chocolate brand from which chocolaty delicacies you can enjoy without guilt is Alter Eco.
Alter Eco doesn't just make sure their cocoa beans are sourced responsibly, but they even help replant and conserve a portion of the Peruvian Amazon rainforest.
Alter Eco is also a certified B Corporation – a recognition awarded to businesses that meet the highest standards of verified social and environmental performance, public transparency, and legal accountability to balance profit and purpose.
Furthermore, Alter Eco's chocolate products are organic, non-GMO, and crafted without preservatives, soy, and palm oil. 
They also use responsible packaging and support sustainable agroforestry to ensure cacao plants are grown and harvested using the most environmentally-friendly practices.
---
3. Tony's Chocolonely
This Fair Trade chocolate company is based in Amsterdam, the Netherlands.
Tony's Chocolonely's mission is to create a 100% slave-free chocolate industry. The company claims that they can achieve this by five things:
Traceable beans.
A higher buying price for cocoa beans.
Strong farmers.
Long term partnerships.
Increased cocoa productivity.
The company also keeps track of their negative environmental impact during cocoa cultivation and chocolate production and makes necessary actions to minimize them.
Tony's Chocolonely has a variety of rich and creamy chocolate products to choose from.
---
4. Lily's Sweets
Lily's Sweets is a Philadelphia-based "better-for-you" foods company that uses non-GMO and gluten-free ingredients harvested through Fair Trade practices.
Lily's Sweets also pledge a percentage of their earnings to non-profit organizations that support the fight against childhood cancer and other life-threatening diseases.
Chocolates by Lily's Sweets are botanically sweetened, so there are no refined or processed sugars to worry about.
And during this article, LIly's Sweets has a variety of delicious chocolates to choose from.
To mention a few are no sugar added chocolate chip cookie recipes, gluten-free, keto + paleo, and vegan + gluten-free chocolate bars.
---
5. Stella Bernrain
Stella Bernrain, is a Swiss chocolate company recognized as one of the leaders in promoting Fair Trade practices in the chocolate industry.
The company is considered to be one of the original Fair Trade chocolate movement pioneers.
The company's cocoa is supplied by the El Ceibo cooperative of small producers in Bolivia and the sugar by the Alter Trade Cooperative from the Philippines.
Stella Bernrain currently sells various innovative choco delights, including chocolate that is sweetened with coconut blossom sugar, vegan hazelnut bar, lactose-free chocolates, organic chocolates, and others.
---
6. GREEN & BLACK'S 
Green & Black's claims that their brand name symbolizes the two pillars of their company.
The "Green" symbolizes their commitment to always sourcing ethical cocoa, and "Black" stands for the high quality and delicious intensity of their chocolate.
The company has a wide variety of chocolate products, all expertly crafted with hand-selected, ethically sourced cocoa beans.
GREEN & BLACK'S signature chocolates include Pure Dark and Pure Milk chocolates that contain no artificial flavors, colors, or preservatives.
The company also has various organic dark and milk chocolate bars, including their Maya Gold –the first product to be awarded the Fair Trade Mark by the Fairtrade Foundation UK.
GREEN & BLACK'S uses cocoa beans sourced through Cocoa Life, a holistic, third-party verified cocoa sustainability program.
Cocoa Life is said to invest $400 million by 2022 to empower 200,000 cocoa farmers and provide them with the knowledge and skills to improve their livelihoods, strengthen their communities, empower women, and inspire the new generation of cocoa farmers.
---
7. Pascha Organics
Pascha uses UTZ certified cacao for their chocolate products. 
UTZ Certified stands for sustainable farming and better opportunities for farmers, their families, and our planet. 
The company's raw cacao beans travel very minimally, from sustainable cacao bean fields to the nearest chocolate factory to minimize carbon footprint.
And besides being Fair Trade certified, Pascha chocolates are also
Free from all nuts and made in a nut-free facility
Certified gluten-free by the Celiac Support Association
Certified vegan
USDA certified organic
Non-GMO
Kosher certified
---
8. Endangered Species Chocolate
This Fair Trade chocolate company is headquartered in Indianapolis, Indiana, and its mission goes beyond helping cocoa farmers overcome poverty and exploitation.
As the name suggests, Endangered Species Chocolate also dedicates 10% of its net profits to preserve wildlife and habitats worldwide through organizations like African Wildlife Foundation.
Moreover, the company only uses responsibly sourced ingredients on their products, with no artificial sweeteners or additives. 
They also don't use palm oil since palm cultivation contributes to deforestation in tropical regions.
Endangered Species Chocolate products are certified gluten-free. They also have vegan and non-GMO certified chocolate options.
---
9. Theo Chocolate
This Fair Trade chocolate company is based in Seattle, USA, and is certified Fair for Life by Ecocert.
Theo Chocolate only uses carefully screened and third party-verified ingredients to ensure they meet the standards for social and environmental sustainability.
The company works directly with farmers in the Norandino Cooperative in Peru and Esco-Kivu in the Democratic Republic of Congo.
This ensures sourcing of organic, ethical, and Fair Trade certified cocoa that benefits farmers and the environment.
Theo Chocolate products are soy-free, vegan-friendly, gluten-free, halal, and non-GMO.
Moreover, Theo Chocolate products are also STAR-K Kosher certified and USDA Organic certified.
---
10. Divine Chocolate
And last but not list on this list of eco-friendly and Fair Trade chocolate brands is Divine Chocolate.
This UK-based chocolate brand claims to be the only Fair Trade chocolate company co-owned by cocoa farmers.
The shareholder of Divine Chocolate is Kuapa Kokoo Farmers' Union, a cooperative of 100,000 cocoa farmers in Ghana who cultivates sustainably grown and high-quality cocoa for the company products.
The company pays a minimum of $2,400 per ton of cocoa to protect farmers from any sudden price drops in the market. 
It also supports cooperative projects, including women empowerment.
Divine Chocolate has many chocolatey delights to choose from, including organic and vegan chocolates.
---
Conclusion
Who would think that even tasty chocolates have a sour story to tell?
Well, now, you're wiser than ever.
We hope this list of 10 Fair Trade chocolate brands has been useful for making a more conscious decision.
The next time you crave chocolates, look for a Fair Trade seal and certifications that prove the company is making an honest effort to combat slavery and other malpractices in the chocolate industry.
Anyways, what are the other ethical and fair trade chocolate brands you know that deserve to be on this list?
How many of the Fair Trade chocolate brands above you already tried before? Are their chocolates as delicious as the other popular brands?