13 Most Eco-Friendly Fabrics For Sustainable Fashion
As an Amazon Associate, Ecotero earns from qualifying purchases.
Clothes made with eco-friendly fabrics are becoming a trend as more consumers want to live an eco-conscious and sustainable lifestyle.
But while many clothing fabrics are touted to be better for the planet, these eco-friendly fabrics are not created equal.
So, we did the research for you.
Below are 13 of the most eco-friendly fabrics and the reasons that make them green.
Let's check them out.
1. Hemp
Hemp, the sober cousin of Marijuana, is one of the sources of the most eco-friendly fabrics today.
Hemp fabric is eco-friendly and sustainable given that:
Cultivation of hemp requires less natural resources;
Growing hemp can clean contaminated soil;
Hemp can survive without pesticides;
Production of hemp fabric is less damaging to the environment;
Hemp fabric is durable and long-lasting;
Natural hemp fabric is biodegradable;
And more! (11 Reasons Why Hemp Clothing Is Eco-Friendly)
As long as the hemp clothing brand is transparent about its hemp cultivation and fabric processing, it's a good choice for anyone looking to have a greener wardrobe.
But like eco-friendly fabrics, hemp clothing is not made equal.
Hence, we highly recommend that you buy hemp clothing from brands that guarantee their production and manufacturing process have the least harmful impact on the environment.
2. Organic Cotton
Compared to conventional cotton, organic cotton is a more eco-friendly fabric alternative.
Why?
Organic cotton is grown without synthetic chemicals, pesticides, and fertilizers that can pollute the soil, water systems and harm living organisms.
And guess what?
Organic cotton production removes the use of toxic chemicals and uses innovative farming methods that benefit the planet.
Producers of the organic cotton fabric also consider replenishing and maintaining soil fertility while minimizing the use of Earth's natural resources.
Organic cotton vs. Conventional cotton
While both conventional cotton and organic cotton are biodegradable, the former is a highly "thirsty crop" that requires substantial amounts of water and irrigation.
Cultivation of conventional cotton also accounts for 25% of the world's insecticide usage and over 10% of pesticide usage.
That's a lot of toxic and inorganic chemicals polluting the environment.
So if you love cotton clothing, but you don't want to feel guilty for the environment every time you wear your clothes, go for organic cotton clothing.
3. Recycled Cotton
Recycled cotton is derived from materials that would otherwise go straight to landfills.
If this is your first time hearing about this eco-friendly fabric, recycled cotton is also known as reclaimed or regenerated cotton.
There are two primary sources of recycled cotton:
The remains of cotton yarns and fabrics that are discarded when creating cotton products
Cotton fabric from post-consumer cotton products – including clothing, upholstery, towels, and other cotton textiles
Recycling cotton helps minimize the waste of resources and prevents more fashion waste from ending up in the landfill.
Moreover, the amount of water needed to produce recycled cotton fabric is far less than the amount used to grow and generate virgin cotton fabric.
4. Linen
Linen is one of the oldest and most eco-friendly clothing fabrics there is.
It is derived from the flax plant, and the word "linen" comes from the Latin name for flax, "Linum usitatissimum?"
Similar to hemp and bamboo fabric, linen is derived from a very versatile and sustainable crop.
Flax plants require little water and fertilizer to thrive and even grow in poor-quality soil.
After harvest, the flax fibers can be readily used to create various products or processed into yarns for textile and clothing.
Linen is a natural fiber that is extremely strong and can be weaved into a lightweight fabric.
When untreated with synthetic dyes or inorganic chemicals, linen is entirely biodegradable.
However, producing linen fabric requires intensive hand labor.
The manual processes that workers have to go through to produce this eco-friendly fabric is one of the reasons why it is relatively expensive compared to cotton.
5. Recycled Polyester
Unlike the other eco-friendly fabrics made from natural fibers (mentioned above), recycled polyester is a synthetic (man-made) fabric.
However, instead of using new materials, recycled polyester is made by recycling post-consumer plastic waste.
In many cases, recycled polyester is made from old plastic bottles of water and beverages.
As you can already guess, recycled polyester is eco-friendly since it gives a second life to nonbiodegradable wastes (plastic) that would otherwise end up in landfills or the ocean.
Moreover, producing recycled polyester dramatically decreases greenhouse gas emissions and water usage compared to producing virgin polyester. 
This is why some of the top eco-friendly clothing brands use recycled polyester to create their sustainable clothing lines.
6. Bamboo Lyocell
Bamboo products are all the hype today since bamboo is very sustainable and eco-friendly material.
But contrary to popular belief, not all bamboo fabrics are eco-friendly!
Bamboo rayon (aka bamboo viscose), in particular, is produced by chemical-intensive processes that pollute the environment and harms the workers.
Only bamboo linen and bamboo lyocell are genuine eco-friendly bamboo fabrics.
However, it's hard to find clothing made with bamboo linen since the production of this fabric is labor-intensive and expensive.
But there's good news for bamboo fabric supporters.
There are quite a decent number of clothing brands that sell products made with bamboo lyocell.
What is bamboo lyocell?
Bamboo lyocell is a bamboo fabric produced by soaking bamboo in organic compounds made of amine oxide (instead of toxic chemicals).
Bamboo lyocell is also produced in a closed-loop system.
In a closed-loop system, up to 99% of the solution used to break down bamboo pulp is recovered and recycled, minimizing water and energy consumption.
Hence, when shopping for bamboo clothing, make sure that the bamboo fabric used is bamboo lyocell.
You can also verify and check the bamboo clothing brand's manufacturing processes and how they grow (or source) their raw materials to make a better judgment.
7. Tencel
Tencel (aka TENCEL™) is a brand name for a line of sustainable fabrics owned by the Austrian company Lenzing AG. 
At the moment, there are two types of Tencel fabric: lyocell and modal.
TENCEL™ Lyocell
Tencel lyocell is an eco-friendly fabric that is very versatile.
It can be combined with other textile fibers such as cotton, wool, and silk to enhance its aesthetics and functionality.
TENCEL™ Modal
Tencel modal fabric is exquisitely soft and pleasant to the skin. 
All Tencel fabrics are derived from sustainably sourced wood that undergoes environmentally responsible processes.
Some of the most noteworthy features of Tencel fabrics are: 
Of botanic origin,
Sustainable production, 
Soft and hypoallergenic,
Breathable yet durable,
Biodegradable.
Moreover, Tencel fabrics are also produced in a closed-loop solvent system to minimize fabric production wastes significantly.
8. Econyl
What the heck is Econyl, you ask?
Econyl, or ECONYL® regenerated nylon, is an eco-friendly fabric created by the Italian firm Aquafil.
It is derived from waste materials such as industrial plastic, waste fabric, nylon, and fishing nets from oceans.
And we don't need to tell you that the more waste materials are being recycled, the less waste is left littering the environment.
Econyl possesses the exact characteristics of virgin nylon, only more eco-friendly.
It can also be recycled repeatedly.
Moreover, products made of Econyl fabric are created without using new resources, help clean the ocean, and protect marine habitats in the process.
Econyl fabric is produced in a closed-loop system, uses less water, and creates less waste than traditional nylon production methods. 
9. Soy Silk
As more people are becoming aware of the environmental benefits of veganism, more and more vegan options for various products are surfacing. 
And with silk being produced from silkworms, the fashion industry now has vegan silk.
Soy silk is also known as soy fabric, vegetable cashmere, vegan cashmere, or soy protein fiber.
It is an eco-friendly fabric derived from byproducts of the soy industry (hulls of soybeans).
And since it is made from supposedly waste materials, it doesn't use up new valuable resources but instead an innovative way to repurpose waste.
There have been many innovations recently on how to upcycle waste from the food industry into eco-friendly fabrics.
The latest one we know of is vegan leather made from mangoes.
But back to soy silk, this eco-friendly fabric is completely natural and is fully biodegradable. 
Producing soy silk also uses minimal toxic chemicals and dyes.
10. Cork Fabric
Cork fabric, also known as cork skin or cork leather, is a natural fabric created sustainably from the bark of cork oak trees.
How is it produced?
Producing cork fabric requires harvesting cork bark from the cork oak trees.
And don't worry, fellow tree huggers.
Removing the bark from the cork oak trees does not harm the tree.
Much of the production of cork fabric is handcrafted, so it uses far less energy and generates less carbon emissions.
Moreover, cork fabric wears similarly to leather, which is why it is also referred to as cork leather. 
But unlike typical leathers, cork fabric can be washed using hot water in a washing machine.
11. Wool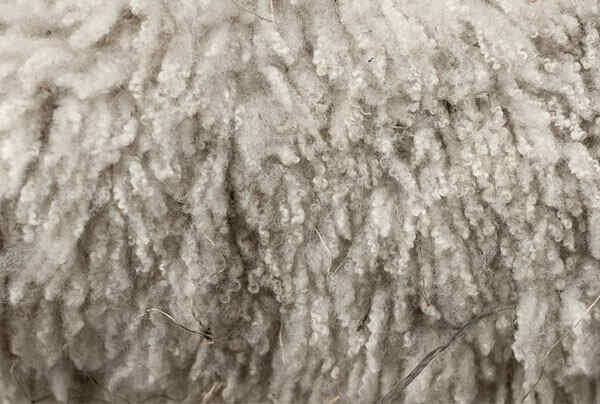 Wool is a natural fiber fabric derived from the fleece of animals.
It is one of the most common textile fabrics globally, right after cotton and synthetic fibers.
And while many consumers associate wool with sheep, the wool fabric can also be derived from other animals like alpaca, camel, goats, rabbits, and yak.
But what makes wool eco-friendly?
Well, for starters, wool is quickly renewable, recyclable, and can be produced organically.
Besides being a highly sustainable fabric, wool is also completely biodegradable and does not contribute to any micro-plastic pollution.
Moreover, after hemp, wool consumes less energy and has a smaller carbon footprint than most textile fibers.
12. Upcycled/Recycled Leather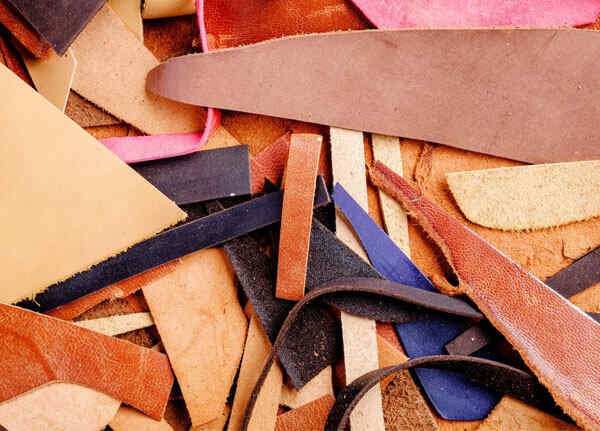 The leather industry is widely known to cause various harm to the environment.
The use of industrial chemicals for the leather tanning process to the copious amount of methane caused by cow farms, to mention a few.
But there is an eco-friendly leather fabric.
Recycled and upcycled leather is made from leather scraps and residues collected from tanneries and other leather product manufacturers. 
This is an excellent way to reuse waste materials that would only wind up in a landfill.
Other raw materials for this eco-friendly fabric comes from older animals who die naturally or from skins discarded by the meat industry. 
This makes recycled and upcycled leather an excellent way to minimize waste and reduce the demand for new raw materials for creating leather products.
And unlike leather alternatives made from plastic, upcycled and recycled leather are completely biodegradable.
13. Piñatex
Are you looking for a 100% vegan leather alternative?
Piñatex (aka Piñatex ®) is a vegan leather derived from pineapple leaves, a byproduct of the fruit harvest. 
This innovative and eco-friendly fabric was developed by Dr. Carmen Hijosa, a Spanish leather goods expert.
It is estimated that around 40,000 tons of pineapple leaves are discarded from the pineapple harvest every year.
These leaves will eventually become organic waste; most are bound for landfills where they will rot and release tons of methane – one of the Greenhouse Gases.
The production of Piñatex helps reduce the number of pineapple leaves sent to landfills.
But that's not all!
Piñatex has the potential to replace animal leather which is notoriously damaging to the environment.
And since it is made from waste materials, the production of Piñatex helps conserve natural raw materials while reducing waste!
At the moment, Piñatex is commonly used as an eco-friendly and vegan leather alternative by fashion designers.
Eco-Friendly Fabrics FAQ Section
What fabric is eco-friendly?
The most eco-friendly fabrics are those derived from natural and sustainable resources.
Fabrics produced without (or the least amount) toxic and inorganic chemicals such as synthetic dyes and bleach are also better for the planet.
What is the most sustainable fabric for clothes?
In our opinion, hemp is the most sustainable fabric for clothes given that:
It comes from a sustainable plant.
Hemp can grow on almost all kinds of soil.
Clothing made of hemp fabric is durable.
Natural hemp fabric is biodegradable.
Growing hemp provides plenty of environmental benefits.
Check out the best hemp clothing brands here.
What is the most ethical fabric?
The most ethical fabrics are created from sustainable sources without harming any animals and the planet.
Ethical fabrics are also created without slavery and forced or child labor.
Final Thoughts on the Most Eco-Friendly Fabrics
Thanks to the eco-friendly fabrics above, it becomes possible for anyone to have more sustainable wardrobe options.
We know that you don't want to feel guilty every time you wear your favorite tops or dress.
However, we want to make it clear that even the most eco-friendly fabrics above are not perfect.
While they are indeed more green compared to other textile fabrics, they too have drawbacks. 
Why?
Simply because the production of clothes, from growing and gathering raw materials to their final disposal, will have various environmental impacts.
For instance:
It will require natural resources like land and water to produce fabrics.
Moreover, the processing and shipping of fabrics will require energy and create carbon emissions.
The use of chemicals and pesticides within the fashion and textile industry will also negatively affect the environment.
Nevertheless, eco-friendly fabrics give consumers and businesses the chance to make more conscious decisions regarding clothing.
Help minimize the environmental impacts of the clothing industry!
Besides buying clothes made with eco-friendly fabrics, there are other ways you can help reduce the environmental impacts of the fashion industry.
For starters, taking good care of your clothes will make them last longer.
This allows you to save money from buying new clothes and help reduce the consumption of natural resources.
You also create less waste that needs recycling, burning, or sent to landfills.
You can also buy used clothes and recycle or repair damaged ones rather than throwing them away.
Doing these simple things on top of choosing clothes made with the most eco-friendly fabrics will allow you to have a more sustainable fashion choice.
References