10 Best Eco-Friendly Toothbrush For Sustainable Oral Hygiene
As an Amazon Associate, Ecotero earns from qualifying purchases.
Eco-friendly toothbrushes should be part of everyone's hygiene kit for good reasons.
For starters, an eco-friendly toothbrush can significantly reduce plastic waste that ends in landfills and the ocean.
They are also made with non-toxic materials and are very effective in maintaining healthy gums and teeth.
But we understand that as much as you want to protect our planet, you also want the best oral care for you and your family.
So we did a research and round up 10 of the best eco-friendly toothbrushes for kids and adults.
The products we featured below are made with environment-friendly materials (such as recycled plastic and bamboo) and provide excellent oral hygiene.
We made our choices based on:
Material sustainability
Safety and design
Biodegradability
Overall value for money
Let's take a look at your options.
1. Isshah Bamboo Eco-Friendly Toothbrush
OVERVIEW
All-natural biodegradable bamboo handle
Features carbon-treated, soft charcoal bristles
Non-toxic and BPA-free
Cruelty-free and vegan-friendly toothbrush
This eco-friendly toothbrush is specially designed to solve your oral hygiene needs and lessen the surge of plastic pile-ups in landfills and seas.
It is also one of the best bamboo toothbrushes on the market!
Isshah's biodegradable toothbrush came with a handle made of all-natural bamboo and packed in a recycled, biodegradable kraft paper box.
It has soft charcoal bristles that effectively clean your teeth and eliminate germs to protect every corner of your mouth.
It can last as long as your plastic toothbrushes, have a lesser negative environmental impact, and is very affordable.
2. Jordan Green Clean Compostable Toothbrush
OVERVIEW
Made with FDA-approved recycled plastic
Features plant-based soft type bristles
Housed in recycled paper packaging
Award-winning sustainable toothbrush
The Jordan Green Clean toothbrush is made from recycled plastic trash derived from food containers.
And don't worry because the FDA approves the materials used on this toothbrush, so they are safe for you and your family.
Another thing we love about this eco-friendly toothbrush is that instead of nylon, they used plant-based bristles from Castor bean oil – which is biodegradable!
It also has an efficient and ergonomic design and won a sustainability award at the IdentiPlast 2019.
3. Bleeker and Rowe Biodegradable Toothbrush
OVERVIEW
Biodegradable toothbrush crafted from sustainably sourced corn
BPA-free soft bristles
Cruelty-free and vegan-friendly
Eco-friendly and biodegradable packaging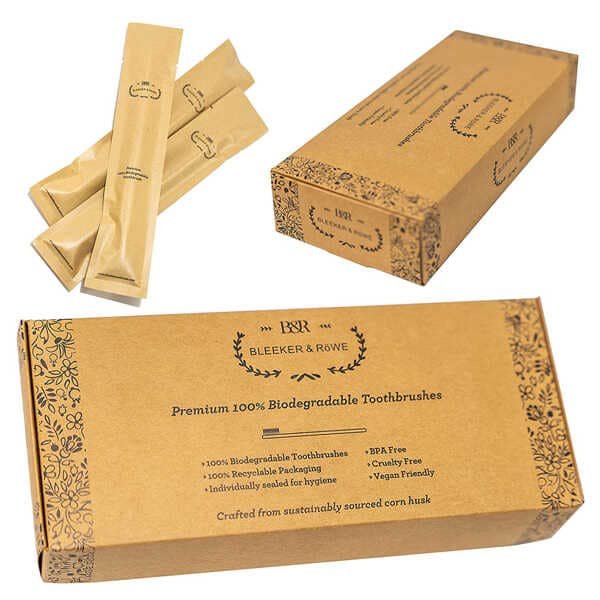 Bleeker and Rowe's toothbrush is the only one on this list made of sustainably sourced corn husk and corn starch.
Yes, a toothbrush made from corn!
This means the toothbrush handle, including its bristles, is fully biodegradable and has a lower carbon footprint compared to conventional plastic toothbrushes you can buy in stores.
Even the product packaging is 100% biodegradable and recyclable.
And for vegans, you'll love to know that this eco-friendly toothbrush is also vegan-friendly and cruelty-free.
The perfect toothbrush to use so you can protect all living things and still take good care of your dental hygiene.
4. The Humble Co. Biodegradable Bamboo Toothbrush
OVERVIEW
100% sustainably-grown bamboo handle
Features high-quality soft bristles with end-rounded tips
Vegan certified eco-friendly toothbrush
Developed by dentists
Who knows more about our teeth than dentists?
The Humble Co. Bamboo toothbrush's edge on all of the eco-friendly toothbrushes on this list is that dentists develop it!
It features rounded end tips designed to gently your teeth and gums (avoid bleeding) while providing super teeth cleaning capabilities.
The handle is made from 100% biodegradable, sustainably-grown bamboo and has BPA-free nylon-6 bristles from Dupont.
Moreover, this toothbrush's packaging is also designed to be eco-friendly.
The box and inside wrapper are made from recycled materials and can be thrown together with other organic trash. 
The Humble Co also launched a foundation to give free toothbrushes and oral products to children for every toothbrush they sell.
5. Original Brush Zero Waste Toothbrush
OVERVIEW
Biodegradable natural bamboo handle
Biodegradable plant-based bristles
Eco-friendly packaging
Vegan-friendly and zero waste toothbrush
This toothbrush's biodegradability and zero waste-ness are one of the reasons that it made this list.
Its creators guarantee the complete compostability of this toothbrush within four months of disposal, including its bristles.
From the product to packaging, everything is organic and biodegradable.
Another unique thing about this biodegradable toothbrush is that it features a tongue brush at the back of the bristles.
6. Preserve Recycled Plastic Toothbrush
OVERVIEW
Handle created with 100% recycled plastic
Tiered bristles for gentle, thorough cleaning
Easy-to-grip curved handle
Recyclable through a mail-in recycling program
This toothbrush may not be biodegradable, but it is still eco-friendly in many ways. 
For instance, it is made with recycled post-consumer plastic from yogurt cups – effectively reducing the plastic trash that goes to landfills.
Another great thing about Preserve's eco-friendly toothbrush is that dental professionals develop it! 
It has a specially designed ergonomic handle with soft bristles that effectively clean the teeth and gums.
Moreover, the Preserve provides a step-by-step mail-in recycling program for their products.
7. Brush with Bamboo Eco-Friendly Toothbrush
OVERVIEW
FSC Certified bamboo handle
Plant-based biodegradable bristles
USDA certified biobased toothbrush
Vegan, BPA-free, and non-toxic
Keeping everything eco-friendly is a challenge the company Brush with Bamboo has taken head-on.
The company's toothbrush is one of the most eco-friendly toothbrushes to date. How?
Its handle is made using FSC certified bamboo.
The FSC or Forest Stewardship Council is an international non-profit organization that promotes responsible management of forests.
The company's bamboo toothbrush also comes with USDA-certified plant-based soft bristles.
The box encasing the toothbrush is also made from paper, and no tape or glue is used.
And like all the products on this list, it is non-toxic, BPA-free, and guaranteed safe for kids and adults.
8. Leafico Bamboo Toothbrush
OVERVIEW
Ergonomically designed bamboo handle
Charcoal-infused bristles
Kit includes eco-dental floss, stainless steel tongue scraper, and travel case
100% plastic-free and BPA-free toothbrush
Leafico Bamboo toothbrush has a competitive quality in terms of eco-friendliness and biodegradability.
The package comes with other eco-friendly dental products, including an eco-friendly dental floss, a stainless steel tongue scraper, and a bamboo travel case.
The bamboo travel case that comes with this bamboo toothbrush is made to be water-resistant, anti-mold, anti-dew, and doesn't crack.
Meanwhile, the tongue scraper made of stainless steel will bring your mouth hygiene to a better clean and smell. 
9. SimpliGOOD Plant-based Toothbrush
OVERVIEW
Plant-based plastic handle
Charcoal infused soft nylon bristles
BPA-free and gluten-free 
Recyclable paper-based packaging
SimpliGood's version of eco-friendly toothbrush features a handle made with plant-based plastic.
The material they use is called PLA, and unlike other plastics, PLA breaks down faster overtime after being disposed of.
This plant-based toothbrush is also equipped with ultra-fine, charcoal-infused bristles that are easy on your gums but very effective in reaching those hard-to-clean areas between teeth.
Moreover, SimpliGood's toothbrush is packed using recycled paper to help reduce waste.
And for every purchase of their product, the company gives away free toothbrushes for those in need.
10. Gaia Guy Biodegradable Bamboo Toothbrush
OVERVIEW
Natural bamboo handle
Natural boar hair bristles
100% biodegradable toothbrush
Minimal and compostable packaging
This eco-friendly toothbrush is 100% biodegradable: handle to bristles.
Its handle is made from the renewable natural bamboo plant, while the bristles are made from boar hair.
The bristles are carefully harvested and then boiled to be straighter and hygienic.
They are also less abrasive than nylon bristles, so your teeth get clean thoroughly without ruining your tooth enamel.
The Gaia Guy bamboo and boar hair toothbrush has zero plastic, nylon, and no petroleum-derived products.
Once it's past usability, you can bury it in your backyard or compost it, and it will naturally degrade after a short time.
The tube container is made with paper and is also compostable and recyclable.
FAQs
What is the most eco-friendly toothbrush?
On this list, the most eco-friendly toothbrush is the one that has the highest compostability.
So in our opinion, this recognition goes to these brands: Gaia Guy, Jordan Green, Brush with Bamboo, and Original Brush.
But feel free to weigh in about this matter and leave a comment below.
Are bamboo toothbrushes better than plastic?
In terms of sustainability, bamboo is a more renewable material than plastic. 
Bamboo is also a natural material and is non-toxic, whereas plastic contains harmful substances like BPA.
However, we can't just disregard some companies' efforts that make eco-friendly toothbrushes from materials other than bamboo.
For instance, using recycled plastics in manufacturing a toothbrush has reduced plastic pile-ups in landfills and the ocean.
The same can be said for toothbrushes made with other plant-based materials.
Hence, while a bamboo toothbrush is more sustainable, toothbrushes made from other eco-friendly materials are essential to better environmental conditions.
Do bamboo toothbrushes harbor bacteria?
Like plastic toothbrushes, bamboo toothbrushes also harbor bacteria. 
However, you can avoid contacting harmful microorganisms by ensuring that your toothbrush is covered correctly when not used and cleaned properly after every usage.
Final Thoughts
You're probably aware that so many plastic-made products have already invaded our homes.
And if we don't do something about it, the next generation might not have a planet to live on.
With this list of the best eco-friendly toothbrushes, we hope that you can switch your plastic toothbrush to more planet-friendly options.
Anyways, which eco-friendly toothbrush above interests you the most?
Which one would you say is the most eco-friendly toothbrush?