10 Most Eco-Friendly Water Bottles: Safe, Durable, Sustainable
As an Amazon Associate, Ecotero earns from qualifying purchases.
Thanks to reusable and eco-friendly water bottles, we can enjoy our favorite hot or cold beverages while reducing single-use plastic waste.
This is a huge deal considering we are currently producing over 380 million tons of plastic every year, and only about 10% of plastic is ever recycled.
A reusable water bottle is also one of the must-have eco-friendly travel products that greatly reduce waste during our journeys.
But out of the many eco-friendly water bottles in the market, which one should you get?
Well, we've done all the research for you.
And instead of giving you a long list of eco-friendly water bottles, we've only picked 10 since we know you prefer quality over quantity.
So without further ado, below are 10 of the best, high-quality, and most eco-friendly water bottles in the market you can surely trust.
Take your pick.
1. LifeStraw Go Eco-Friendly Water Bottles
Overview
Leakproof and double-wall vacuum insulated
Features carbon filter and membrane microfilter
Protects against bacteria, parasites, microplastics, chlorine, and other water impurities
Stainless steel water bottle (24oz)
LifeStraw makes some of the best eco-friendly water bottles today.
The company products are way more advanced than other water bottles, with their innovative filter technology that protects your drinking water and improves its taste. 
LifeStraw's water bottle filters are reliable; you can use them to drink directly on unfiltered water resources.
With proper maintenance and care, the membrane microfilter can last up to 1000 gallons, and the carbon filter for 26 gallons before replacing. 
Replacement filters and accessories are available on the website and other online-shop.
The company has met the highest social and environmental impact standards and is B Corporation certified. 
It has dealt with its carbon emissions and is now also Climate Neutral certified.
2. S'well Teakwood Traveler Water Bottle
Overview
Triple-layered vacuum insulated design
Leakproof and condensation-free exterior
Soft-touch silicone handle for easy carrying
BPA and BPS-free water bottle
Stainless steel water bottle (40oz)
With its large storage capacity, this eco-friendly water bottle is perfect for parents with kids or for long travel.
S'well is known for its triple-layered vacuum insulation technology that stands out among all water bottles out there. 
It can maintain coldness for almost 72 hours and hotness for 20 hours.
It is made with premium food-grade stainless steel, BPA/BPS-free, and compliant with California Prop 65 regulations.
The company was created with the idea of eliminating single-use plastic bottles.
3. Brita Premium Filtering Reusable Water Bottle
Overview
Double-wall vacuum insulation 
Leakproof and BPA-free
It comes with a filter attached to an easy-sip straw
Stainless steel water bottle (32oz)
The Brita Premium water bottle is another eco-friendly water bottle with a filtering system, making it one of the best water bottles to consider buying.
It is made with double-wall vacuum insulated stainless steel with a leakproof lid.
The filters use an active carbon block that reduces chlorine and particulates from tap water.
The company had already offset 1.3 billion single-use plastic bottles from landfills and are continuing their movements to eliminate as many disposable plastics as possible. 
Moreover, Brita has partnered with TerraCycle and Haws to improve further their ability to recycle their products.
They also make some of the best recyclable water filters.
4. Contigo Fit Insulated Stainless Steel Bottle with Autoseal Lid 
Overview
Thermalock vacuum-insulated stainless steel design
Features an innovative "autoseal" technology
Spill-proof, leakproof, and BPA free
Stainless steel water bottle (32oz)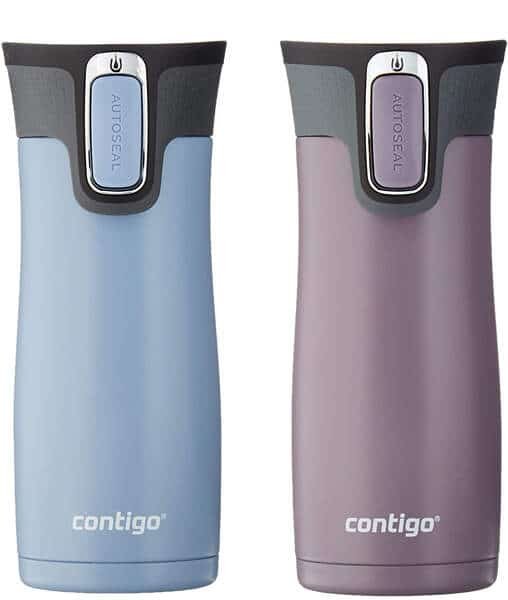 This eco-friendly water bottle from Contigo features an "autoseal" technology and is sealed instantly at a push of a button.
This makes it perfect for those with kids and doesn't want any mess when going out.
Contigo's water bottle autoseal technology is born from years of research to guarantee spill-proof and leakproof beverage storage.
This product is also compatible with different kinds of Contigo lids and is designed with convenience in mind.
5. Takeya Originals Insulated Water Bottle
Overview
Double-wall insulated design
Features an easy-to-open leakproof lid
Stainless steel lifetime warranty
Stainless steel reusable water bottle (32oz)
Takeya insulated water bottles are made of premium food-grade stainless steel.
It eliminates rust possibilities and comes with a leakproof lid with silicone o-rings for easy carriage.
Moreover, this BPA-free water bottle won't transfer flavors and keeps beverages ice-cold for up to 24 hours and hot for up to 12 hours.
Takeya lids are also universal and interchangeable with spout lids or straw lids.
Besides the usual double-wall insulation, it is powder-coated to increase durability and for firmer grip.
6. Hydro Flask Wide Mouth Reusable Water Bottle
Overview
Tempshield double-wall vacuum insulation
BPA-free and Phthalate-free
Dishwasher safe and non-toxic material
Stainless steel water bottle (32oz)
Hydro Flask water bottles have gained a massive following, making them one of today's most popular water bottles.
Many people love this water bottle because of its wide mouth that can easily store ice blocks.
It is also made with premium food-grade stainless steel that doesn't transfer taste from what previously is contained. 
Double-wall vacuum insulation for long-lasting temperature maintenance and powder-coated to avoid slips and for a better grip. 
The flask is also compatible with their Wide Mouth Flex Slip Lid and Wide Mouth Straw Lid.
The company has contributed to many nonprofit organizations that support building, maintaining, and restoring natural parks since 2017. 
7. Simple Modern Eco-Friendly Water Bottles with Straw Lid
Overview
Features double-wall vacuum insulation
Stainless steel bottle with leakproof straw lid
Reusable and BPA-free
10% of company profit is donated to charities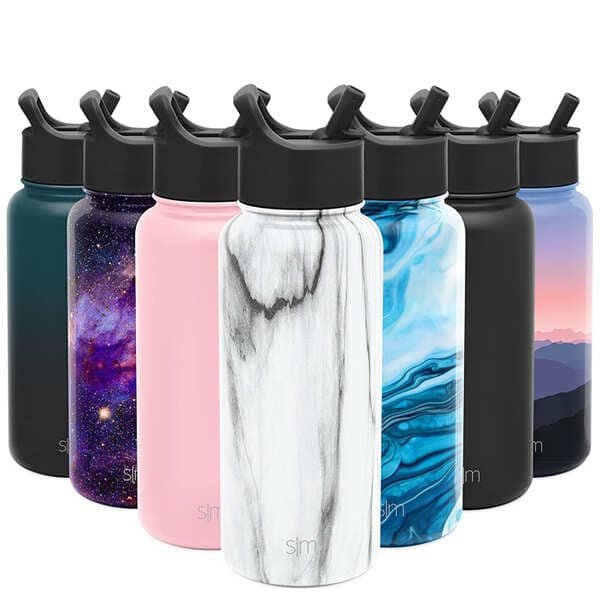 Thanks to its sophisticated double-wall vacuum insulation, this stainless steel water bottle can keep your drinks cold or warm for up to 24 hours.
Its straw lid is also leakproof, so leakproof that putting hot and carbonated drinks may build up pressure from the inside, so the makers are not advising the use of this with such liquids.
Simple Modern is also in the frontline when it comes to sustainability.
They are aware of the impact of single-use plastic bottles in our environment, and they are continually doing work that will reduce these kinds of waste.
Furthermore, 10% of the company profits are donated to nonprofit organizations every year.
8. ThermoFlask Bottle with Chug Lid and Straw Lid
Overview
Double-wall vacuum insulation
Interchangeable spout and straw lids
BPA-free, toxin-free, corrosion-resistant
Stainless steel water bottle (40oz)
ThermoFlask bottle is made of BPA-free food-grade stainless steel, so it is super safe to use even by kids.
It is also very effective in keeping drinks cold or warm, thanks to its double-wall vacuum insulation that separates temperature from the inside to the outside.
The company guarantees no flavor transfer, no condensation, and is rust-free.
Unlike other products, the remarkable thing about ThermoFlask's package is that it already includes two lids, the chug lid, and the straw lid.
9. Nomader Collapsible Silicone Water Bottle
Overview
Made from safe and food-grade materials
Durable, versatile, stylish, and leakproof
Free from BPA, BPS, PVC, lead, or phthalates
Collapsible silicone water bottle (22oz)
Out of all the products in this list, this is the only reusable water bottle made with silicone. 
And compared to plastic, silicone is a more eco-friendly material.
Furthermore, all the other materials used for this product are 100% food grade and free from harmful chemicals.
Another thing we love about this water bottle?
It is collapsable! 
It is built for the most unpredictable situations, durable, portable, easy to set up, and easy to keep.
10. Coleman Stainless Steel Insulated Water Bottle
Overview
Double-wall vacuum insulation
Features a button-operated AUTOSEAL with patented slide lock 
100% BPA-free water bottle
Reusable stainless steel bottle (24oz)

This eco-friendly, stainless steel bottle keeps drinks cold up to 31 hours or hot up to 11 hours.
It also has a high-flow spout that allows you to hydrate quickly.
Furthermore, the Coleman Insulated Water Bottle comes with a protective spout cover that keeps dirt and germs off your mouthpiece.
It also has a dropdown lid feature that makes it easy to clean and a patented slide lock that prevents accidental pushing of the button while you're on the go.
When it comes to material, this water bottle is made with food-grade stainless steel and is a double-walled vacuum insulated so weather won't affect the temperature inside the bottle.
It is also guaranteed BPA-free making it good for you and the planet.
Final Thoughts
Thanks to eco-friendly water bottles, you can quench your thirst or sip your favorite tea wherever you are without feeling guilty for the planet.
And while many people would prioritize their thirst before thinking of the planet, we hope that you will take the more sustainable and planet-friendly choice.
Start by saying NO to disposable water bottles and get yourself an eco-friendly water bottle.
Spread the good news, too, so more people can help reduce plastic waste, and together, we can have a greener, better and safer planet to live in.