Top 10 Eco-Friendly Travel Products That Saves Money!
As an Amazon Associate, Ecotero earns from qualifying purchases.
There are many eco-friendly travel products out there.
But if you're looking for ones that belong in the "must-have" department (besides eco-friendly facemasks during COVID), then this is for you.
As you may already know, traveling and tourism is the cause of various environmental problems.
Plastic littering, pollution, and carbon emissions – to name a few.
Having an eco-friendly travel kit will allow eco-conscious individuals to travel more sustainably and even save money!
Below are the top 10 eco-friendly travel products everyone must-have for more planet-friendly and frugal adventures.
Let's see how many of them you already have.
1. Eco-Friendly Backpack and Travel Bag
Whether you like it or not, you will need a bag to carry your stuff for a trip.
But when shopping for a travel bag, make sure that you pick an eco-friendly one.
Take some time to look for a travel bag made in an environmentally responsible and ethical manner.
Look for brands that create travel bags using sustainable materials (e.g., recycled materials, eco-friendly fabrics) and don't condone forced labor or slavery in any part of their production.
Moreover, it's crucial to pick a high-quality and durable travel bag.
This way, you can guarantee that you can use it for a long time, reducing the amount of trash that ends in landfills and pennies leaving your pocket.
2. Zero Waste Deodorants
The second eco-friendly travel item on our list is zero waste deodorants.
We know you'd hate to stink while on vacation.
But how do you plan on avoiding BO and staying fresh all day? 
Zero waste deodorants are made with natural ingredients that are safe for you and don't pollute the planet.
And guess what?
Zero waste deodorants come in plastic-free containers, so you don't have to worry about contributing to plastic trash!
3. Zero Waste Bathroom Essentials
Carrying your own zero waste bathroom essentials kit is an excellent way to avoid products that come in single-use plastics.
So when going for a trip, make sure to pack zero waste bathroom essentials like shampoo bars, conditioners, and even toilet paper.
Give it a try!
You'll be amazed how this sustainable travel tip can help you save money while significantly reducing the amount of plastic trash you contribute to your travel destinations.
4. Eco-Friendly Dental Products
Besides zero waste bathroom essentials, don't forget to pack eco-friendly oral care products for your trip.
This includes:
Traveling with your own oral hygiene kit rather than buying them in your destinations will also help reduce trash and save you some money.
5. Reusable Food Containers & Stashers
Be honest:
How many times have you bought overpriced snacks and food on planes?
Besides the fact that they are relatively expensive, they also often come in styrofoam and single-use plastic packaging.
So an excellent way to save money and reduce plastic waste while traveling is to pack your snacks and meals using non-plastic, reusable food containers and lunch boxes.
You can also use the same food containers to store takeout food in your travel destinations.
Worried that reusable food containers will take up space on your bag?
If you feel like carrying a reusable food container will take up so much space in your bag, how about silicone zipper bags?
They don't take up much space, and they are very versatile.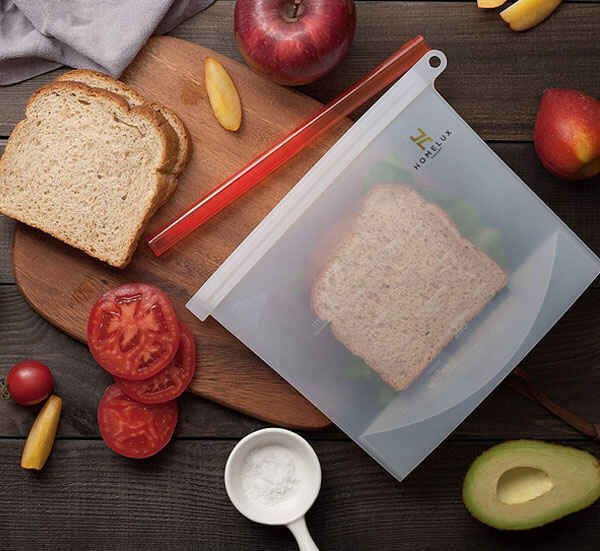 And for women, you can also use silicone bags to pack your zero waste makeup and makeup removers for a trip.
6. Reusable Wooden Travel Cutlery Set
With your own reusable wooden travel cutlery set, you can consistently say no to disposable plastic cutlery wherever you go.
Our featured wooden travel cutlery set comes with a spoon, fork, knife, chopstick, a cleaning brush, and even a travel case!
7. Zero Waste Dish Soaps
If you're carrying reusable food containers and cutleries on a trip (and you should), you do need to wash them eventually.
But instead of buying conventional dish soaps from the stores that often come in plastic containers, you can pack zero waste dish soaps with you.
Zero waste dish soaps are free from harsh chemicals and have the least negative impact on the planet.
They also come in plastic-free packaging.
And what's even better?
Many zero waste dish soaps are available in solid form (bar or block), so you can pack them conveniently for travel.
8. Eco-Friendly Laundry Detergent
We understand that in most cases, one usually doesn't do laundry while on vacation.
But to be safe, eco-friendly laundry detergents are for washing your dirty clothes while traveling.
What's special about these laundry detergents is that they are made without toxic chemicals that can harm you or pollute the environment.
Eco-friendly laundry detergents also come in plastic-free packaging.
They are also available in bars, tablets, or pods, so you can easily pack them in your bag without taking up a lot of space.
9. Reusable Shopping Bag
Did you know that disposable plastic bags are one of the most common plastic trash found in landfills and the ocean?
By carrying a reusable shopping bag on your trip, you'll be doing Mother Earth a great favor.
Our featured reusable shopping bags might be small, but they can hold up to 10kg.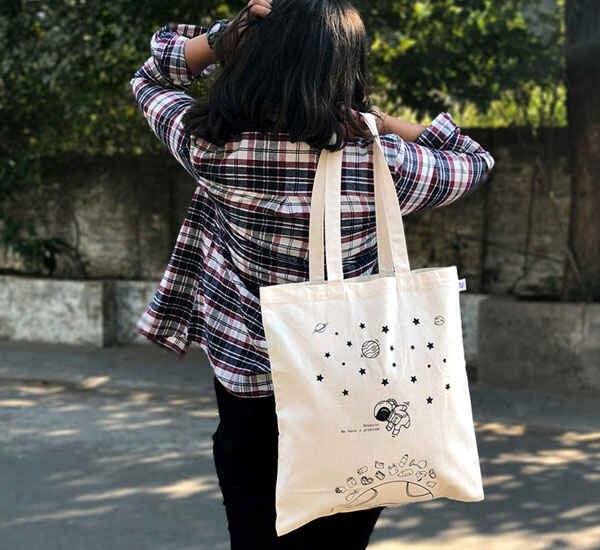 These canvas tote bags are also 100% biodegradable and manufactured in ethically certified manufacturing facilities powered with renewable solar energy.
And there's more to like!
These reusable shopping bags are also available in 28 witty designs, machine washable, and foldable.
You can easily slip these reusable shopping bags in your pocket to carry everywhere.
10. Reusable Water Bottle
And finally, this list of eco-friendly travel products wouldn't be complete without a reusable water bottle.
It is estimated that the annual consumption of plastic bottles is set to top half a trillion by 2021!
That's a lot of single-use plastics, yet only ~9% of all the plastic waste is recycled.
Can you guess where the other plastic trash eventually ends?
In landfills, incinerators, and the ocean.
Hence, one of the most recommended sustainable travel tips by top eco-friendly travel bloggers is to bring your own reusable water bottle wherever you go.
This way, you can avoid buying water and beverages in single-use plastic bottles.
It can also help you save money in the process.
Win-win!
Which reusable water bottle should you buy?
Preferably a reusable water bottle with a water filter.
Unfortunately, some of your travel destinations might not have safe tap water to drink.
Hence, you might still resort to relying on plastic bottled water.
So to be safe, it's better to go all-in on your travel water bottle.
There are many quality reusable water bottles with filters so you can safely (and affordably) enjoy drinking water wherever you go.
You might have to spend a little extra, but in the long run, a reusable water bottle with a filter is one of the best eco-friendly travel products you can buy!
Other Useful & Practical Eco-Friendly Travel Products
Besides the must-have eco-friendly travel products above, we also round up a few more eco-friendly travel items that might interest you.
Portable Solar Charger
Our featured portable solar charger comes with a built-in 25000mAh Li-polymer battery.
It has four foldable high-efficiency solar panels with dual 2.1A USB ports that allow you to charge two devices simultaneously.
You can use it to charge your phones, tablets, speakers, and other devices.
It also has a built-in LED flashlight with SOS mode in case of emergencies!
Eco-Friendly Travel Coffee Mug
Reusable travel mugs are among the best eco-friendly travel products you can have.
But we understand that you might be worried it would take up space in your bag.
So, how about a collapsible, reusable travel coffee mug?
Our featured reusable travel coffee mug can be collapsed down to 2.5 inches tall.
It is 6 inches tall when fully extended and can hold up to 15oz of hot or cold beverage.
It is also made of food-grade silicone, BPA-free, and both dishwasher and microwave safe. 
Reusable Straw
If you fancy having drinks that need a straw, then packing a reusable straw is the way to go.
This way, you can avoid using single-use plastic straws while sipping margaritas by the beach during your vacations.
Zero Waste Period Items
Ladies, did you know that you can significantly reduce your plastic waste when traveling during "that" time of the month?
Instead of relying on disposable pads to take care of the bloody mess, pack a menstrual cup and reusable pads during your trip.
Your period will be as eco-friendly as it can get, guaranteed!
Eco-friendly Baby Diapers
For parents traveling with little children, using a cloth diaper will help reduce the negative environmental impact of your trips.
Cloth diapers are washable and reusable; hence, you won't be contributing new trash into landfills.
It can also help you save money as cloth diapers can be passed down to your next kid.
But we understand that you wouldn't be too happy having to wash soiled cloth diapers while on vacation.
In this case, you can buy biodegradable diapers as they are more eco-friendly than conventional disposable diapers.
Final Thoughts
There are a lot of good eco-friendly travel products that you can buy today.
However, we feel that the ones mentioned above are the most practical eco-friendly travel products to make your travels more sustainable.
Anyways, we hope this article has given you new insights on how to save money and enjoy your vacations without harming the planet.
But we would love to hear from you.
Which of the eco-friendly travel products above do you like the most?
Are there other eco-friendly travel essentials you can recommend?
References