10 Crazy Simple Zero Waste Dental Care Tips
As an Amazon Associate, Ecotero earns from qualifying purchases.
You're planning to adopt a zero waste dental care routine, but you're worried that it might cause you inconvenience? Then this is for you.
As we illustrated in our article about zero waste ideas for home, making eco-conscious choices doesn't have to complicate your life.
The same applies when taking care of your oral health.
So without further ado, here are 10 simple zero waste dental care tips to keep your teeth clean and the planet healthy.
1. Practice A Good Brushing Routine
Having a zero waste oral care routine is not all about getting rid of your plastic dental care products.
First, think about how you can minimize unnecessary waste the next time you brush your teeth.
For instance, avoid using too much toothpaste.
Toothpaste with the Size of a Pea
Contrary to what many toothpaste advertisements have made us believe, only a pea-sized amount of toothpaste is necessary for adults.
Meanwhile, a rice grain-sized smear is already enough for kids.
Anything more than that is unnecessary and is a waste of toothpaste and money.
Don't Leave Water Running
Another excellent zero waste tip when brushing your teeth is not to leave the water running.
Only turn your faucet on when you're ready to rinse. (duh)
Brush Only When Going To Bed
And during the night, only brush your teeth when you're about to go to bed.
This will minimize the chance of you needing to re-brush your teeth because you got tempted to eat again.
And honestly, you can do many other things to minimize waste every time you brush your teeth.
2. Don't Swap For Zero Waste Dental Care Products Just Yet
Speaking of your plastic dental care products, we know you're probably eager to make some zero waste dental product swaps.
However, the most eco-friendly practice you can do right now is to use up all the dental products that you have already purchased.
Then you can simply restock with zero waste dental care products later.
Throwing your current dental products right now just to make room for new plastic-free dental care products will simply add more unnecessary waste to the system.
3. Switch To Zero Waste Toothbrush
Did you know that a plastic toothbrush will take hundreds, even thousands of years before it completely decomposes?
So whatever your age, while reading this, there's a very high possibility that every plastic toothbrush you've ever used before is still sitting in landfills or floating on the ocean.
Hence, it only makes sense not to use a plastic toothbrush.
But we still need to brush our teeth, right?
Bamboo toothbrushes have (as you can guess) handles made of bamboo.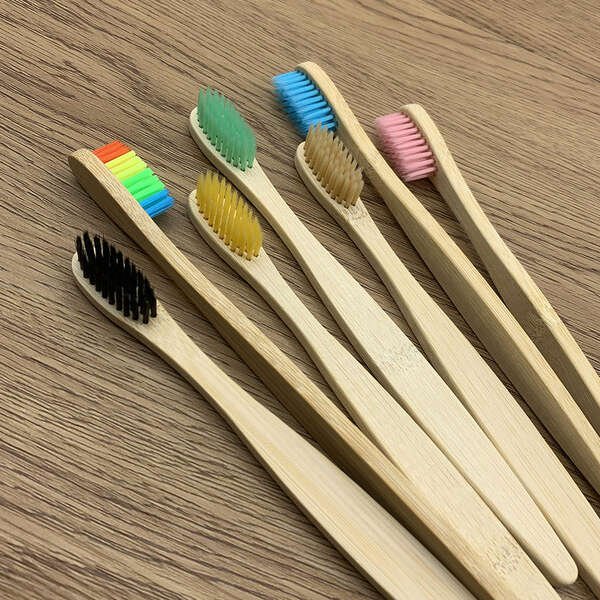 At the end of their lifespan, you can throw them away, and they will go back to Earth within a few weeks.
Today, you'll have plenty of options when looking for a bamboo toothbrush for kids and adults.
These bamboo toothbrushes are eco-friendly, BPA-free, and very affordable.
And while most bamboo toothbrushes use nylon for bristles, using one produces significantly less plastic waste than a conventional plastic toothbrush.
4. Buy Zero Waste Toothpastes and Whiteners
Most conventional toothpaste comes in plastic tubes that have nowhere else to go but in landfills.
Meanwhile, a zero waste toothpaste is pretty cool. 
Most zero waste toothpaste is made without harsh chemicals that can harm your health and the planet, and they come in non-plastic containers. 
Here are some of your options…
Zero Waste Toothpaste
Nelson Naturals Moringa Toothpaste
Lucky Teeth Organic Toothpaste
Uncle Harry's Peppermint Remineralizing Toothpaste
Search for "zero waste toothpaste" for more options.
Zero Waste Toothpaste Tablets
Hello Antiplaque + Whitening Toothpaste Tablets
Chewtab Gentle Whitening Toothpaste Tablets
Denttabs Toothpaste Tablets
Search for "zero waste toothpaste tablets" for more options.
Zero Waste Tooth Powder
Simpley Sooney Organic Vegan Fluoride Free Tooth Powder
Viva Doria Natural Fluoride Free Tooth Powder
Taylor's Vegan Tooth Powder
To get more options, search for "zero waste tooth powder."
Zero Waste Teeth Whitening
One living Earth Black Pearl Teeth Whitening Powder
Georganics Organic Teeth Whitening Toothpaste
Nimiah Activated Charcoal Teeth Whitening Powder
Get more options by searching for "zero waste teeth whitening."
Moreover, you can also create your own zero waste toothpaste if you have the time and interest.
Here's one of the many zero waste toothpaste recipes, with a bonus zero waste mouthwash recipe included:
5. Get a Biodegradable and Sustainable Dental Floss
Most dental flosses are made of nylon, Teflon, or other synthetic materials that can harm the environment after being thrown away.
They also come in plastic containers and packaging.
Worse, a study revealed that some commercial dental floss contains toxic chemicals linked to developing heart disease and cancer!
To avoid risking your health and save the environment, switch to natural dental flosses made with silk and plant-based materials like TreeBird Biodegradable Dental Floss and The Humble Co. Natural Dental Floss Picks.
6. Support Other Plastic Free Dental Care Products
Aside from the zero waste dental care products mentioned above, you probably need other things for oral hygiene.
But whatever the case, always look for products that don't come in plastic containers or packaging.
So whether you're looking for mouthwash, oral rinses, tongue cleaners, toothbrush holders, and others, go plastic-free.
7. Recycle, Rot, or Reuse Zero Waste Oral Care Products
A zero waste dental care routine's ultimate goal is to send the least amount of oral hygiene-related products to landfills.
So before throwing any of your wastes, see if you can reuse, compost (rot), or recycle them.
Although you are already using eco-friendly and non-plastic products, do whatever you can to create the least amount of waste.
8. Practice Zero Waste Dental Care Shopping
When restocking your zero waste dental care cabinet, see that you don't use any plastic shopping bags.
The best option is to carry your reusable shopping bag like this.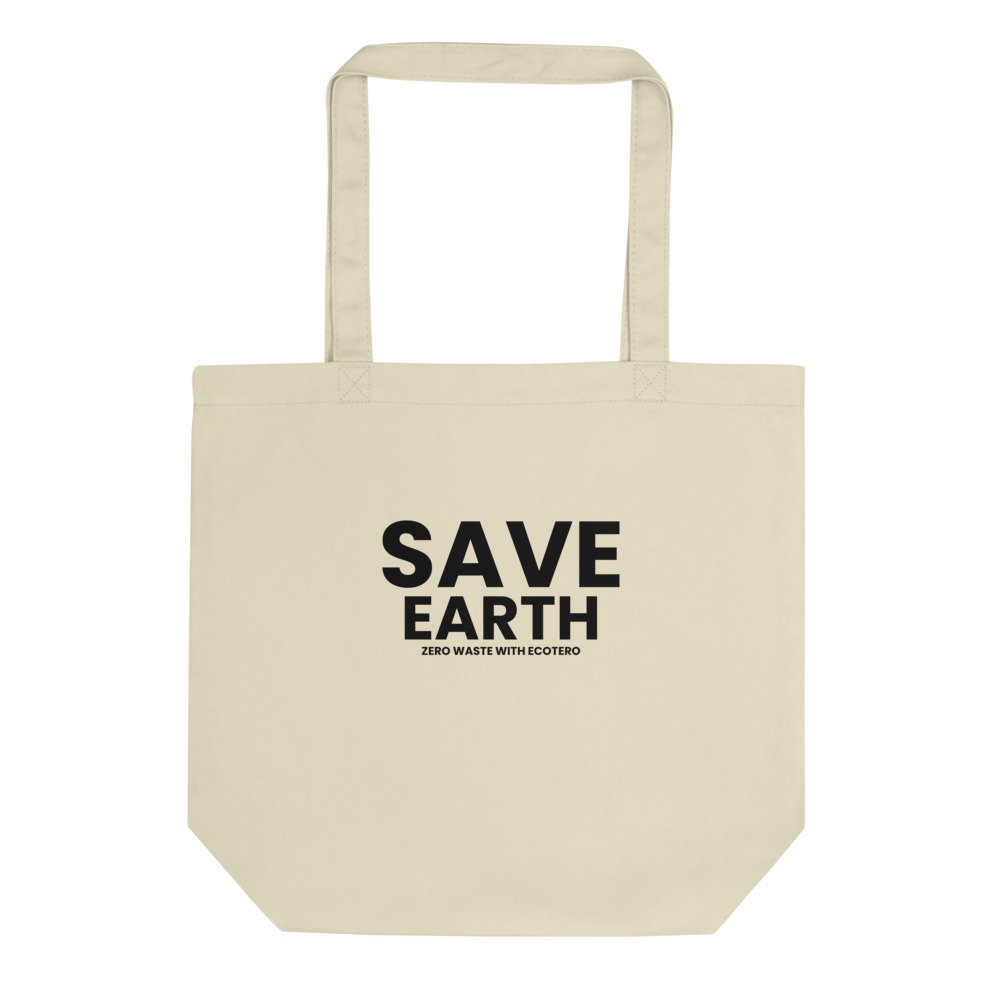 And if possible, pick up supplies in bulk from malls and stores. If you order online, go for bulk orders.
This practice will lessen carbon footprint and carbon emissions from transporting your products and travelling around.
9. Take Good Care of Your Teeth
This goes without saying, the healthier your teeth, the fewer sessions you will need to have with your dentist.
This, in turn, will minimize consumption of energy, dental care products, and will help you save money.
10. Say No to Non Zero Waste Oral Care Product Freebies
And the final tip we can give you about zero waste dental care is to say no to freebies.
Some dentists and dental care hygienists will prepare freebies for their clients that booked appointments with them.
When booking an appointment, make sure to warn them that you don't need freebies. 
Otherwise, you'll probably get a plastic bag full of plastic toothbrushes, toothpaste in plastic tubes, and other conventional dental care products that produce so many wastes.
Conclusion
As you've just read in this article, having a zero waste dental care routine doesn't have to be hard, nor does it complicate your current lifestyle.
It can be easy as making the small changes above that will someday make a significant positive impact on our environment.
Anyways, we hope this article gave you everything you need to get started with your new zero waste dental care routine.
This way, you can continue having sparkling white teeth and a fresh breath without feeling guilty about the environment.
You might also be interested in: