13 Genuine Zero Waste Perfumes For Eco-Conscious Individuals
As an Amazon Associate, Ecotero earns from qualifying purchases.
The best thing about zero waste perfumes is you can keep smelling seductive without creating a lot of trash.
Zero waste perfumes, in general, have refillable containers, bottles made of recycled materials, and plastic-free packaging. 
However, did you know that besides eco-friendly containers, there are other things to consider when buying zero waste perfumes?
For instance, many of the so-called zero waste perfumes today contain ingredients responsible for tons of carbon emissions and the destruction of natural habitats.
And according to research done by EWG (Environmental Working Group) and Campaign for Safe Cosmetics, the fragrance in many perfumes are made with synthetic and toxic chemicals that can harm both a person and the environment.
Hence, it is essential to exercise due diligence first to ensure that the zero waste perfumes you buy are actually helping mother Earth.
And while you're here, you can also check out our list of the top 20 sustainable bathroom products.
Shopping for Zero Waste Perfumes?
Below are the things to look for when shopping for zero waste perfumes.
Organic Ingredients: Made using ingredients grown without fertilizers, pesticides, and herbicides that contain chemicals that can pollute the environment.
Natural Ingredients: Perfumes that use natural ingredients are better for the environment since natural ingredients are completely biodegradable.
Cruelty-free: No poor bunnies and other animals are used when testing the perfume.
Palm Oil Free: Rainforests are being cleared in some regions for palm tree plantations, resulting in deforestation, CO2 emissions, and ecosystem destruction.
Plastic-free: Most perfumes already have glass bottles, but to further reduce plastic trash, buy the ones that have cardboard boxes or plastic-free packaging.
Forest Stewardship Council (FSC) Certification: Raw materials are grown and harvested in sustainable forest land.
At the end of this article, there is also an FAQ section where we answer questions like,
What chemicals should you avoid when buying perfume?
Should you put perfume on your skin or clothes?
What is the best time to put on perfume?
Others
In the meantime, below are the 13 best zero waste perfumes that got the highest marks among dozens of others.
Our Top Picks
Pour le Monde Together Zero Waste Perfume
Key Notes: Lemon, Bergamot, Jasmine, Violet, Freesia, Lilac
Henry Rose Jake's House Natural Perfume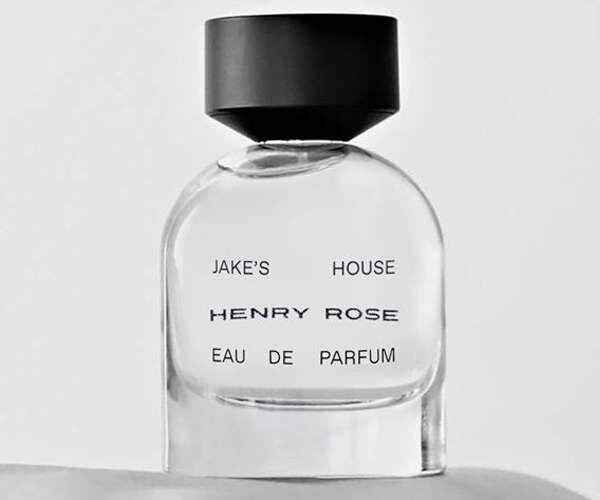 Top Notes: Fresh Marine
Middle Notes: Neroli, Jasmine Accord, Phenyl Ethyl Alcohol
Base Notes: Ambroxan, Musk, Veramoss
Cūrata Dulceo Organic Perfume
Top Notes: Sweet Orange, Morrocan Neroli, Guava, Palma Rosa
Heart Notes: Tuberose, Frangipani, Indian Jasmine, Violet Leaf
Base Notes: Vanilla, Caramel, Cocoa
1. Together by Pour le Monde
Key Notes: Lemon, Bergamot, Jasmine, Violet, Freesia, Lilac
Supposedly the scent of Nature & Elegance come "together," Pour le Monde's TOGETHER has a sexy and sensual smell that ignites romantic mood, happiness, and lightness.
This zero waste perfume is made with certified 100% natural essential oils from ingredients that are sustainably harvested from all over the world.
It is also certified cruelty-free and vegan by PETA and Leaping Bunny Program. 
Pour le Monde claims to be the only fine fragrance company certified with the NPA (Natural Products Association) Natural Seal. 
Products certified by NPA must have at least 95% natural ingredients, shouldn't use animal testing, and include a majority of biodegradable or recycled material in the packaging. 
NPA also requires 100 % natural fragrances and colorants. 
Furthermore, Pour le Monde claims to be the only fragrance brand awarded with a BCorp certification – a recognition given to companies that have impressive social and environmental performance, accountability, and transparency.
They are also awarded as KIWI's 2015 Natural Beauty Award Winner for Best Fragrance. 
---
2. Jake's House by Henry Rose
Top Notes: Fresh Marine
Middle Notes: Neroli, Jasmine Accord, Phenyl Ethyl Alcohol
Base Notes: Ambroxan, Musk, Veramoss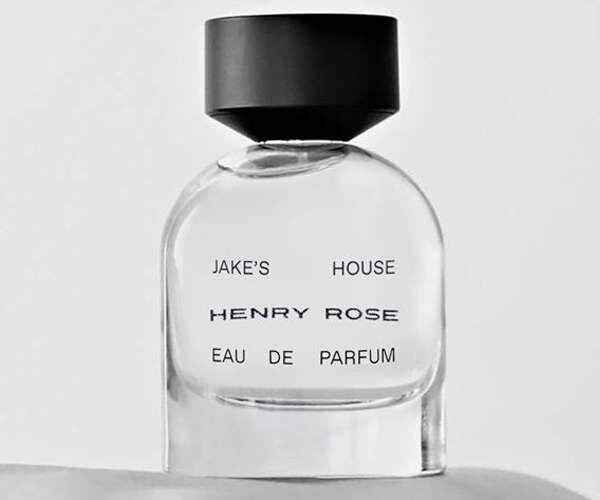 Jake's House has a fresh, honeyed Neroli scent and a clean musky finish. 
It is made using the highest quality of natural ingredients and is free from parabens, phthalates, and formaldehyde.
The perfume bottle is made from 90% recycled glass and is 100% recyclable, and the caps are made from sustainably sourced and compostable soy. 
The outer boxes are made from recycled and full recyclable corrugated paper.
Henry Rose is a perfume brand founded by the popular actress Michelle Pfeiffer. And as the founder had won multiple awards in acting, Henry Rose is also awarded top distinctions in perfumery.
Every single ingredient in Henry Rose's fragrances has been vetted against the strictest standards for health and safety.
Henry Rose fragrances are EWG Verified and Cradle to Cradle Certified Gold (one of the world's most rigorous product sustainability standards).
The company also partnered with the Breast Cancer Prevention Partners (BCPP) and gives back a portion of its sales to fund research and raise awareness against toxic chemicals in personal care.
---
3. Dulceo by Cūrata
Top Notes: Sweet Orange, Morrocan Neroli, Guava, Palma Rosa
Heart Notes: Tuberose, Frangipani, Indian Jasmine, Violet Leaf
Base Notes: Vanilla, Caramel, Cocoa
Dulceo is a botanical perfume extract that is artisanal, produced in small batches, and hand-crafted with 100 percent natural fragrances.
It has a sublime yet obsessive scent of masterfully blended extracts of Sweet Orange, Moroccan Neroli, Indian Jasmine, and Vanilla, to mention a few.
Dulceo is 55% certified organic and contains pure botanical extracts from plants grown without chemicals that can harm you and the environment. 
The ingredients are non-toxic, thoughtfully sourced, biodegradable, and cruelty-free. 
Furthermore, Dulceo was listed as a finalist in the prestigious Art & Olfaction Awards of 2019, and a MADE SAFE Certified perfume.
MADE SAFE is an organization that verifies if a product is made without ingredients that are known (or suspected) to harm human health, animals, or ecosystems. 
Fragrance transparency is a requirement of MADE SAFE certification.
Curata also has a Forest Stewardship Council (FSC) Certified seal and a member of 1% for the Planet, an organization where members donate 1% of their sales to fund various projects that protect mother Earth.
---
4. Classic Rain by CLEAN
Top Notes: Dewy Melon, Daffodil, Watermint
Middle Notes: Spring Daisy, Water Lily, Violet Leaves
Base Notes: Fluid Musks, Sleek Woods
As the name suggests, CLEAN's Classic Rain evokes the simple yet refreshing scent of the rain.
This zero waste perfume is made with natural essential oils, manufactured in a solar-powered factory, housed in a recycled and recyclable bottle, and comes in compostable packaging.
So there's no surprise why this is among the top of our list.
The Classic Rain is also said to have a long-lasting scent, making a single bottle last longer for consumption.
CLEAN also guarantees that all their fragrances are made only using the finest and sustainable ingredients, non-toxic, phthalate-free, gluten-free, cruelty-free, and vegan.
Finally, this natural zero waste perfume can be mixed, matched, and used as a layering perfume for men and women.
---
5. IME Organic Solid Perfumes
Who needs recyclable containers when you can safely carry your perfume in a compact and compostable pop-up tube, right?
We can only guess, but that might be the angle IME is going for.
IME is a certified 100% natural perfume brand by the Natural Perfumers Guild (NPG) and toxin-free by Safe Cosmetics Australia.
They have 9 different solid perfumes fragrances; all are made with natural and organic ingredients, cruel-free, vegan, alcohol-free, toxin-free, and palm oil-free.
One swipe is said to last for up to 4 hours, smelling incredible.
Some of the common ingredients you can find in IME solid perfumes are Shea Butter, Organic Candelilla Wax, Organic Jojoba Oil, Organic Avocado Oil, and Natural Botanical Extracts.
---
6. White Vetiver by ABEL
Top Notes: Lime, Spearmint, Bergamot
Heart Notes: Ginger, Palmarosa
Base Notes: Vetiver, Vanilla, Ambergris
Created by Isaac Sinclair, a Master Perfumer from New Zealand, ABEL's White Vetiver has a cool fresh scent with a subtle caramelized wood drydown.
ABEL uses natural oils, certified organic, and mindfully sourced ingredients on all their fragrances.
They also don't use synthetic musk (potentially damaging for our oceans) and use a hibiscus alternative instead.
ABEL's White Vetiver is free of paraben, soy, sulfates and stored in responsible, recyclable packaging.
On the company website, it says…
"Inspiring positive change by creating the world's best 100% natural perfume without compromising on ethics or aesthetics."
Plus, you would like to know that 1% of all White Vetiver sales support the SOIL organization in Haiti.
SOIL's goal is to provide a safe waste sanitation system, treat Haiti's badly-depleted soils, and create sustainable economic opportunities for communities there.
---
7. Seeker by ONE SEED
Main Notes: Coconut, Pale Vanilla, Skin Musk, Sea Salt
Other Notes: Roasted Basmati Rice, Coriander Seed, Ylang Ylang
This zero waste perfume has an exotic scent that gives you the nostalgia of youthful summer nights.
It is made with a 100% natural fragrance blend and is 83.43% certified organic (19.35% organic fragrance ingredients).
ONE SEED's Seeker uses a natural ethanol base from sugar cane.
While most ethanol is produced from corn, a case study suggests that sugarcane is a more sustainable, cost-effective, and less wasteful raw material for ethanol production.
This perfume doesn't contain any harsh chemicals, is not tested on animals, and is vegan.
---
8. Hanami by PHLUR
Key Notes: Fig, White Florals, Hazelnut, Sandalwood
PHLUR fragrances are said to be made responsibly, smell amazing, and beautifully packaged without damaging the environment.
Does that check all the zero waste boxes for you?
Hanami has a minimalistic scent that is aquatic yet floral, and subtle but warm.
It is cruelty-free, vegan, and made using sustainably sourced ingredients. Moreover, it is hypoallergenic and is free from parabens, phthalates, sulfates, and other known irritants.
This zero waste perfume has an opaque bottle made with 20% recycled glass and packed in FSC-certified boxes made with 100% recycled cardboard.
Besides Hanami, PHLUR has 9 other gorgeous scents, and if you're unclear on what to get, you can purchase their sample kits that come with three different scents. 
---
9. Unscheduled Wander by Elementary Scents
Key Notes: Guaiacwood, Oud, Cade, Geranium, Oakmoss, Sandalwood, Lavender, Patchouli, Cedarwood, Bergamot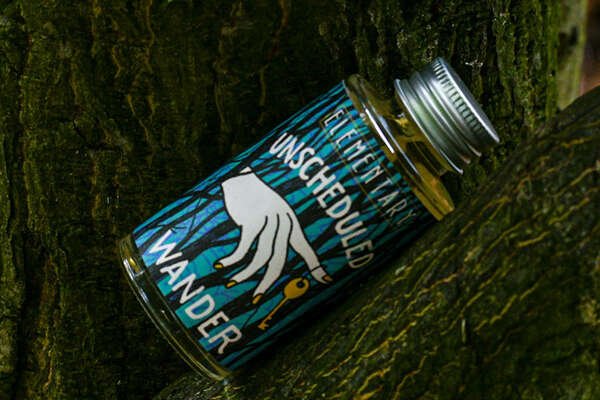 The Unscheduled Wander by Elementary Scents features a woody aroma softened by a hint of fresh forest flowers.
This natural zero waste perfume is made with natural plant oils blended with organic alcohol derived from grain. 
It contains ​no synthetics, aroma-chemicals, parabens, phthalates, palm oil, sulfates and is certified vegan and cruelty-free by PETA and The Vegan Society.
Furthermore, Elementary Scents perfumes can be ordered with or without an atomizer, meaning you can cut down on waste and refill your bottle once it's empty.
---
10. Pure Vanilla Perfume by Lavanila
Key Notes: Pure Madagascar Vanilla, Tonka Bean, Heliotrope Blend
Lavanila's Pure Vanilla Perfume has a gorgeous and authentic scent of nature.
It is handmade using pure Madagascar vanilla, organic sugar cane alcohol, essential oils, and other natural and organic ingredients and skin pampering botanicals.
This natural and organic perfume is free from:
Parabens
Petrochemicals
Phthalates
Propylene Glycol
Mineral oils
Silicone
Synthetic dyes
Synthetic fragrances
Chemical Sunscreens
Sulfates
Aluminum
This natural perfume is also vegan, cruelty-free, and has a recyclable container.
Lavanila also plants a tree (65,509 trees planted and counting) for every sale of their zero waste perfumes to offset any environmental impact.
---
11. No.470 Intense by EDEN
Top Notes: Tobacco, Spicy Notes
Middle Notes: Tonka Bean, Tobacco Blossom, Vanilla, Caco
Base Notes: Dried Fruits, Woody Notes
EDEN advertises itself as a company that uses vegan ingredients to create perfumes similar to trending and popular fragrances.
The EDEN No.470 Intense perfume is said to be the natural, zero waste, cruelty-free, and vegan alternative to Tobacco Vanille by the luxury brand Tom Ford.
It has highly spicy and robust aromatic tobacco and pink pepper notes, overlaid with a sweet and cloying vanilla scent. 
A fragrance perfect for men and women who love punchy and strong scents.
All EDEN perfumes are handmade with vegan natural essential oils and contain no nasty synthetic preservatives, parabens, and phthalate.
These natural perfumes also have refillable bottles, and you can return your empty bottles to have them refilled.
---
12. Florgasm by Heretic
Top Notes: Coriander, Bergamot, Bitter Orange, Pink Pepper, Lemon, Pimento, Berry
Heart Notes: Jasmine, Linden Blossom, Orange Blossom, Ylang Ylang, Tuberose
Base Notes: Ambrette (Hibiscus) Seed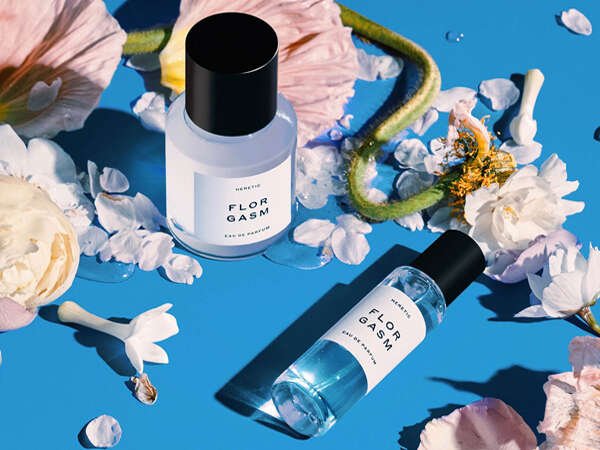 Florgasm (Yes, that's not a typo) supposedly has a scent of a flower that has an orgasm. 
It is advertised as an enticing scent that quickens the heartbeat and captivates the senses of those around you.
Heretic's Florgasm has a soft and sweet sensation of pink pepper, orange blossom, sweet coriander mixed with an "aphrodisiacal blend" of Jasmine, Tuberose milk, and Ylang Ylang.
Dirty names aside (eg, Florgasm, Scandalwood, Flower Porn), Heretic perfumes undoubtedly has the cleanest ingredients.
All fragrances by Heretic are made from 100% naturally derived botanical ingredients blended in organic sugarcane alcohol. 
They also only use vegan, cruelty-free, and non-GMO ingredients and are non-toxic and don't include any synthetics or chemicals.
---
13. LUSH Solid Perfumes
LUSH is a widely known brand for its zero waste and eco-friendly products.
At the moment, the company has a wide range of solid perfumes under different categories, including Citrus, Floral, Fresh, Fruity, Herbal, Spicy, Sweet, and Woody.
Solid perfumes help reduce water consumption and often require less complicated packaging.
For instance, you don't need an atomizer or a spray cap usually made with plastic.
Solid perfumes can also be squeezed in tiny handbags and carried when traveling through planes.
LUSH solid perfumes are 100% vegetarian, cruelty-free, hand made, and made mostly with natural ingredients. 
---
FAQ
Is Perfume Environmental-Friendly?
A perfume's eco-friendliness generally depends on its ingredients and raw materials, manufacturing process, and overall waste contributions to the environment.
Perfumes that contain unsustainable ingredients (like palm oil) can contribute to deforestation and the destruction of ecosystems.
Synthetic chemicals in perfumes like sulfates and formaldehyde can pollute the environment, poison living organisms, and even cause health issues to the person using them.
And obviously, plastic perfume bottles and plastic packaging will contribute to the tons of plastic trash that ends in landfills.
Recycling plastic can also contribute to air pollution.
What are the Top Notes, Heart Notes, and Base Notes in Perfumes?
The top notes, also known as the opening notes or headnotes, are the scents you detect first when applying perfume. Top notes are the most volatile scent, so they typically only last between 5-15 minutes.
The middle note is often the main theme of the perfume's fragrance. It is also called the "heart" of the fragrance, or the heart note.
You can start smelling a perfume's heart note once the top notes weaken or completely evaporates. Middle notes last between 20-60mins.
Finally, the base notes are the final scent that appears after the middle note. Base notes form the foundation of the fragrance (together with the middle notes), and their scent lingers the longest. 
Base notes can last up to 6 hours or more.
Is it Better to Spray Perfume on Clothes or Skin?
You can spray on both.
However, perfumes lose their fragrance quicker on dry skin.
So it's best to apply perfume on oily or more hydrated areas of your skin like your neck, top of your ears, and wrist.
David Frossard, the co-founder of Liquides Imaginaires (a French fragrance house), also said that fragrance would last long on clothes as the fibers in clothing can hold in scents for a very long time.
The French-Armenian perfumer Francis Kurkdjian also recommends that in hot weather, you should spray perfume on your clothes instead of your body because your sweat can destroy the perfume scent faster.
When is the Best Time to Put on Perfume?
It's best to apply perfume after a bath because the moisture on your hydrated skin will help lock in the scent and make it last longer.
Melina Polly, CEO, and Co-Founder of Henry Rose, also claims that applying lotion or oil on your skin first before using perfume will make the scent last longer.
Ingredients/Toxic Chemicals to Avoid when Buying Perfume
Synthetic/Artificial Fragrance: Might contain hundreds of chemical ingredients that are toxic to humans and harmful to the environment.
Phthalates: Known to disrupt hormones and is linked to breast cancer.
Parabens: Can cause allergic reactions, pollute the environment, and accumulate in animals' bodies.
1, 4 Dioxane: Can cause irritations and a probable human carcinogen.
Methyl Cellosolve: Also known as 2-Methoxyethanol, is toxic to the bone marrow and testicles. Workers exposed to high levels are at risk for severe health issues.
Formaldehyde: Toxic for humans and the environment.
Synthetic Colors/Dyes: May cause bioaccumulation and are potentially toxic.
Gluten: Can cause inflammation to people sensitive to gluten or celiac.
Why are Natural Perfumes Better?
Natural perfumes are much better than the ones made with synthetic ingredients and chemicals given that:
Natural perfumes use biodegradable ingredients.
Most natural perfumes contain natural essential oils that can bring emotional and physical healing properties such as calming, energy-enhancing, relaxing, or mood-lifting.
Natural perfumes don't have synthetic and artificial ingredients that can cause irritation or severe health issues.
Natural perfumes contain organic ingredients grown without chemicals, pesticides, or toxins.
They often come in recyclable, refillable, reusable, plastic-free, and zero waste containers.
What is the Best Natural Perfume?
Many people love the natural and zero waste perfumes we've included on this list.
However, since every person is different, you'll have to use your better judgment to pick one that suits you best.
Hopefully, you'll find one that works for you so you can make the switch to a more sustainable, less wasteful fragrance.
Conclusion
As you have learned from this article, not all perfumes with eco-conscious containers and plastic-free packaging are genuinely zero waste.
One must also look into the ingredients it contains, the ingredients sourcing, manufacturing, processing, and overall carbon footprint.
Take some time to learn the company that creates the perfume and the ingredients it contains to arrive at an educated and eco-conscious decision.
Anyways, what do you think about this list of the 12 zero waste perfumes? What are the other genuine zero waste perfumes you know that we haven't included here? 
Feel free to let us know your honest opinion in the comments below.