11 Best Bamboo Clothing For Babies That Are Safe To Wear
As an Amazon Associate, Ecotero earns from qualifying purchases.
Bamboo clothing for babies are advertised to be more eco-friendly than cotton.
But more importantly, they are touted to be softer, hypoallergenic, easy to wash, non-toxic, and even have natural antibacterial properties!
Unfortunately, not all clothing made of bamboo are truly eco-friendly, nor free from chemicals. Bamboo fabrics are produced using different manufacturing processes.
As parent, we understand that you're always on the lookout for the best things for your little one.
So to help you find the safest bamboo clothing for your baby, we did a thorough research for you.
Below are 5 bamboo baby clothing brands we are confident of their safe manufacturing process and 6 addition brands that might make the mark as well.
Let's check them out.
What to look for when shopping for safe to wear bamboo baby clothing?
You can identify if a bamboo clothing is safe for your baby just by looking at the product label or it's description on the clothing brand website.
Keep an eye on these things…
Label says, "Made of bamboo lyocell."
Tencel, Excel, or Monocel – Registered trademarks for bamboo lyocell.
Standard 100 by Oeko-Tex – A global independent testing and certification system for harmful substances in products, including the chemicals utilized in manufacturing that may/may not remain on the fabric.
Best Bamboo Clothing Brands For Babies
We prepared a table so you can quickly check out the different brands and the bamboo clothing for babies they offer.
1. Boody
Available Bamboo Clothing For Babies: Baby Tops, Bottoms, Onesies, Wraps, Socks
Product Price Range: $14.95 up to $87.85
Shipping to the US: Yes
Boody's has a good collection of cute bamboo baby clothing that are soft, hypoallergenic, and gentle on your kid's delicate skin.
Their bamboo clothing inventory for babies include socks, onesies, shirts, pants, and more.
Boody has gone into great lengths making sure their bamboo clothing for babies are safe. Their baby products undergoes various safety tests including
Chemical "scratch" fabric testing
Sharp points, edges and small parts testing
Lead testing
Phthalates testing
Tension testing (to ensure components shall not detach)
Actual measurement vs "tight-fitting garment" sleepwear requirements testing
Metal fasteners testing (Nickel release plus fastening strength)
Flammability testing
Boody is one of the top eco-friendly bamboo clothing brands that sell safe bamboo garments for babies.
2. ettitude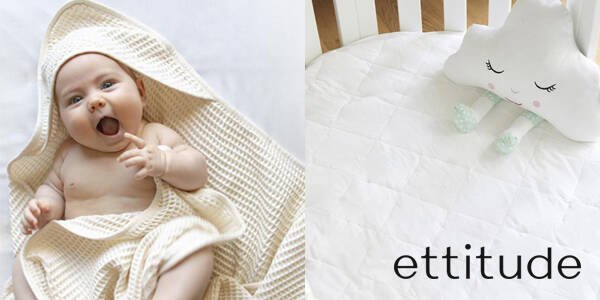 Available Bamboo Clothing For Babies: Baby Towels, Mattress, Bed Sheets
Product Price Range: $40 up to $70
Shipping to the US: Yes
ettitude sells sleeping and bath baby garments like towels, bedsheets, and that are cool, comfortable, silky-smooth, and hypoallergenic.
The company is using its signature bamboo lyocell called CleanBamboo on their bamboo baby clothing products.
ettitude is a member of the 1% for the Planet, an international organization where companies and businesses donates at least 1% of their sales to help save Earth.
Besides bamboo clothing for babies, ettitude also sells some of the best bamboo bed sheets and sustainable bath towels.
3. Softsens Baby
Available Bamboo Clothing For Babies: All kinds of baby clothing
Product Price Range: Rs 599 – Rs 3,600 (~$8 – $49)
Shipping to the US: India only
Softsens Baby is an India-based clothing company that exclusively sells products for babies, kids, and moms to be.
Their bamboo clothing for babies is safe and clinically tested, and certified as hypoallergenic in Europe. The company also uses organic and ethical raw materials for all its products.
Unfortunately, Softsens Baby didn't mention worldwide shipping, including in the USA.
4. Free Fly
Available Bamboo Clothing For Babies: Baby Hoodies, Sweatshirts, Shorts, Long sleeves 
Product Price Range: $24.95 up to $49.95
Shipping to the US: Yes
Free Fly bamboo clothing is not exactly for babies but more for kids and toddlers.
They sell stylish and comfortable shirts, pants, and hoodies made from bamboo viscose (aka bamboo rayon).
While bamboo viscose is usually frowned upon because its manufacturing process involves using harsh chemicals, Free Fly's products made the cut as the company guarantees that they uses a natural solvent in their bamboo viscose production.
Free Fly also uses a closed-loop system for bamboo fabric production to minimize toxic waste in the surrounding environment.
5. Bamboa
Available Bamboo Clothing For Babies: Baby Towels, Bed Sheets, Bib, Blanket
Product Price Range: HK$ 110 – 1,990 (~US $14 – US$ 256.74)
Shipping to the US: Yes
Bamboa is a Hongkong-based bamboo clothing brand that sells soft and hypoallergenic baby blankets, bibs, and bed sheets.
Bamboa uses bamboo lyocell and bamboo lyocell blended with organic cotton for their baby clothing products. 
Bamboo Lyocell is the kind of bamboo fabric you want to see in baby clothing because it is soft and produced without using toxic chemicals.
It is also eco-friendly since Bamboo Lyocell is produced in a closed-loop processing system that recycles and reuses the liquid solution used to create the fabric.
Bamboo Clothing Baby Brands That Might Be Safe To Wear
Below are other popular bamboo clothing brands you might probably be familiar with.
We put them in a separate section since we didn't find enough information regarding the type of bamboo fabric used in the production.
If you know someone affiliated with these brands, you can share this article with them, and hopefully, they will reach out to us and let us understand their brand a little more.
6. Bamboosa
Available Bamboo Clothing For Babies: All kinds of baby clothing
Product Price Range: $16 up to $199.99
Shipping to the US: Yes
Bamboosa is a US-based manufacturer that claims to sell incredibly soft, breathable, and durable bamboo clothing products.
The company's bamboo clothing for babies include towels, washcloths, swaddle blankets, crib sheets, baby bibs, onesies, pants, and other baby clothing pieces. 
7. Kate Quinn
Available Bamboo Clothing For Babies: All kinds of baby clothing
Product Price Range: $3 up to $48
Shipping to the US: Yes
Kate Quinn is a clothing brand that sells comfortable and soft bamboo clothes for newborn babies and toddlers.
The company has a wide range of bamboo clothing for babies, including layettes, onesies, baby dresses, booties, and shorts in different colors and designs.
8. Kyte Baby
Available Bamboo Clothing For Babies: All kinds of baby clothing
Product Price Range: $6 up to $65
Shipping to the US: Yes
Kyte Baby is a one-stop online shop for baby clothing made of bamboo.
Their collection includes adorable baby footies, bodysuits, onesies, rompers, bibs, mittens, swaddling blankets, and others.
9. Free Birdies
Available Bamboo Clothing For Babies: All kinds of baby clothing
Product Price Range: $12 up to $46
Shipping to the US: Yes
Free Birdies have a good collection of soft and hypoallergenic bamboo clothing for newborn babies up to 10-year-olds.
Free Birdies have pajamas, rompers, coveralls, baby swaddle blankets and a whole other baby clothing made from bamboo viscose and bamboo viscose blends.
10. MORI
Available Bamboo Clothing For Babies: All kinds of baby clothing
Product Price Range: £6.75 up to £33.50
Shipping to the US: Yes
MORI sells soft, durable, and smooth bamboo clothing for babies. Some of their best selling baby clothes are baby mittens, onesies, pants, beanies, hats, footies and more.
MORI uses bamboo viscose and bamboo fiber blended with organic cotton to create their line of bamboo baby clothing.
11. Bambobino
Available Bamboo Clothing For Babies: Baby clothes and bath and bedding garments
Product Price Range: $8 up to $40
Shipping to the US: Yes
Bamboobino is a Candian clothing brands that claims to sell the softest, practical, and least damaging (to humans and the environment) bamboo fabric and clothing for children.
The company have socks, mittens, hats, baby towels, and sheets for your little one created from 70% rayon from bamboo (bamboo viscose) blended with 30% organic cotton.
Why Bamboo Clothing is Good for Babies
Soft and Hypoallergenic
Bamboo clothing for babies are soft and comfortable against the skin. They are unlikely to cause an allergic reaction, and many parents love using them.
Water Absorbent
The consensus among multiple sources is that bamboo clothing is more absorbent than cotton, keeping moisture and sweat away from your baby.
Durable
Compared to cotton, bamboo fibers are thicker and stronger, thus making bamboo clothing more durable.
Easy to Wash
Baby clothing made of bamboo can be machine washed and tumble dried without shrinking or getting pulled out of shape.
Good for the Earth
The one obvious advantage of using bamboo is as a fabric source, the plant is very sustainable.
As a raw material for fiber, bamboo is easier to replenish. It can grow on almost all kinds of soil, needs little water, and doesn't need much care to thrive.
Bamboo doesn't require fertilizers and pesticides, and when appropriately harvested, it doesn't need replanting.
It is for these reasons why bamboo fiber is considered to be more eco-friendly than cotton.
Now we know what you're thinking. What about the bamboo fabric being antibacterial? What about "bamboo kun?"
Is Bamboo Fabric Naturally Antibacterial?
It is widely believed that bamboo has a natural antibacterial property that helps it survive in the wild, even without proper care, pesticides, and fertilizers.
The same antibacterial property is thought to be naturally inherited by bamboo clothing.
Unfortunately, this is not entirely true.
The main chemical compositions of Moso bamboo, the species commonly used in producing bamboo fabric, are hemicellulose, cellulose, and lignin.
And a study about the origin of bamboo's antibacterial property shows that antibacterial properties of bamboo are found in the lignin.
However, the most common method of producing soft bamboo fabric used in textiles involves dissolving the bamboo plant in a solvent and reconstructing the cellulose fibers.
Unfortunately, this process strips the bamboo of its natural properties. For instance, bamboo's lignin chemical compound is lost.
The FTC (Federal Trade Commission) further added that while the bamboo plant can resist bacteria, there is no definitive proof that all bamboo clothing has the same antibacterial property.
Now, we are not dismissing the idea that there could be bamboo clothing that indeed possesses antibacterial properties. 
But just like the FTC said, bamboo clothing brands making such statements should be able to present reliable scientific evidence to support their claims.
Conclusion
We hope this article has given you plenty of options where you can find delightful and safe bamboo clothing for your little one.
And since there's a lot of misconception going on involving bamboo clothing, you can educate your family and friends that not all bamboo fabrics are 100% safe to be used by babies, nor all have amazing antibacterial properties.
You might also be interested in: