80+ Eco-Friendly Baby Products: Ultimate Guide To Green Parenting
As an Amazon Associate, Ecotero earns from qualifying purchases.
Eco-friendly baby products give parents the chance to make eco-conscious choices for their child's needs.
However, finding the best eco-friendly baby products can be challenging, especially if you don't know what brands are guaranteed safe for your baby.
We understand that as much as you'd love to help protect the planet, you wouldn't want to risk the safety of your little one.
That's why we've done the research for you.
Through this post, you will find over 80 of the best eco-friendly baby products – from organic cloth diapers to non-toxic baby toys.
Let's take a look at your options.
Best Baby Cloth Diapers
Our selection of cloth diapers includes eco-friendly baby nappies praised by eco-conscious parents for absorbency, softness, and safety.
These cloth diapers are made with hypoallergenic and organic fabric that keeps your baby's bum free of rashes and allergies.
And as you may already know, using cloth diapers is one of the highly recommended green parenting tips by recognized eco-moms and dads worldwide.
QUICK OVERVIEW
An all-in-one cloth diaper, ready to wear and requires no folding, stuffing, or inserting of linings
It comes with a waterproof outer layer and ultra-absorbent certified organic cotton inner lining sewn into the cover
It comes with a "one size" feature, designed to grow with your baby
Expertly designed to protect against leaks and blowouts
Fits babies 10-35 lbs
QUICK OVERVIEW
Hybrid diaper, also known as All-In-Two (AI2), where inner linings are not sewn in the waterproof cover
When it's time to change, just remove the soiled inner diaper liners and put a fresh one while using the same cover
It comes with reusable inserts made with hemp, cotton, and terry
Comes in this set is a "one-size-fits-all" with patented adjustable sizing straps and snug fit snaps
Fits babies 6-35 lbs
QUICK OVERVIEW
Prefold cloth diapers that have rectangular layers of fabric you can fold around your baby's bum
It has a super absorbent and durable design with a lint-free thick gauze weave
Made with 100% unbleached pure Indian cotton
It needs a separate waterproof cover to prevent leakage.
Fits babies 7-30 lbs
Best Biodegradable Diapers
Biodegradable diapers are best for eco-conscious parents and babies that aren't quite fond of cloth diapering.
While it the more sustainable route, cloth diapering is just not for everybody.
Hence, biodegradable diapers are the second-best option for eco-conscious parents.
Biodegradable diapers are made with natural and organic materials, and they decompose faster in landfills than typical disposable diaper brands.
QUICK OVERVIEW
Made with viscose fibers from responsibly sourced bamboo
Standard 100 Certified baby diaper by OEKO TEX
Contains no chlorine, latex, phthalates, lotions, perfumes, and harsh chemicals.
Packed in clear bags made with oxo-degradable (breaks down naturally in the presence of oxygen) materials
QUICK OVERVIEW
Made with 100% soft bamboo fiber
hypoallergenic, antibacterial, and prevents skin irritation, rashes, and chaffing
100% free from chlorine, phthalates, preservatives, lotion, perfumes, and latex
Has a lifetime "No Leak Guarantee" with a full money back refund
QUICK OVERVIEW
Made with sustainably sourced natural bamboo fibers
Certified vegan, cruelty-free, chlorine-free, dye-free, and latex-free
Feature a 3-line wetness indicator that changes color from yellow to green
Hypoallergenic and biodegradable baby diaper
Now, if at this point you can't decide whether you should use a cloth or disposable diaper for your baby…
You can get good insights on what to expect when using one of them here.
Top Eco-Friendly Baby Clothing Brands
Our selection includes sustainable clothing brands for babies highly rated by eco-moms and eco-dads who have tried their products.
Whether you're looking for cute but sustainably made baby dresses, bottoms, pajamas, onesies, or layettes, we have plenty of options for you.
QUICK OVERVIEW
Sells some of the best eco-friendly baby clothes made in the USA
Soft and comfy baby clothing made using GOTS certified organic cotton
Products manufactured in factories that ensure safe working conditions for employees and workers
Free shipping in the U.S. for orders over $25
Piccalilly
QUICK OVERVIEW
One of the most recognized brands for sustainable and ethical children's clothing in the U.K.
Baby clothing designed to fit over both disposable and cloth diapers
Uses organic cotton for their products from Chetna Organic
Free shipping in the U.K. for orders over £50
QUICK OVERVIEW
One of the best bamboo baby clothing brands
Specializes in crafting sustainable clothing essentials using organically grown bamboo
Boody baby clothing undergoes various safety tests before released to the public
Free shipping in the U.S. for all orders over $49
Eco-Friendly Baby Bottles
Plastic baby bottles are not only potentially dangerous to your kid's health but also contribute to global plastic waste.
So we round up the highest-rated eco-friendly baby bottles tested by eco-conscious parents like you.
QUICK OVERVIEW
Made using premium quality borosilicate glass (a durable and thermal-shock resistant material)
Features a wide breast-shaped nipple with an ultra-soft feel
It comes with an integrated Airflex valve that vents air away from your baby's tummy
If handled properly, one Philips Avent baby bottle can be passed down and reused by other kids
QUICK OVERVIEW
Made with a 100% safe, BPA-free silicone material
It comes with soft silicone nipples specially designed to closely mimic natural breastfeeding
Features dual anti-colic vents to prevent unwanted air-intake and reduce colic
Microwave, boiling water, dishwashers, and sterilizer safe
QUICK OVERVIEW
100% plastic-free baby bottle made with food-grade stainless steel (#304) and medical grade silicone
Contains no BPA, PVC, phthalates, or other toxins
The only baby feeding bottle we've reviewed (so far) that has certification from MADE SAFE
It can be used later as a sippy bottle, straw bottle, or a reusable water bottle
Non-Toxic and Eco-Friendly Baby Shampoos
This section of eco-friendly baby products include some of the best baby shampoos that are made using non-toxic, natural, and organic ingredients.
They are also free from parabens, sulfates, triclosan, 1,4 dioxane, and other toxic ingredients in personal care products that can harm your kid and the planet.
Furthermore, our selection is also based on the baby shampoo's ingredients, average reviews from users, and its overall impact on the environment.
QUICK OVERVIEW
A concentrated, gentle formula that you can use as baby wash and shampoo
Made using USDA-certified organic and non-toxic ingredients
Contains no synthetic preservatives, thickeners, foaming agents, and artificial ingredients
Over 70% of the ingredients are certified Fair Trade ingredients
QUICK OVERVIEW
Awarded as the "Best Baby Shampoo" and the "Best Toddler Shampoo" by The Bump and the Business Insider
Made with the safest ingredients and can be used as a daily full-body cleanser for newborns, infants, and toddlers
100% plant-derived, tear-free (won't hurt your baby's eyes), hypoallergenic, gluten-free, biodegradable, and cruelty-free
Effectively hydrate and nourish all baby skin types, including those with eczema
QUICK OVERVIEW
Made using natural, certified organic botanical plant and fruit extracts
Organic and vegan baby shampoo; has never been tested on animals
It contains no harmful ingredients like parabens, phthalates, PEGs, and sulfates
It comes in a recycled bottle
Best Eco-Friendly Laundry Detergents For Babies
Our selection includes eco-friendly laundry detergents that are guaranteed to be tough on stains and germs but gentle on:
The fabrics;
the planet, and;
your baby's sensitive skin.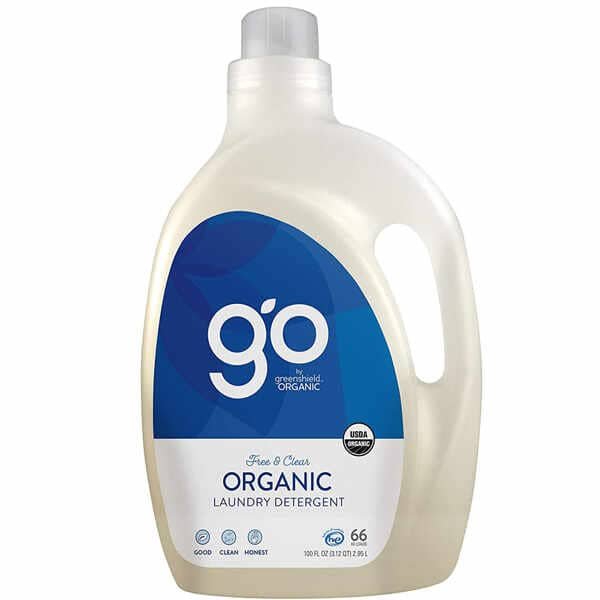 QUICK OVERVIEW
The first USDA-Certified organic laundry detergent
Made with baby-safe, all-natural, and USDA-certified organic ingredients
Completely biodegradable, it won't damage and pollute the water systems
Bottled in an eco-friendly container partly made with sustainable sugar cane
QUICK OVERVIEW
Specifically formulated to prevent rashes, allergies, eczema, and irritations on babies
It contains powerful stain-removing plant-based ingredients
Manufactured in the USA free from synthetic fragrances, dyes, optical brighteners, parabens, phosphates, and phthalates
Cruelty-free baby detergent and comes in compostable cardboard packaging
QUICK OVERVIEW
A powerful, plant and enzyme-based, baby-safe laundry cleaning product
Contains no phthalates, chlorine, 1,4 dioxane, and other known irritants and pollutants
Triple concentrated, one tiny bottle can last long to keep your baby's laundry clean and fresh
It can be used to wash your baby's favorite cloth diapers
Eco-Friendly and Non-toxic Baby Toys
This section of eco-friendly baby products includes some of the best eco-friendly baby toys recommended by countless eco-moms and dads.
These are all baby toys made with sustainable and non-toxic materials. 
QUICK OVERVIEW
Crafted using eco-friendly and 100% baby-safe materials
It comes with a non-toxic and machine-washable polyester play mat
FSC-certified, sustainably sourced wooden legs
Teething toys made with 100% organic cotton
Features a 2-minute setup with no tools required
QUICK OVERVIEW
Made using safe, non-toxic, and premium cotton
Handcrafted with love by women artisans in Peru
Features a high stitch count for extra durability and softness
It can be handed down from one baby to another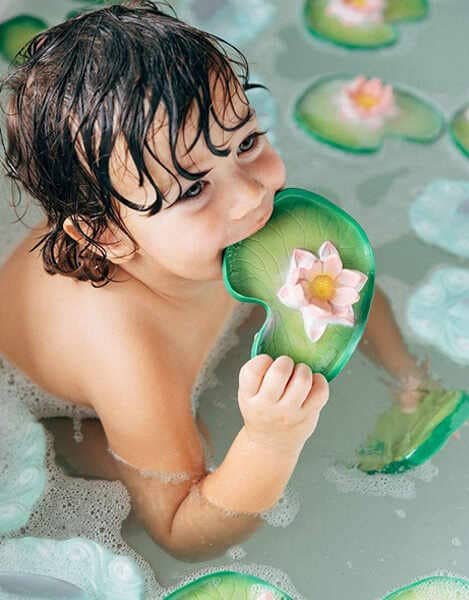 QUICK OVERVIEW
Handcrafted using 100% natural rubber
Painted with natural, non-toxic pigments extracted from plants
Have a solid and one-piece design, so no holes will allow water to come inside
Eco-friendly baby toy certified by the Bureau Veritas
Other Eco-Friendly Baby Products
Besides the top-rated eco-friendly baby products above, below are a few more eco-friendly baby essentials that you might find helpful.
QUICK OVERVIEW
Biodegradable baby and toddler plate that's separated into sections
Suctions right onto a table so that it'll stay in place, even during a tantrum
Made with sustainable bamboo and silicone materials
Free from plastic, BPA, PVC, lead, and phthalates
QUICK OVERVIEW
Reusable wet bag to contain your baby's soiled cloth diapers and wet clothes
A more eco-friendly alternative to single-use plastic bag
BPA-free, PVC-free, vinyl-free, phthalate-free, and lead-free
Durable and machine-washable
QUICK OVERVIEW
Made with organic, GOTS Certified bamboo fabric
All-purpose infant washcloths for washing or drying your baby
Designed to be gentle on your baby's sensitive skin
Machine washable and reusable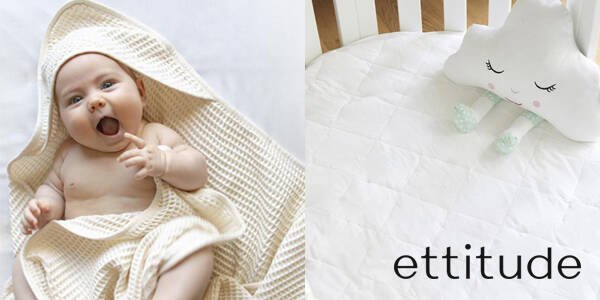 QUICK OVERVIEW
Made with sustainable and eco-friendly bamboo lyocell fabric
Hypoallergenic, silky-soft, smooth, and leaves a creamy, comfortable sensation
300 thread count, sateen weave, bed sheet
OEKO-TEX Standard 100 certified
One of the best bamboo bed sheets today
QUICK OVERVIEW
Made with organic and sustainably sourced bamboo fabric
Safe for babies to latch on after use
Machine washable, dryer-friendly, and reusable
It fits sizes B to D perfectly
It can be used as a zero waste makeup remover wipe when you've finished breastfeeding
Final Thoughts on the Best Eco-Friendly Baby Products
As you can see, many eco-friendly baby products can take excellent care of your little angel without causing a lot of harm to the planet.
But we would like to hear from you…
Which of the eco-friendly baby products above are you most interested in?
Have you used any of them before?