23 Practical Upcycled Gift Ideas For Him & Her
As an Amazon Associate, Ecotero earns from qualifying purchases.
Giving upcycled gifts is a cool idea because it helps minimize waste, conserve raw materials, and even save your budget.
But while it's very easy to find tons of upcycled gift ideas today, many of them aren't very practical for everyday use.
And would you agree that gifting things that aren't useful is not only a waste of money but will also create unnecessary trash?
Hence, we only listed upcycled gift ideas that most people will find useful for years to come.
Whether you're looking for other eco-friendly gift ideas for Christmas, Mother's Day, Valentine's Day, baby showers, birthdays, and other occasions…
We're confident that there's a couple of things below that you'll find appropriate.
Let's take a look at your options.
1. Coconut Bowl Set
Looking for a unique upcycled gift idea for foodies?
This bowl is made using upcycled natural coconut shell which are recovered, cleaned and polished from coconut oil production.
It also comes with a pair of cutlery (spoon and fork) crafted from natural coconut wood.
But what truly makes it unique is the fact that each coconut shell has its own shape, size, marking and imperfections.
Hence, every coconut bowl is different.
Even if you give each of your family and friends one of this, no one would have identical coconut bowls!
This coconut bowl set is also a perfect vegan gift for ethically conscious individuals.
2. Vintage Snow Ski Wine Rack
This wine rack is handmade using reclaimed old skis.
It features an innovative, sporty style and perfectly designed to display someone's proud wine collection.
We bet every wine and snow ski enthusiast would truly appreciate this upcycled gift idea.
3. Upcycled Canvas & Denim Shoulder Bag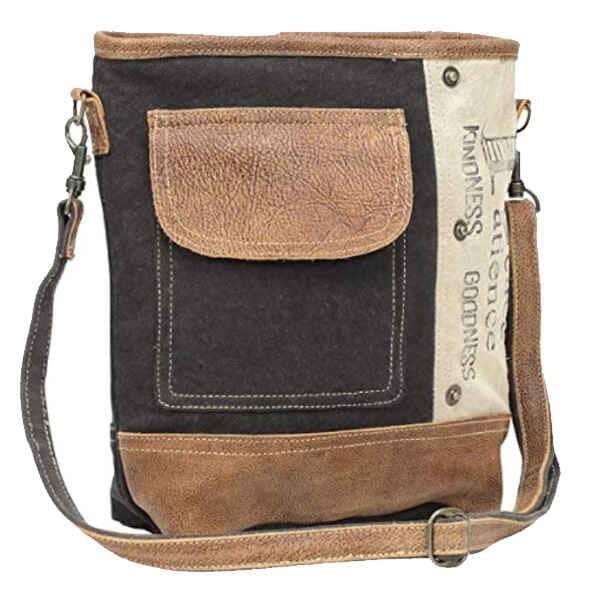 This shoulder bag is perfect for anyone who can appreciate a vintage and sustainable fashion piece.
It is handcrafted using recycled military canvas and denim, and embellished with with decorative metals and accents.
It also comes with a leather handle and has a spacious interior fully lined with printed cotton with enough room for wallet, cosmetics, mobile phone, books, and others.
This is a great eco-friendly accessory for college students, teenagers, and women for traveling, shopping, and daily casual wear.
4. Personalized Secondhand Shoes
Katrina's Art Studio is a home-based sustainable business idea started by Katrina Richardson. 
Katrina buys second-hand shoes from thrift stores; then, she paints them with unique and colorful designs to sell on her Facebook page.
Katrina's Art Studio has a good collection of really cool upcycled shoes for both men and women.
A perfect upcycled gift idea for someone who hates seeing other people wearing the same shoes they have.
Don't you think?
5. Upcycled Sari Face Mask
What could be a better gift than something every person needs this time of pandemic?
These reusable and washable face masks are made from upcycled saris. 
They are produced by a social initiative in India that provides livelihood opportunities to disadvantaged women.
The seller ensures that every face mask is hand finished to a high-quality standard.
Each face mask also comes with an optional matching pouch.
Disclaimer: These face masks aren't medical-grade. Contact the seller for more information.
6. Wine Bottle Bird Feeder
This wine bottle bird feeder is a unique home decor and a convenient way to feed birds in your area.
It is handmade using upcycled empty wine bottles that are on their way to the bin.
It is equipped with a port so hungry birds can perch comfortably and enjoy some snacks.
And don't worry because it is quite sturdy and well-made.
You can hang left it hanging in a branch, outside a window, on the porch, or your balcony for years to come.
7. Floppy Disk Notebooks
Before the age of flash drives and the internet, floppy disks were king in storing and transferring files from one computer to another. 
These nostalgic and eco-friendly notebooks are a nod back to that era.
These floppy disk notebooks are spiral bound and come with 100 blank pages between two upcycled 3 1/2-inch floppy disks.
It is perfect for scribbles, grocery lists, and for jotting down short notes.
It will surely bring back old memories of the 90's kids and office workers.
8. Upcycled Skateboard Eyewear
This is an excellent upcycled gift idea for someone who loves skateboarding and shades.
Sk8Shades eye wears are UV-protected, polarized, and are entirely handmade out of old skateboards.
The company owner is one of South Africa's best skateboard ramp builders, Dave De Witt.
Dave handcrafts all his skateboard sunglasses in his garage in South Africa.
Upcycled sunglasses by Sk8Shades have sustainable frames that come in different textures, designs and carry the scratches of a skateboard's previous life.
9. Upcycled Mason Jar Home Decor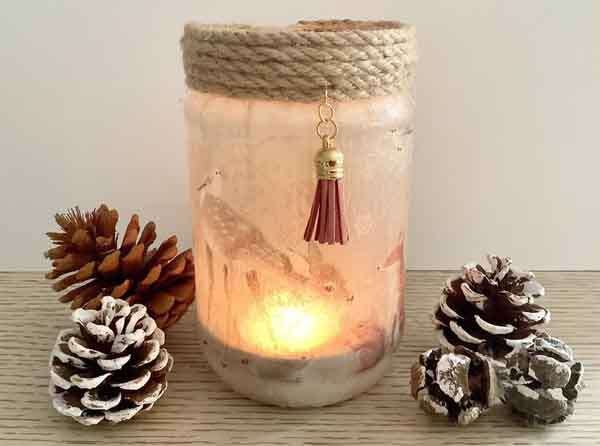 AudreyBerryArt sells unique and colorful home decors made primarily with upcycled mason jars.
Each home decor has unique designs and are lovely gifts for housewarming, birthdays, and other festive occasions.
This upcycled mason jar house decor comes with a battery-operated light candle.
You can use it as a night light for a child's bedroom, a lantern for your patio, a dinner light, or a garden light.
It can also be used as a general table decoration, hold your pens and pencils, jewelry, and other accessories.
The jar measures approx 14cm in height and 8cm in width.
10. Mason Jar Baby Bottles DIY Kit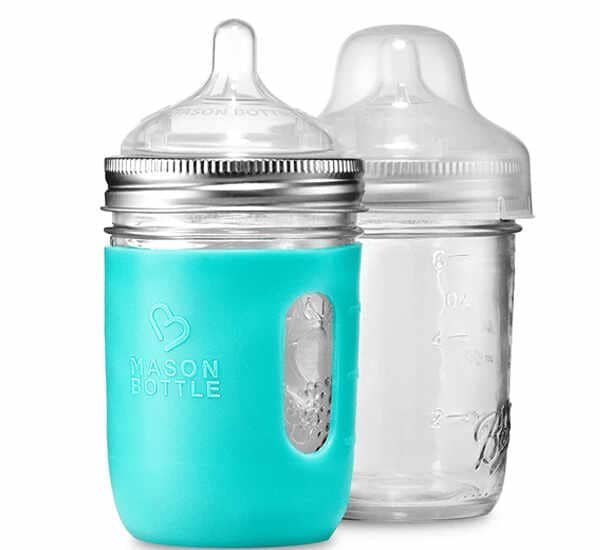 This is an excellent eco-friendly gift idea for new moms and a great way to upcycle old mason jars you have at home.
With the Mason Bottle DIY Kit, you can transform regular mason jars into eco-friendly baby feeding bottles and give them to your mommy friends.
If you don't have a lot of empty mason jars at home, you can simply give the DIY kit to your mommy friends and tell them how it works.
Each DIY kit comes with two breast-like silicone nipples, one silicone sleeve for grip and protection, and one plastic cap.
All the components of the Mason Bottle DIY Kit are made locally in the USA.
They have different sets for 4oz and 8oz mason jars and the materials used are guaranteed BPA-free and don't contain any toxic chemicals.
11. Bike Chainring Suncatcher
This chainring suncatcher is from UpCycling4ACaus.
It is made using repurposed bike chainrings; the stained-glass window effect is created using bike spokes.
UpCycling4ACause is a business owned by Robert Niederhoff who creates unique accessories using discarded and old bicycle parts.
Moreover, Robert claims that 75% of his profits from sales will be donated to the following charities (25% each):
New Horizons For Children
World Bicycle Relief
Center for Disaster Philanthropy's COVID-19 Response Fund
12. Reclaimed Wood Neck Ties
Do you know someone who would probably love the attention from wearing a wooden tie?
Yes, a tie made of literal reclaimed wood lumbers!
Wood Thumb is a San Francisco-based company that creates ties made from reclaimed wood. 
The company's wood ties are lightweight, flexible, and held together by an elastic cord that can be adjusted to fit comfortably around the neck. 
Besides wood ties, Wood Thumb also sells other upcycled products and clothing accessories made of reclaimed wood.
13. Bottle Cap Magnet Decors
These cute magnetic decors by BeansThings are made of upcycled bottle caps.
They can be adorable and eco-friendly gift ideas for all occasions.
The bottle caps are flattened, and a short inspirational phrase with cute designs are added for an artistic touch.
A transparent resin sticker is then added at the top to protect the design and for a smooth, clear finish. 
BeansThings uses Neodymium Rare Earth Magnets on each bottlecap to ensure that they will stay put wherever you stick them.
14. Bicycle Inner Tube Wallet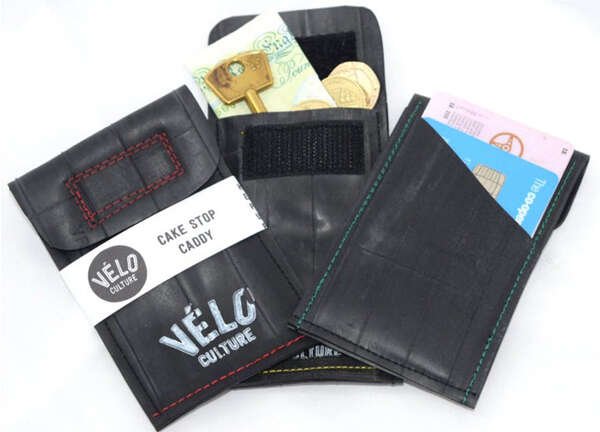 VeloCulture sells various accessories made from upcycled old bicycle innertubes – including this sleek money and credit card pouch.
This tiny wallet has a slot for your atm card or banknotes.
Then on the other side is a Velcro pouch for your change and door keys.
They are so handy and slim they can be conveniently slipped in one's pocket in place of a bulky wallet or purse.
15. Aluminum Cans Wall Pictures
These wall pictures from Sarah Turner are handcrafted using many different brands and styles of used aluminum cans.
They have a wide variety of vibrant and colorful designs to choose from to match any home's current decors.
Each picture comes framed in white, grey, or black frame with a glass cover at the front.
This can be a fantastic upcycled gift idea for homeowners.
Upcycled aluminum cans wall picture size: 230mm x 230mm
Frame size: 255mm x 255mm x 40mm  
16. Wine Cork Picture Frame
Despite having smartphones and tablets, most people still love framing pictures at home, right?
This handmade picture frame by NoPlanetBCo would be an excellent upcycled gift idea for a wedding or housewarming.
It is made from discarded wine corks, and the base is made with wood for durability and stability.
It has an overall dimension of 5 x 7 x 2 inches.
The company also donates a part of each sale to The National Park Service – a US agency that manages national parks, national monuments, and other conservation and historical properties.
17. Circuit Board Keyrings
These circuit board keyring is a cool eco-friendly gift for computer geeks.
They are handmade using decommissioned real circuit boards and are fitted with a 25mm strong metal split ring.
They are unique, stylish, and quite durable.
Its good for keeping house keys, car keys, or simply as an accessory.
18. Circuit Board Table Lamp
Here's another great upcycled gift idea for both computer geeks and ordinary people alike.
A table lamp made with recycled circuit boards.
Anyone who'll see it will indeed be invited to take a closer look.
It stands about 20cm tall and gives off a gorgeous light that is available in four colors – Green, Yellow, Red, and Blue.
19. Upcycled Denim Chickens
A home-based business called Delightfully Denim uses throwaway jeans and denim to create unique and delightful "denimy" goodies.
This family business is based in the UK and primarily sells its products on Facebook.
Their products include denim drink coasters and pouches, but their most popular products are denim "chickens".
While they look like cute stuffed toys, they can used as door stops and general eco-friendly home or office ornament.
20. Upcycled Candy Box Notebooks
Are you looking for a unique eco-friendly gift for sweet tooths?
CandyCrazyCo sells handmade notebooks made of popular candy boxes such as Skittles, Junior Mint, and Sugar Babies.
Each notebook has a colorful and fun-themed cover made of empty candy boxes, containing approximately 90 plain white paper sheets. 
They are bound with metal wires and measures about 7 x 3.5 inches.
We bet every sweet tooth you know will find this upcycled gift idea funny, cute, and useful.
What's even better is it won't give them diabetes.
21. Upcycled Wall Mounted Ski Bottle Opener
This is a great upcycled gift idea for men, especially those who loves skiing.
A handmade wall mounted bottle opener made out of old skis.
This bottle opener comes with mounting hardware so you can hang it on the wall with ease.
It also comes with velcro at the bottom part, so you can attach a can or a bottle cap catcher (if you want).
22. Upcycled Cloth Hair Scrunchie Scarf
These gorgeous hair scrunchie scarves are handmade using deadstock or leftover fabric from various sewing projects.
Each scrunchie is approximately 10cm in diameter (when unstretched), with two scarfs that elegantly flow down either side of the hair when tied.
When shopping for this scrunchie as a gift for multiple persons, you don't have to worry that they will have the same designs as you have 5 different options to choose from, including: 
Pearly Blue Satin
White with Pink/Blue Floral
Dalmatian Black/White Spot Print
Leopard Animal Print
Mint Green/Blue Satin
All your purchases will also be shipped and gifts wrapped in recyclable paper, so you won't have to worry about plastic wastes.
23. Upcycled Technology Tech Book
This guide is a fantastic eco-friendly gift idea for tech savvies.
And while it is technically not an upcycled gift, it teaches average person how to upcycle and create treasures out of their discarded old tech like motors, magnets, screens, and other gadgets.
Some of the things your gift recipient can learn from the Upcycled Technology are:
How to make a great Wi-Fi security camera with an old cell phone
How to make a basic 3D printer out of old computer disk drives
Different ways to upcycle the rare-earth magnets inside old hard drives
Genius ways to upcycle reusable LCD screens in old phones
Basically, you're not only giving someone an eco-friendly gift but also help them live a more sustainable and low impact lifestyle.
Final Thoughts on Practical Upcycled Gift Ideas
Giving away upcycled gifts is good for the environment given that:
It minimizes the trash we send to landfills.
Help conserve raw materials and resources.
Reduces manufacturing waste and carbon emission.
Encourages more people to use their artistic minds to turn trash into beautiful treasures.
You can also save money as upcycled gifts are generally cheaper.
However, we must be careful when shopping for upcycled gifts.
It's easy to get tempted into buying "upcycled gifts" thinking you are helping the planet.
However, if your recipient will only use them for a few weeks and then throw them away, it will create more trash as a result.
But with this list of practical upcycled gift ideas, you can now give useful eco-friendly gifts to your family and friends that they will treasure for years to come.
Anyways, which of the upcycled gift ideas on this list would you say are your favorite?
What are the other useful upcycled gifts and products you know of?