12 Best Eco-Friendly Christmas Gifts Ideas For The 12 Days Of Xmas
As an Amazon Associate, Ecotero earns from qualifying purchases.
It's that time of year again; people are making lists and buying special gifts.
But what will make celebrating Christmas more special this year?
Giving Christmas gifts that can help protect and preserve our planet.
So besides handing out eco-friendly Christmas cards and giving love on Christmas day, eco-friendly Christmas gifts seems perfect!
And don't worry.
We know that as much as you love to take care of the planet, you also don't want to give boring Christmas gifts to the special people in your life.
Christmas only arrives once every year, after all, so your gift should be equally memorable.
Below are 12 of the best eco-friendly Christmas gifts ideas for kids, parents, friends, and coworkers that they will surely love.
Let's take a look at your options…
1. Eco-Friendly Clothing
Are you planning to give away shirts, dresses, and other garments this Christmas?
Forget about shopping for fancy brands and labels.
There's plenty of eco-friendly clothing brands that sell a variety of stylish yet eco-friendly clothing for kids and adults.
Eco-friendly clothes are crafted using eco-friendly fabrics and materials such as hemp, bamboo, and organic cotton that have minimal impact on the planet.
Eco-friendly clothing brands also produce their products using renewable energy, source their materials responsibly, and follow strict environment-friendly policies.
We made a list below to help you find different kinds of eco-friendly clothing to give away this Christmas:
2. Zero Waste School Supplies
One of the best eco-friendly Christmas gifts ideas for kids would be zero waste school supplies.
What are zero waste school supplies, you ask?
These are school products and equipment specially designed to help reduce the waste that ends in landfills.
They are also very durable and designed to last.
Some of the best zero waste school supplies include eco-friendly backpacks, non-plastic lunch boxes, notebooks made with recycled paper, and more.
You can find more zero waste school supplies that would be excellent eco-friendly Christmas gifts here.
3. Eco-Friendly Office Items
Are you looking for eco-friendly Christmas gifts ideas for your coworkers and officemates?
How about an eco-friendly planner?
Perhaps there's someone you know at work that loves listening to music?
We bet they would love to receive earbuds made of natural bamboo.
Something for your boss?
A sophisticated bamboo desk organizer or manual paper shredder might suffice.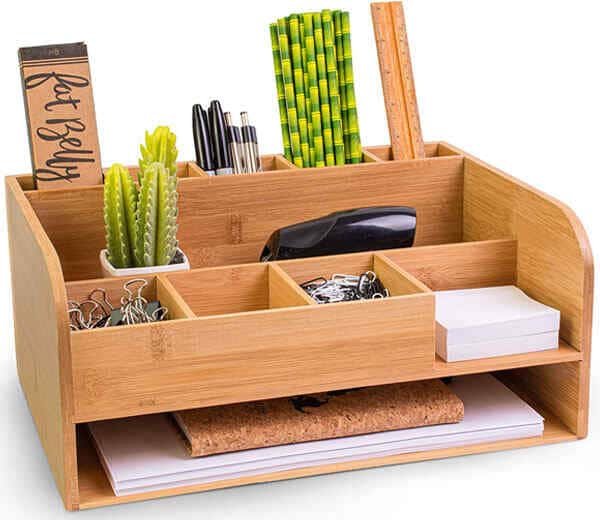 We kid you not; there's an eco-friendly office item that will be a perfect Christmas gift for your every workmate.
4. Sustainable Bathroom Products
The bathroom is one of the leading sources of plastic trash in any household.
From plastic shampoo containers to disposable razors, you name it.
Help someone turn a new leaf and reduce plastic waste this coming year by giving them a sustainable bathroom product kit for Christmas.
Some of your best choices include zero waste shampoo bars, zero waste face wash, eco-friendly razors, eco-friendly bath towels, and more.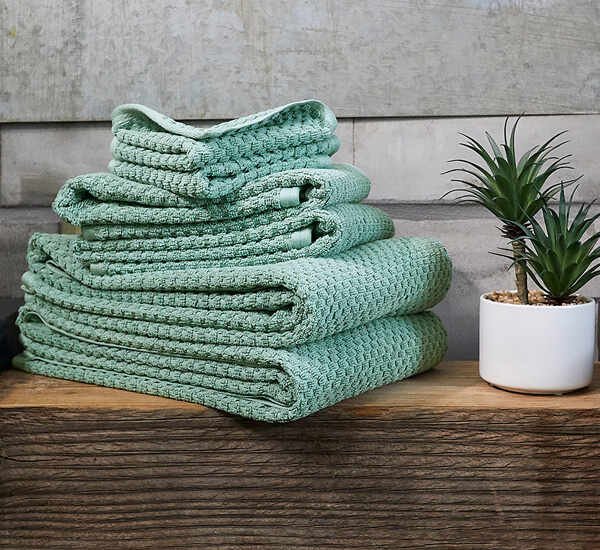 If you just take a few minutes to look, you'll find plenty of sustainable and plastic-free bathroom products that you can give someone this Christmas.
5. Eco-Friendly Kitchen Products
Kitchen products are probably one of the best Christmas gifts for moms.
But don't just give away any kitchen products.
Give eco-friendly kitchen products.
That way, someone's cooking routine can help reduce plastic waste and pollution.
Some of the best eco-friendly kitchen products you can give as a Christmas gift include cookware, kitchen utensils, food containers, and compost bins.
And if you're feeling extra generous, you can also give away an air fryer.
The best air fryers, in general, can cook food quickly with less electric consumption and cooking oil.
Hence, they can help someone save money and stay healthy as well!
6. Eco-Friendly Baby Products
Another great eco-friendly Christmas gift idea for kids and new parents are eco-friendly baby products.
Take your pick from cloth diapers, bamboo diapers, baby clothes, baby bottles, baby toys, and more.
Besides helping reduce plastic waste and pollution, there's another perk to giving eco-friendly baby products.
They will also allow parents to save money and keep their little angel safe from harmful chemicals and toxins.
Find more eco-friendly baby products here.
7. Zero Waste Makeup Kit
This right here is one of the best eco-friendly Christmas gifts for women.
As you may already know, most women love color and shades on their faces.
Unfortunately, most conventional makeup comes in plastic containers that are less likely to be recycled.
In fact, only about 10% of the total plastic products are ever recycled.
Worse, many makeup products in the market contain toxic chemicals and ingredients that can harm a person and pollute ecosystems.
Meanwhile, zero waste makeups are eco-friendly skincare products made with safe, non-toxic ingredients and come in eco-friendly containers and packaging.
They're the perfect addition to an eco-warrior lady's beauty routine.
8. Eco-Friendly Oral Care Kit
Yes, giving someone a toothbrush and toothpaste this Christmas might be unconventional.
However, we would argue that they would appreciate an eco-friendly oral care kit.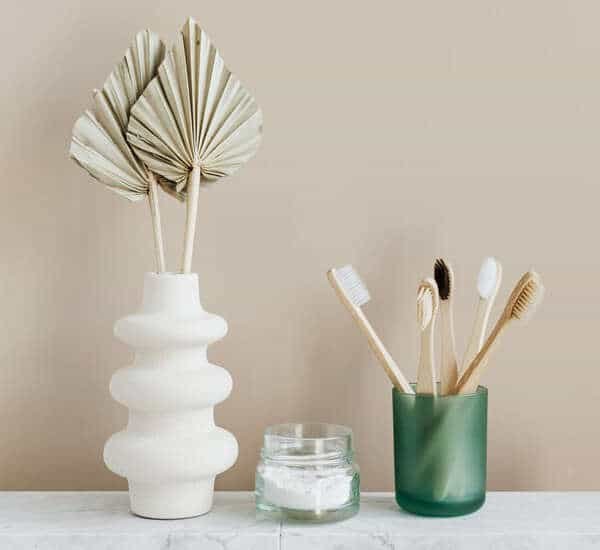 Since plastic toothbrushes are one of the leading plastic waste polluting our planet, give someone a bamboo toothbrush.
And since bamboo toothbrushes are pretty affordable, you can include a zero waste toothpaste and even a zero waste mouthwash to complete the set.
You can find more eco-friendly dental care products which you can give as presents for Christmas here.
9. Zero Waste Perfumes
Are you planning to give someone perfume for Christmas?
It does make sense because, well…
Who doesn't love perfumes?
Unfortunately, most perfume and colognes come in disposable bottles that will likely end in landfills.
On the other hand, zero waste perfumes are designed to help someone keep smelling seductive without creating a lot of trash and pollution.
They have refillable containers, bottles made of recycled materials, and plastic-free packaging. 
Moreover, zero waste perfumes are made with non-toxic and sustainable materials that have minimal impact on the planet.
You can check out some of the best zero waste perfumes in the market here.
10. Bamboo Bed Sheets
They might cost you a little extra, but we bet someone would be smiling up to their ears when you give them any of the soft and luxurious bamboo bed sheets this Christmas.
Contrary to common bed sheets made of cotton and polyester, bamboo bed sheets are more eco-friendly.
For starters, bamboo is a more sustainable and eco-friendly resource than cotton.
Bamboo is fast-growing and doesn't require a lot of water and fertilizers to survive.
The best bamboo bed sheets are also made using eco-friendly bamboo fabrics that are better for people and the planet.
A bamboo bed sheet is an excellent eco-friendly Christmas gift idea for someone who loves curling in bed every chance they get.
11. Eco-Friendly Travel Products
While bamboo bed sheets are perfect for indoor-sy individuals, what about those that love camping, traveling, and the outdoors?
Don't worry; we have eco-friendly Christmas gift ideas for outdoorsy individuals as well.
Eco-friendly travel products such as reusable water bottles with filters, eco-friendly camping gear, and a portable bamboo cutlery set will be perfect for them.
You can also give them portable zero waste personal hygiene products that they can easily pack for their next adventures.
And to find more options, feel free to check out our list of the top 10 eco-friendly travel products.
12. Homemade Eco-Friendly Christmas Gifts
If you want to add a more personal touch to your eco-friendly Christmas gifts this year, why not make them yourself?
There's plenty of homemade eco-friendly Christmas gift ideas you can try.
Just type "DIY Christmas gifts" or "homemade Christmas gifts" on your browser, and you'll find plenty of resources online.
There are even step-by-step video tutorials!
For starters, you can make various new items and eco-friendly Christmas decorations from old clothes.
If you don't have time to repurpose old clothes and other things in your home for a homemade Christmas gift, there is another excellent eco-friendly alternative.
Give away upcycled gifts for Christmas.
Upcycled gifts are presents made from post-consumer products that are otherwise bound for landfills and incinerators. 
Final Thoughts
Giving someone a unique Christmas gift doesn't have to come at the expense of our planet.
With the best eco-friendly Christmas gifts ideas above, you can spoil the special people in your life with wonderful gifts while being kind to Mother Earth.
Anyways, which of the eco-friendly Christmas gifts above are you planning to give away?
Do you know other fantastic eco-friendly Christmas gifts ideas that we haven't mentioned here?
You might also be interested in: