What To Do With Old Clothes: 18 Brilliant Ideas That Will Wow You!
As an Amazon Associate, Ecotero earns from qualifying purchases.
Sure you've got to buy new clothes, but what to do with old clothes that cannot be donated?
Send them to the landfill and create more pollution? No! The landfill is already filled with tons of material waste!
There are many ways that you can recycle, upcycle or repurpose your old clothes.
Today, we will share 17 simple yet brilliant ideas on what you can do with old clothing to help minimize the environmental impact of the fashion industry.
By following the tips below, you can even help the people in need and save some money for yourself!
Let's get started.
1. Donate used clothes to charity
There is a saying that goes:
"One man's trash is another man's treasure."
You may consider your old clothes to be worthless already, but in the hands of the needy, they can still be put into good use.
Visit the local charities and donation centers near you to donate old clothes and garments.
By doing this, your old clothes can still be reused by people who need clothing but cannot afford to buy for themselves.
2. Gift your clothes to family and close friends
Besides donating to charity, you can also give away your unwanted clothes to your friends and relatives.
This is especially true in the case of your favorite clothing pieces that you're not ready to part with.
By giving them to the people close to you, you can still feel that your favorite designer shirt, pants, or shoes are still in the family.
And if you have a pile of old children's clothes that your kids outgrow, you can give them away too.
Giving hand-me-down children clothing is one of the sustainable parenting tips advised by eco-conscious parents worldwide.
3. Sell old clothes online or in garage sales
Online selling platforms like Craigslist, ThredUp, and eBay are excellent avenues to earn extra cash from your old clothes.
You can also sell secondhand clothes on Facebook.
Just create an account on these online selling platforms.
Then, familiarize yourself with each platform's policies and guidelines for selling clothes (so you won't get banned), and you're good to go.
If selling online is too much of a hassle for you, you can just set up a garage sale in your home and display the clothes you don't use anymore.
For all you know, one of your neighbors might be looking to buy a secondhand sweater or jacket.
Now at this point, you may be thinking:
Sure, these ideas above are good considering the old clothes is still well-preserved. But what about really old clothes?
What can you do with old clothes that cannot be donated or sold?
Here are some options you can try out.
4. Make a purse using old clothes
Transform your used clothes into something new and different, like a recycled purse. 
Exhibit A:
A DIY purse made from recycled jeans.
And don't worry if you haven't tried doing anything like this before.
Thanks to the Internet, there's an endless source of information and videos tutorials online about making a purse with old clothing.
You just have to do a quick search, get creative and test your sewing skills!
5. Make pillowcases using old shirts
Don't have a lot of pillowcases?
You can make more yourself instead of buying from the store.
Take any old t-shirt you have and cut the sleeves off of it
What's left should be a square. 
Then, cut what is now the bottom into four strips along its long edge to form a fringe (or an extra-wide hem). 
Finally, sew the two pieces together, right sides facing in until you have a rectangle.
That's it!
But make sure that the old t-shirt you use can contain your pillow – otherwise, you won't be able to use it.
Did you find our Instructions a little too complicated?
Here's what you can also do:
Search online for the term "how to make pillowcases out of old clothes." 
You'll get all the information you will need.
6. Turn old t-shirts into bandanas or headbands
This is pretty straightforward.
Just grab a pair of scissors, draw a cutout on your old shirt and get to work.
You can use the bandana and headbands yourself, or you can give them away as gifts.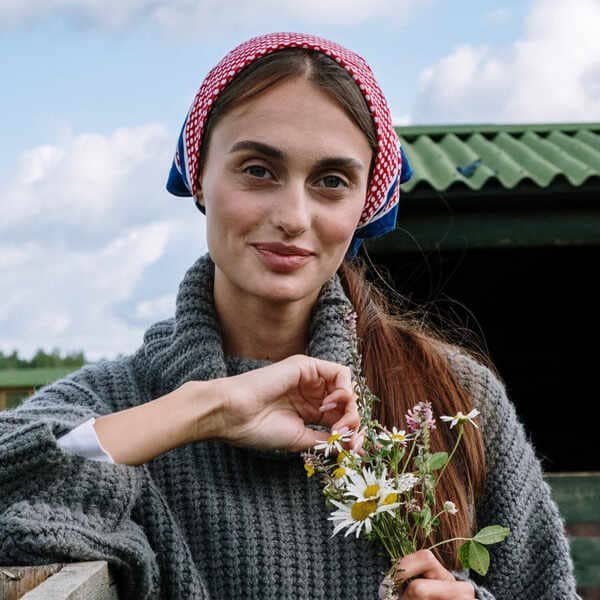 And if you do a good job, your recipients might never even know that their gift is made from recycled clothing!
7. Craft holiday costumes from old clothes
Most of us are eager to buy new costumes when holidays come around.
A better, money-saver alternative?
Crafting holiday costumes from your old clothing and garments.
Give it a try and put your artistic mind into work.
With a little patience, you'll have a unique holiday costume for you and your family for Halloween, Christmas, and other occasions.
8. Make tote bags out of old shirts
Old shirts can become a new fashion accessory by turning them into adorable tote bags.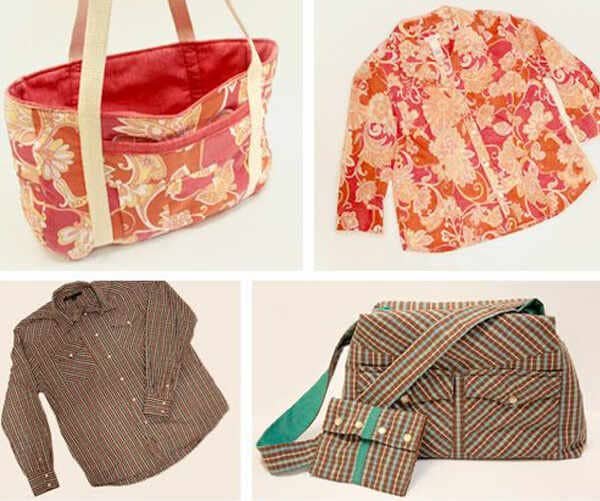 You can find many tutorials (both in video and readable format) online on making tote bags out of old clothing.
We particularly love this idea because tote bags made of old clothing would make a fantastic upcycled gift for any of your friends, family members, or co-workers.
And if you want, you can even make some money with this by selling some of the tote bags you made to your close circle of friends!
8. Sew old clothes into a quilt
With just basic sewing knowledge, you can sew old clothes together to create your one-of-a-kind quilt.
Your handmade quilt would be perfect for those long, cold nights. 
Check out this beauty:
If you feel up for the challenge, try sewing a DIY blanket too!
Tell us this isn't a great way for an average person to recycle used clothing?
10. Turn old clothes into patches
If you're not interested in sewing an entire quilt, what about smaller pieces like patches? 
You can then sew the smaller patches of clothes together into one larger piece that you can use as a DIY home decoration.
For instance, a table cloth made with patches of old clothes would have a unique texture and interesting visual patterns that will surely be the envy of your visitors.
11. Make a pet bed out of old clothes
What better way to make your dog or cat feel loved than by personally creating their pet bed?
And no, we're not talking about running to the vet to splurge on that expensive pet bed.
All you ever need are some of your old clothes.
You can simply lay some of your old clothes on your pet's keg or cage and observe how they hog it when they sleep.
Who says giving your pet some comfy to sleep on needs to be expensive?
12. Make DIY a pet accessory
Cut some of your colorful old shirts, and make them into an adorable pet scarf.
Depending on the size of your shirt and your pet, you can probably make dozens of adorable scarves like the one in the image with just a single piece of old clothing.
13. Turn an old t-shirt into a DIY hand towel
Okay, it doesn't get any easier than this!
Take what was once your old shirt and cut it lengthwise until you have two pieces. 
Cut one piece in half lengthwise again, and what remains should be a long rectangle. 
Now what you're looking at is a DIY hand towel from your old clothes.
No sewing needed!
You can use it to dry off after taking a shower or after a workout.
14. Turn old jeans into shorts
Do you have a lot of jeans just collecting dust in your closet?
You can turn them into summer shorts for home use!
All you need is a pair of scissors and basic knowledge of cutting fabric in a straight line.
This particular idea is perfect if you want to get new summer outfits for daily use but don't want to spend too much money.
15. Turn old clothes into cleaning rags
With a pair of scissors, cut old clothes into small pieces.
Make the sizes big enough that you can use them to wipe your table, kitchen counter, cooking ware, and appliances.
Instead of shopping for paper towels, which creates a lot of waste and costs money…
You now can have a lot of reusable unpaper towels made 100% from old clothes!
16. Sign up for recycling service in your city
Let's face it; some of your clothes and garments are simply too old or worn down to be of any use.
But by signing up with a recycling service in your city, those very old clothing might still be recycled and repurposed in the appropriate facilities.
Imagine that!
17. Wear them!
The simplest way to recycle used clothes is just to wear them as your pajamas or home clothes. 
Those with stains?
You can wear them when working around the house or while fixing your car.
What a clever way to make yourself look stylish at home, right?
More importantly, wearing your used clothes will help you save money and reduce the waste you send to the landfills, recycling facilities, and incinerators.
18. Trade in and get paid
Companies like Worn Wear, Thredup, or The North Face, accepts your old clothes (regardless the brand or condition) and will give you store credits. Some even provide you with direct cash out.
These companies will recycle your old clothes and put them to good use again. Some companies do it for charity, while others will resell them in their stores.
But whatever the case is, your old clothes will have a new life!
You can also sell your old clothes on poshmark and get paid.
What are the benefits of recycling, upcycling, and repurposing old clothes?
Now, at some point while reading this article…
You might have asked yourself this question:
"Is it even worth trying to find ways on what to do with throwables and old clothes?"
If it isn't obvious enough, there are many advantages in finding some use for your old clothing.
First of all, not buying new clothing will help you save money. 
Secondly, reusing old clothes can minimize the trash you send to landfills.
Third, with the things you just learned in this article, you can use your old clothing to help other people or make money for yourself.
Fourth, some pieces of clothing might have sentimental value for you, so why throw them away and lose the memories? 
And finally, making use of old clothing can help conserve natural resources and minimize pollution.
Need we say more?
Yes, you will have to dedicate some time and effort to accomplish some of the ideas we shared above.
But eventually, your actions will all be worth it – for you, the future generations, and the planet.
Would you agree?
Final Thoughts on What to Do with Old Clothes
Which of the things above would you like to do first with your old clothes?
Are you planning to create something new out of them? Donate them, perhaps? Sell?
It's all up to you.
The important thing is that by this time, you already have plenty of viable and simple ideas on how to recycle or repurpose your old clothes.
Just give it a try and start small.
All you need is a little bit of creativity, patience, dedication, and you'll be on your way to becoming an expert in this matter.
Anyways, do you know other excellent ways to recycle and repurpose old clothes?
Before reading this article, what do you often do with your old clothes?