Top 10 Best Bamboo Towels For You & Mother Earth
As an Amazon Associate, Ecotero earns from qualifying purchases.
After our guide to the best eco-friendly bamboo products went live, some people have been asking if we also have a list of the best bamboo towels, so here it is.
But first, how did we pick the best bamboo towels?
As the title of this post says, we round up bamboo towels that are good for you and the planet.
Hence, the towels listed below are crafted from bamboo fabrics that are free from irritants and harsh chemicals that might cause health issues. 
Secondly, we want eco-friendly bamboo towels to help protect and preserve our planet (and its resources) for the future generations.
Finally, we know you want value for money, so we only included quality and durable bamboo towels that, with proper care, will last years to come.
So without further ado, below are the 10 best bamboo towels for you, your family, and mother Earth.
Take your pick.
1. Cariloha Organic Bamboo Towels
QUICK OVERVIEW
Organic bamboo and Turkish cotton fabric
OEKO-TEX 100 certified bath towel
600 GSM  (grams per square meter)
Cariloha is a leading brand when it comes to safe, quality, and eco-friendly bamboo products worldwide.
They also have some of the best organic bamboo bath towels on Amazon.
As you may already know, organic bamboo and cotton are produced without synthetic fertilizers and harsh chemicals, making Cariloha's bamboo towels safe even for sensitive skin.
They are also OEKO-TEX 100 certified.
OEKO-TEX is one of the world's most recognized entities for testing harmful substances in textiles and products. (see references below)
So, safety check, eco-friendliness, check.
How about quality?
Cariloha's bath towels are made using organic bamboo and long-staple Turkish cotton blend.
Towels made of long-staple fabrics are softer and are less prone to pilling and wrinkling, so they will last longer.
In terms of comfort, Cariloha bamboo towels are breathable, moisture-wicking and loomed to 600 GSM.
Besides bamboo towels, Cariloha is also popular for their bamboo sheets and bamboo clothing line.
2. Welhome Bamboo Bath Towels
QUICK OVERVIEW
OEKO-TEX certified bamboo bath towels
Free from toxins, chemicals, or harmful substances
Ethical and sustainable production chains
Welhome has a great collection of eco-friendly bath towels, including some of the best bamboo bath towels in the market today.
Welhome's bamboo bath towels are crafted from a blend of sustainable bamboo and cotton fabric.
They're extra absorbent and quickly wicks away moisture so you can dry fast.
Moreover, they have also been certified by OEKO-TEX to be free from chemicals and substances that can harm you, your family and ecosystems.
And guess what?
Welhome supports fairness and social responsibility, so all their bath towels are made in ethical and Fair Trade facilities.
So they're food for you, the planet, and the workers!
3. MOSOBAM Bamboo Bath Towels
QUICK OVERVIEW
OEKO-TEX certified hypoallergenic towels
FSC certified sustainable materials
700 GSM, 2-ply twisted-yarn fabric
MOSOBAM bath towels are designed in the USA and manufactured in socially responsible and environmentally friendly facilities. 
They are made of natural bamboo fabric combined with premium extra-long staple cottons such as Aegean Turkish cotton, Egyptian cotton or Pima cotton. 
They are hypoallergenic and are thoroughly inspected and lab-tested for common allergens and harmful/toxic substances.
Moreover, MOSOBAM bamboo towels are FSC-certified.
What is FSC-certified, you ask?
The Forest Stewardship Council certified products support responsible forestry, helping keep forests healthy for future generations.
And at 700 grams per square meter, these bamboo bath towels have the optimal weight and thickness to comfort your skin with least impact on the planet.
4. Ariv Bamboo Cotton Bath Towels
QUICK OVERVIEW
Natural bamboo and cotton fibers
Mildew- and odor-resistant
Designed to last for years
Ariv's bath towels are among the most highly-rated bamboo towels on Amazon with an average rating of 4.5 stars from over 12,000 reviews.
They are made with natural bamboo and cotton fiber blend so they're hypoallergenic and very soft to touch.
But what makes them stand out?
These bamboo bath towels are made with longevity in mind, using fibers produced for extra strength and professionally hemmed with double-stitched seams. 
Ariv's bamboo towels will continue to feel and look great for years. 
Moreover, they are also mildew-resistant so you don't have to worry about buildup of odor and bacteria.
5. Channing & Yates Organic Bamboo Baby Bath Towels
QUICK OVERVIEW
Made with bamboo viscose and cotton blend
Hypoallergenic and free from chemicals
500 GSM bamboo bath towels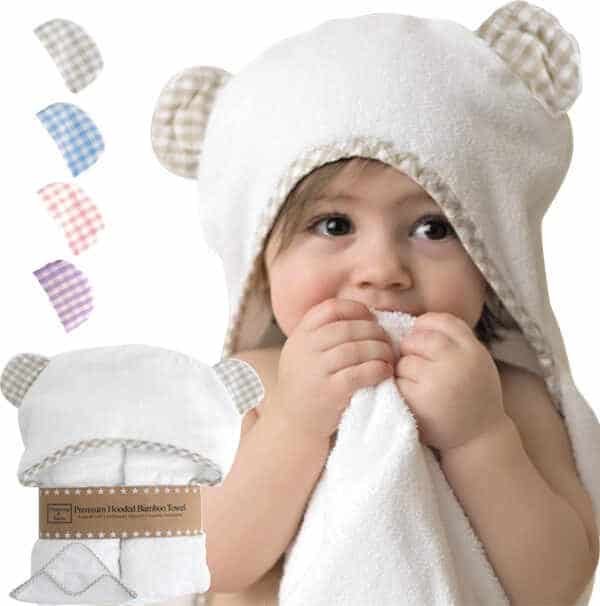 If you're looking for the best bamboo towels for your baby, check this out.
Channing & Yates hooded bamboo bath towels are made with organic natural bamboo and cotton blend.
They are also free from harsh chemicals which makes them safe for kids with sensitive skin, eczema, and other allergies.
Furthermore, Channing & Yates hooded bamboo bath towels are also hypoallergenic and are resistant to odors.
This makes them the perfect bamboo baby bath towels for newborns, babies and kids.
And unlike other hooded baby towels, Channing & Yates' is rectangular in shape and the hood is in the center, allowing you to fully wrap your little one using the entire length of the towel.
6. Ettitude Organic Bamboo Bath Towels
QUICK OVERVIEW
OEKO-TEX STANDARD 100 certified bamboo bath towels
Made with 100% bamboo lyocell
Free from harmful chemicals
Ettitude's bamboo bath towels are made with bamboo lyocell fabric derived from organic bamboo.
They are free from any allergens and harmful chemicals and are certified by OEKO-TEX.
When using Ettitude's bamboo bath towels, you can expect them to be hypoallergenic, moisture-wicking, and super absorbent.
And since they are free from any harmful chemicals, they are ideal for sensitive skin.
7. Aibaser Bamboo Bath Towels
QUICK OVERVIEW
Natural bamboo and cotton blend
Hypoallergenic and free from harsh chemicals
Easily folds into a compact sizes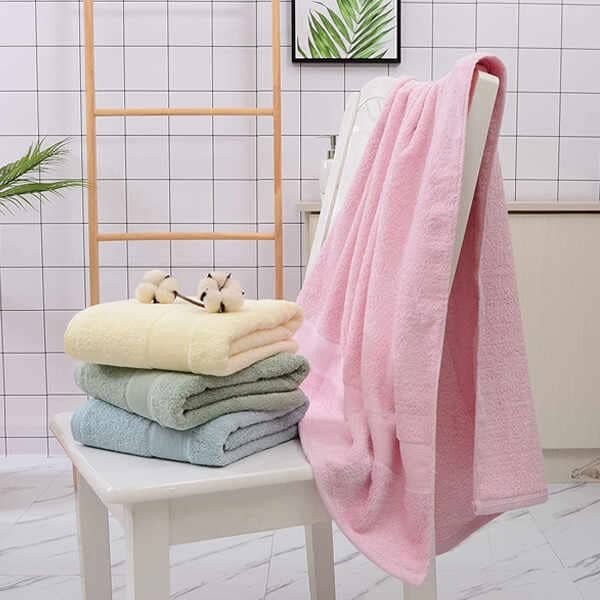 Aibaser's bamboo towels are lightweight and super smooth on the skin.
They are made with a blend of natural bamboo and cotton so they will glide smoothly on your skin while wicking away all moisture.
This makes them perfect not only as bath towels but also for use at the gym and the beach. 
More importantly, Aibaser's bamboo towels feature a professional edging design that further enhances quality and durability, hence, reducing waste and saving you some money.
They also remain soft even after repeated washing and drying cycles.
8. JML Bamboo Bath Towels
QUICK OVERVIEW
Bamboo viscose and cotton blend
Free from harsh, toxic chemicals
Colored with organic dyes
These silky smooth bath towels are said to retain bamboo's antibacterial properties because it is made of almost 100% bamboo.
They stay fresh and odor-free between washes.
JML's bamboo bath towels are also smooth, non-irritating and softer than most towels and face cloths, making them perfect for people with sensitive skin. 
They're also extremely durable, resist piling and shrinkage.
9. Marmaris Co. Bamboo Towels
QUICK OVERVIEW
Natural bamboo and Turkish cotton fabric
OEKO-TEX STANDARD certified
Gets softer and fluffier after each wash
These natural bamboo towels are eco-friendly and safe for your entire family.
They are made with sustainable resources, designed to produce less lint, and tested against 350+ harmful substances.
Furthermore, Marmaris Co.'s bamboo towels get softer and fluffier after each wash.
They have superb moisture wicking capabilities allowing you to dry your body easily and comfortably on even delicate skin.
10. JEFFSUN Bamboo Facial Towels
QUICK OVERVIEW
Made of 100% bamboo fiber
Soft and hypoallergenic
Durable and machine washable
These bamboo facial towels are perfect washcloths for any skin type.
They are made with 100% natural bamboo fiber and are free from chemicals and irritants; they're super gentle on skin.
Furthermore, they can be a perfect addition to a lady's zero waste makeup kit as they can easily remove foundation, eyeliner, lipstick, blush on, facial mask, etc.
This makes them ideal for daily use and can help women reduce trash from disposable facial wipes.
Bamboo Towels FAQ Section
Are bamboo bath towels good?
When it comes to comfort, bamboo towels are soft, hypoallergenic and moisture-wicking.
And depending on their production, bamboo towels can even retain "Bamboo Kun."
All of the bamboo towels on this list are also free from allergens and chemicals so they make an excellent choice for people who suffer from allergies or are sensitive to synthetic fabrics.
Bamboo towels are also durable, resist piling and shrinkage. 
Finally, bamboo fabric is more sustainable and has a lesser negative impact on the environment compared to cotton and polyester.
Which is better, cotton or bamboo towels?
Both cotton towels and bamboo towels are comfortable to use and soft on skin.
One upside of bamboo towels is that they are, in general, more eco-friendly than cotton towels.
For instance, the production of cotton requires so much water, fertilizers, pesticides, and other chemicals which causes various impacts on the environment.
To be clear, we're not saying that bamboo fabric is perfect.
However, when it comes to which is better for the planet, a bamboo towel is ahead of cotton.
If you have anything to contribute to this matter, please feel free to share your thoughts in the comments below.
Can you put bamboo towels in the dryer?
To be safe, read the instructions on how to take care of your bamboo towels upon purchase.
But in most cases, bamboo towels can be put in the dryer but on the lowest heat setting. 
Also, be careful when using bleach or fabric softener on your bamboo towels so you don't accidentally ruin them.
Final Thoughts
If you're looking to have a more eco-friendly and sustainable bathroom, bamboo towels are one of the most eco-friendly bath towels there is.
And with this list, we hope you found the perfect bamboo towel for you and your family.
Anyways, which of the best bamboo towels above are you most interested in?
Do you know other bamboo towels that deserved to be on this list?
References