21 Best Sustainable Stocking Stuffers In 2021
As an Amazon Associate, Ecotero earns from qualifying purchases.
Having a list of sustainable stocking stuffers is an excellent step towards celebrating a more eco-friendly Christmas.
As you might already know, conventional stocking stuffers usually include wasteful items responsible for more pollution and trash in landfills.
Fortunately, finding great eco-friendly and sustainable stocking stuffer for the people on your gift list isn't hard.
To give you a head start, below are 21 of the best sustainable stocking stuffer ideas for him, her and the kids.
And don't worry.
Besides eco-friendliness and quality, we also consider the size of the stuffer ideas below and make sure you can indeed "stuff" them in stockings.
Shall we take a look at your options?
1. Ethical & Fair Trade Chocolates
Chocolates are among the most common stocking stuffer ideas year after year.
But this Christmas, don't just stuff any chocolate in those stockings; choose ethical, and Fair Trade certified chocolates!
Why?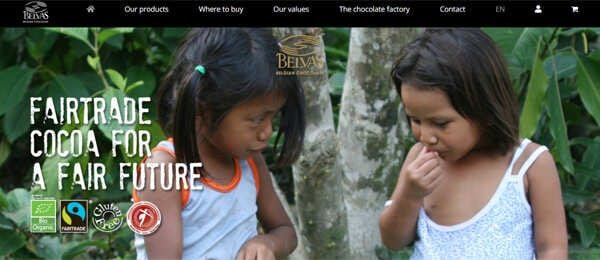 Fair Trade chocolates are better for you, the workers, and the planet.
They're made from premium cocoa that isn't sprayed with toxic chemicals.
Furthermore, the cocoa farmers and workers producing these chocolatey delicacies are paid proper wages and provided a safe working environment.
A win-win-win and a happy, merry Christmas indeed!
2. Zero Waste Perfumes
Got a perfume enthusiast on your gift list?
This holiday season, allow them to try some of the best zero waste perfumes!
One edge of zero waste perfumes to conventional ones is that they can keep someone smelling seductive without creating a lot of trash. 
Zero waste perfumes are housed in either refillable containers, bottles made of recycled materials, or plastic-free packaging. 
Moreover, the ingredients used to create such mesmerizing scents are ethically and sustainably sourced without toxic chemicals.
3. Zero Waste Pencils
Besides Fair Trade chocolates, zero waste pencils are among the best eco-friendly stocking stuffer ideas for kids.
They are great for officemates and co-workers too!
But first, what the heck are zero waste pencils?
These are specially designed pencils that have a tiny seed embedded in them.
Once they're too short to be used, you can plant these pencils, and they will grow within the next few days!
Each zero waste pencil indicates what plant will grow once you plant it.
We bet kids would rush to use them so they can watch a plant grow from their old pencils.
4. Eco-Friendly, Non-toxic Crayons
For artsy children, stuff some of these special crayons on their stockings.
Eco-friendly crayons are made from organic waxes that are less harmful to the planet.
More importantly, they are non-toxic and safe to use by kids.
They are the perfect eco-friendly and safe partner for kids with colorful imaginations.
5. Refillable Fountain Pens
High-quality, refillable fountain pens are perfect eco-friendly stocking stuffers for Christmas parties at work.
They are low waste, classy, and a handy accessory at work. (literally)
By giving your workmate a refillable fountain pen, you are helping reduce waste in landfills from disposable pens.
They can also serve as a long-lasting token of your friendship.
6. Shampoo Bars
This one you probably already know about.
Shampoo bars are one of the most popular sustainable stocking stuffer ideas, and we can understand why.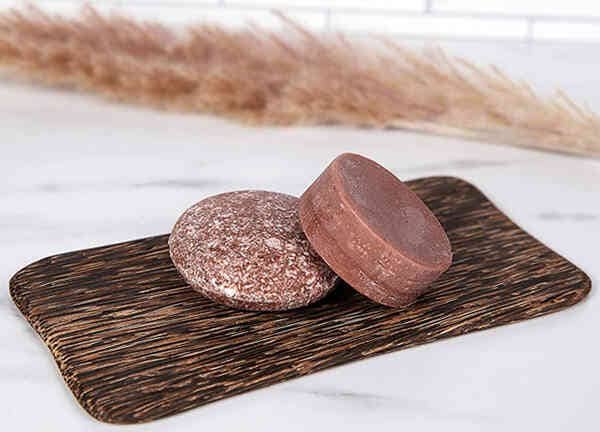 For starters, people love taking good care of their hair.
So it only makes sense that shampoos are essential bathroom products, and they are always on someone's shopping list.
Unfortunately, conventional shampoos often come in plastic containers that have nowhere else to go but in landfills.
Shampoo bars come in plastic-free packaging.
They're also made of natural and organic ingredients and don't contain the usual harmful chemicals in personal products. (like SLS and parabens)
They're also excellent to pack for trips and travels as they are lightweight and don't spill.
Click here for a guide to the best shampoo bars in the market.
7. Zero Waste Hair Style Products
Besides shampoo bars, zero waste hair styling products are excellent sustainable stocking stuffer ideas.
Your options include hair creams, gels, wax, hair oil, spray, and more.
What makes them zero waste?
They come in plastic-free/eco-friendly containers and are made with sustainable ingredients.
8. Zero Waste Deodorants
Zero waste deodorants are plastic-free and made of sustainable ingredients.
Many of them are also available in vegan options, so you get plenty of choices when giving them as an eco-friendly Christmas gift.
Besides ingredients options, you can also choose between stick, cream, paste, bar, and even pad zero waste deodorants.
They're perfect eco-friendly stocking stuffers for teens and relatives.
9. Bamboo Toothbrush
A bamboo toothbrush is a perfect eco-friendly Christmas gift and stocking stuffer idea for people adopting a zero waste dental care routine.
Unlike a typical plastic toothbrush that is likely to stay in landfills and the ocean for the next hundreds of years, a bamboo toothbrush is undoubtedly better for the planet.
Why?
First, they are made of bamboo, a highly sustainable crop that thrives with less water and no pesticides.
Second, and perhaps the most important, a bamboo toothbrush is biodegradable and compostable.
But which bamboo toothbrush should you give to the special people in your life? 
Click here for great options.
10. Eco-Friendly Dental Floss
Besides brushing our teeth, flossing has become a staple of oral hygiene and health.
Sadly, many dental flosses in the market are made with non-biodegradable and unsustainable materials.
Hence, their production and disposal have a terrible impact on the planet.
But you can help change that.
Gift someone an eco-friendly dental floss this Christmas.
11. Zero Waste Mouthwash
Another excellent sustainable stocking stuffer idea for oral hygiene is zero waste mouthwash.
And no, we're not talking you into making them yourself.
Unless you want to make a DIY mouthwash, you can find plenty of affordable and high-rated zero waste mouthwash in the market today.
They are made with sustainable, organic, or natural ingredients and come in plastic-free or eco-friendly packaging.
12. Eco-Friendly Baby Bottle
We all can relate to how new parents are all about their newborns.
Hence, if you have some new parents on your gift list, why not give them something for their little one?
How about an eco-friendly baby bottle? (we think they'll love it)
Eco-friendly baby bottles are plastic-free and made from sustainable materials.
They're also super safe (BPA-free), and they're durable too!
If you're considering this sustainable stocking stuffer idea, check out 11 of the best eco-friendly baby bottles that have been proven and tested by other eco-conscious parents.
Alternatively, you can check our list of eco-friendly baby products to find more options.
13. Zero Waste Makeup
This is a wonderful sustainable stocking stuffer idea most ladies will love.
Unlike conventional makeup in the market, zero waste makeup is made using non-toxic, organic, and natural ingredients.
Moreover, they come in plastic-free or eco-friendly containers, and yes, you can find vegan and cruelty-free variants too.
And guess what?
Zero waste makeups are free from parabens, sulfates, artificial fragrances, and other harsh chemicals.
You can find our favorite 21 zero waste makeup brands here.
14. Zero Waste Makeup Removers
Zero waste makeup removers are the perfect partner for someone who uses makeup regularly, and we can guess you have a couple of them on your gift list.
Zero waste makeup removers help reduce waste in landfills as they are reusable.
And don't worry because, besides reusable pads, you have plenty of options to choose from – including soap, natural serum, and more.
Click here to see which can be great eco-friendly stocking stuffers.
15. Organic Body Wash
Organic body washes are among the safest skincare products today.
They make an excellent stocking stuffer idea for ladies and babies too!
Organic body washes are made with safe, non-toxic, and sustainable ingredients that are gentle on people and the planet.
They also come in vegan and other variants and sizes to choose from.
You can also check out other sustainable bathroom products as you might find more zero waste personal products that you can use as an eco-friendly stocking stuffer.
16. Zero Waste Face Wash
Help someone reduce single-use plastic waste during their daily facial care routine; gift them a zero waste face wash.
Our best zero waste face wash selection is made with sustainable ingredients, dermatologist tested, cruelty-free, and vegan.
They are also housed in either non-plastic or eco-friendly packaging.
And guess what?
They are available in compact sizes so that you can stuff them inside stockings with ease.
17. Eco-Friendly Bug Spray
Eco-friendly bug sprays and insect repellents are perfect stocking stuffers for people who frequent the outdoors.
But what makes them different?
Eco-friendly bug sprays don't contain DEET, a chemical that harms people and ecosystems.
Moreover, eco-friendly bug sprays come in eco-friendly packaging and containers.
18. Bamboo Travel Cutlery Set
Bamboo cutlery sets are great Christmas gifts for almost everyone on your list.
Each set comes with a spoon, fork, straw, a bread knife, and even a travel pouch.
You can take them to school, office, and when going on trips.
They are also easy to clean and long-lasting.
19. Reusable Water Bottle
This is another very popular sustainable stocking stuffer idea you probably already know of.
Nevertheless, it does make sense.
Reusable water bottles help someone reduce plastic waste and even save money!
They're great for school, work, and trips.
They fit perfectly on stockings too!
But you know the best reusable water bottle to give some?
A reusable water bottle with a filter in it.
20. Eco-Friendly Clothes
Shirts, dresses, and other clothing garments are among the most common Christmas gifts.
But this holiday, take your gift-giving to the next level – the eco-friendly level.
Instead of shopping for trendy clothing labels, give away eco-friendly clothes for Christmas.
Yep, there is such a thing.
Eco-friendly clothes are made with sustainable fabrics like hemp, organic cotton, and bamboo.
They are produced using sustainable and ethical processes and by using renewable energy.
They are also hypoallergenic and are made to last.
And you won't run out of options because there is plenty of eco-friendly clothing for kids and adults.
21. Eco-Friendly Underwear
Okay, this might be a little unconventional, but hear us out.
Eco-friendly and sustainable underwear can be the perfect stocking stuffers if you're shopping for family members.
Wouldn't you agree?
Some of your best choices include period panties for your daughter, sister, or wife.
It could also be workout undergarments for your son, brother, or father.
Eco-friendly underwear is crafted from eco-friendly fabrics.
They are super safe on the skin and gentle on the planet.
Wrapping it Up
There you have it, folks!
A complete guide to 21 sustainable stocking stuffers for 2021.
We hope this can help a fellow eco-warrior celebrate a more eco-friendly and sustainable Christmas.
Anyways, we would like to hear from you too.
Which of the sustainable stocking stuffer ideas above are you most interested in?
You might also be interested in: